Bluejackets Manual of the United States Navy - 1918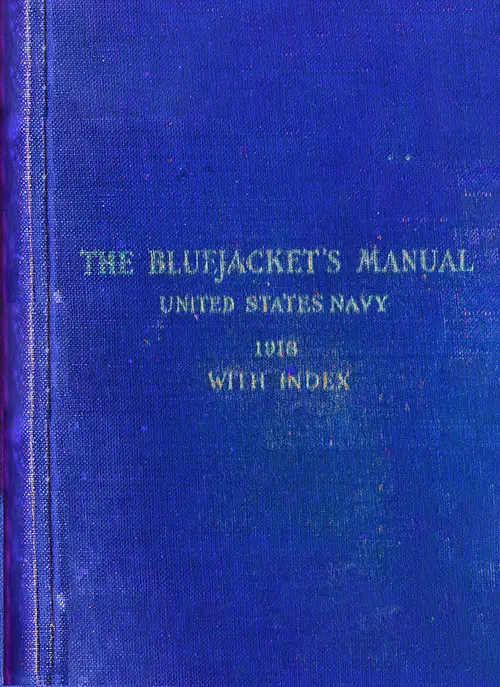 The Bluejacket's Manual United States Navy, 1918, Sixth Edition (Revised November 1916). GGA Image ID # 18163d98bb
NAVY DEPARTMENT,
Washington, D. C.
December I, 1916.
"The Bluejacket's Manual" originally prepared in 1902 by Lieutenant Ridley McLean, U. S. Navy, revised in 1914 to correspond with the provisions of General Order No. 63 of December 16, 1913, and now revised to date by Lieutenant N. R. Van der Veer, U. S. Navy, is issued to the service for the guidance and the instruction of petty officers and enlisted men. In accordance with General Order No. 63, the Manual is divided into the following parts:
Part I.—The Subjects which Every Man on Board Ship Should Know.
Part II.—The Subjects which Seamen, Second Class, Should Know.
Part III.—The Subjects which the Higher Ratings of the Seaman Branch Should Know.
Part IV.—The Subjects which Chief Petty Officers Should Know.
Part V.—The Subjects which Men of Special Ratings Should Know.
The Department invites criticism and suggestions from commanding and other officers in regard to the form and substance of the Book. Such criticism and suggestions should be sent to the Bureau of Navigation, via regular channels.
Thanks are due to the U. S. Naval Institute, Annapolis, Maryland, for their courtesy in waiving their copyright to the title, text and plates of "The Bluejacket's Manual,"
Josephus Daniels.
Library of Congress Catalog Listing
Main title: The Bluejackets' manual / United States Navy.
Published/Created: Annapolis, Md. : United States Naval Institute
Publication history: Began with 1st ed. (1902).
Description: volumes : illustrations ; 15-22 cm. Fifth ed. (1917) called also: Rev. Nov. 1916, and: Authorized ed.
Current frequency: Irregular
LC classification: V113 .B55
Related names: United States Naval Institute. United States. Navy.
LC Subjects: United States. Navy--Sailors' handbooks.
Other Subjects: United States. Navy--Sailors' handbooks. United States. Navy. HISTORY / Military / Naval.
Form/Genre: Handbooks and manuals. Sailors' handbooks. Handbooks and manuals.
Notes: At head of title, 1946- : U.S. Navy. Imprint varies: 1917, New York, Military Pub. Co. -- 1918, New York, E.N. Appleton. -- 1922-1927, Washington, U.S. Govt. Print. Off. (varies slightly). Some issues in rev. editions.
Additional formats: Online version: Bluejackets' manual (OCoLC)561061541
LCCN: 03001595
Invalid LCCN: sn 91028220
Dewey class no.: 359
Geographic area code: n-us---
Other system no.: (OCoLC)ocm03045881
Type of material: Periodical or Newspaper
Content type: text
Media type: unmediated
Carrier type: volume
Type of material (This Volume): Book