Camp Devens: Described and Photographed - 1918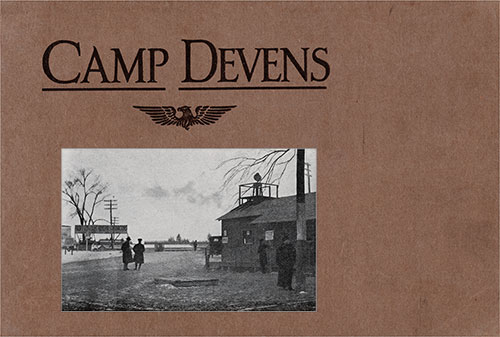 Front Cover, Camp Devens: Described and Photographed by Roger Batchelder, 1918. Photo Insert of Camp Devens Entrance Added. GGA Image ID # 184cac01a8
Camp Devens, Described and Photographed by Roger Batchelder, Author of "Watching and Waiting On the Border" with a Foreword by Major Roger Merrill, Adjutant, 151st Infantry Brigade, Seventy-Sixth Division, National Army, Camp Devens. With photographs taken by the author under the official authorization of the Committee on Public Information and the War Department, and with the endorsement of the authorities at Camp Devens.
© 1918 Small, Maynard & Company, Publishers
Administrative History Note (1)
Construction of this camp, one of sixteen cantonments built for National Army (draft) troops was begun on June 19, 1917, and completed on December 4, 1917.
War Department General Order 95, dated July 18, 1917, named the camp in honor of Brig. Gen. Charles Devens, U.S. Volunteers, who served during the Civil War.
Designated as the mobilization and training center for the 76th Division during World War I, the camp served drafted men from the States of Maine, New Hampshire, Vermont, Massachusetts, Connecticut, and Rhode Island.
After the war, Camp Devens served as a demobilization center and later as a training center for Reserve Officer Training Corps and Civilian Military Training Corps units.
Under the provisions of War Department General Order 10, November 5, 1931, Camp Devens was designated a permanent military post and its name changed to Fort Devens.
Fort Devens was one of the major training centers used during World War II and was one of the largest permanent posts of the Army.
Foreword
Mr. Roger Batchelder,
Sir:—You are to be congratulated for this accurate and complete description by pen and lens of Camp Devens. For us who are here it will be valued as a record of our early days when the National Army was in its swaddling-clothes.
Later we will search it for a sight of the familiar training areas, knowing that the unpainted exterior of Camp Devens mothered and trained lion-hearted men for the great duty to which America has set her will.
Very truly yours,
ROGER MERRILL
Major A. G.R. C., 151st Infantry Brigade
Camp Devens, December 21, 1917
Description
"Camp Devens" described and photographed by Roger Batchelder. Boston. Small. Maynard and Co.. 1918. 96 p.
The book features a series of photographs authorized by the Committee on Public Information, the War Department, and Camp Devens officials. The camp's history is included with a remarkable series of pictures, each described in a page of reading matter. The volume Begins with the drafted men going to camp and all through the instruction and trench work and is unusually interesting to everyone, especially to those who have been to Ayer.
Library of Congress Catalog Listing
Personal name: Batchelder, Roger.
Main title: Camp Devens / described and photographed by Roger Batchelder ; with a foreword by Major Roger Merrill ; with photographs taken by the author under the official authorization of the Committee on Public Information and the War Department, and with the endorsement of the authorities at Camp Devens.
Published/Created: Boston, Small, Maynard & Company [c1918]
Description: 94, [2] p. incl. front. (plan) illus. 16 x 24 cm.
LC classification: U294.D4 B3
LC Subjects: Camp Devens (Mass.)
LCCN: 18004955
Type of material: Book
1 War Department. Camp Devens, Massachusetts. 7/18/1917-11/5/1931 Organization Authority Record