American Armies and Battlefields in Europe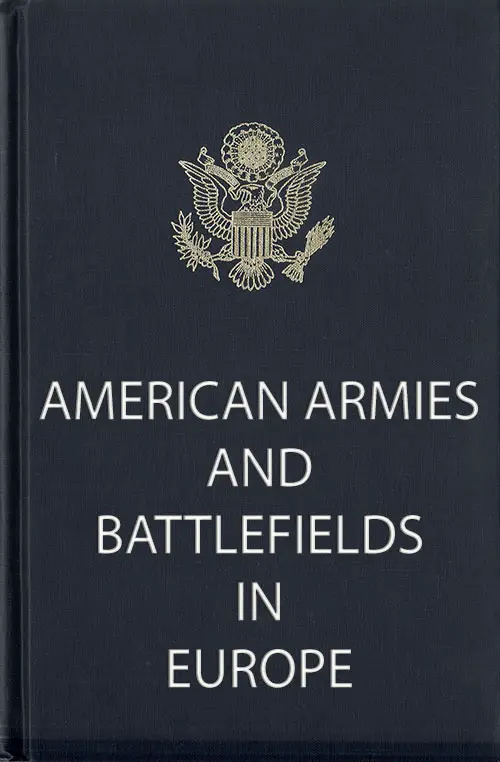 Front Cover, American Armies and Battlefields in Europe © 1938/1992, Center of Military History, United States Army, U.S. Government Printing Office. Titling Added to Front Cover Image. GGA Image ID # 15c697167b
U.S. Government Printing Office, American Armies and Battlefields in Europe, , Hardcover, 547 Pages.  940.4--dc20. Hardcover of book is dark blue with insignia of the United States but no lettering.  Title on Binding.
Prepared By The American Battle Monuments Commission, 1938, Government Printing Office.
Includes 3 Large Folded Maps Inside A Pocket On Back Cover. 3 large folded maps in Good condition. St. Mihiel, Meuse-Argonne, Aisne-Marne.
Pictorial frontis of the American Meuse-Argonne Memorial at Montfaucon, France. 547 Pages, Illustrated Throughout In Black & White and With Color Foldout Maps Throughout.
Synopsis
This book was prepared by the American Battle Monuments Commission which was chaired by General John J. Pershing. 15 chapters and 547 pages with index. Excellent resource on World War I, which the Americans became involved in 1917- 1918.
Book includes many Maps and Sketches featuring maps of the Zone of American Occupation Aisne-Marne, St. Mihiel and Meuse-Argonne and Front Line. This book has illustrations of the Cemeteries in various parts of Europe. Black and white photos throughout.
Contents:
The World War to May 28, 1918, and the Organization of the American Expeditionary Forces
American Operations in the Aisne-Marne Region
American Operations in the St. Mihiel Region
American Operations in the Meuse-Argonne Region
American Operations in the Champagne Region
American Battlefields North of Paris
American Operations on the Vosges Front
American Operations in Italy and Northern Russia
The Services of Supply
Operation of the United States Navy in the World War
American Military Cemeteries in Europe
American World War Memorials in Europe Ereted by the United States Government
After the Armistice
Interesting Facts and General Information Concerning the American Expeditionary Forces
Miscellaneous
Library of Congress Catalog Listing
LC Control No.: 92000930
Type of Material: Book (Print, Microform, Electronic, etc.)
Main Title: American armies and Battlefields in Europe.
Edition Information: 1st CMH ed.
Published/Created: Washington, D.C. : Center of Military History, U.S. Army, 1992.
Related Names: Center of Military History.
Description: xii, 547 p. : ill. (some col.), maps (some col.); 24 cm.
Notes: Originally published: Washington D.C.; U.S. Govt. Print., 1938. With new introduction. Three folded maps in pocket. Includes index.
Subjects: United States. Army. American Expeditionary Forces --History. World War, 1914-1918 --Battlefields --Europe --Guidebooks. World War, 1914-1918 --Monuments --Europe --Guidebooks. War memorials --Europe --Guidebooks. World War, 1914-1918 --United States. Europe --Guidebooks.
Series: CMH pub; 23-24
LC Classification: D528 .A44 1992
Dewey Class No.: 940.4 20
Geographic Area Code: n-us--- e------