World War One: 1917 Soldiers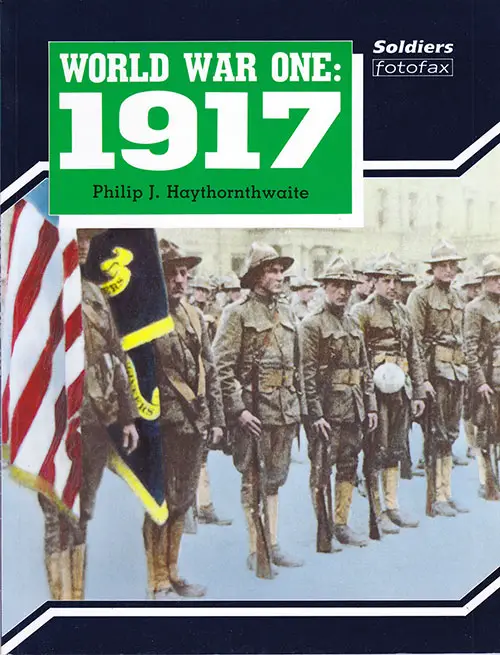 Front Cover, World War One 1917: Soldiers, 1990. GGA Image ID # 17e0f8502e
Philip J. Haythornthwaite, World War One: 1917, © 1990, Sterling Publishing Co. Inc., New York, Soft cover, 48 Pages, 1-85409-049-6.
Pictorial works for the year 1917 covering World War I. Part 4 of 5 in a series issued for each year of the Great War (1914-1918).
The softcover first edition of this book offers a photographic record of World War I for war activities in Europe in 1917. It was published in the series by Arms and Armour.
Each title features a carefully selected set of photographs plus a data section of facts and figures on each topic covered. Every volume represents a concise and valuable study of World War One.
The Allies' strategy for 1917 was decided toward the close of the previous year, at a conference at Chantilly convened by the French Marshal Joseph Joffre before his retirement on 31 December 1916.
The French and British, and Allies agreed that the main thrust for 1917 would be an Anglo-French push on the Western Front, concerted with Russian and Italian offensives. Britain planned a secondary offensive against the Turks in Palestine.
Excerpt from the Introduction
After some 28 months of carnage on a scale never previously imagined, 1917 began with neither the Allies nor the Central Powers in a position of dominance: and as before, the successes of one side during the year were primarily negated by events affecting the other.
The revolution in Russia removed that country from the Allied war effort and overturned one of Europe's oldest monarchies.
Coupled with the near-collapse of the Italian military action and horrendously costly but almost resultless Allied attacks on the Western Front, which included a widespread mutiny among the French armies, this could have been decisive for the Central Powers.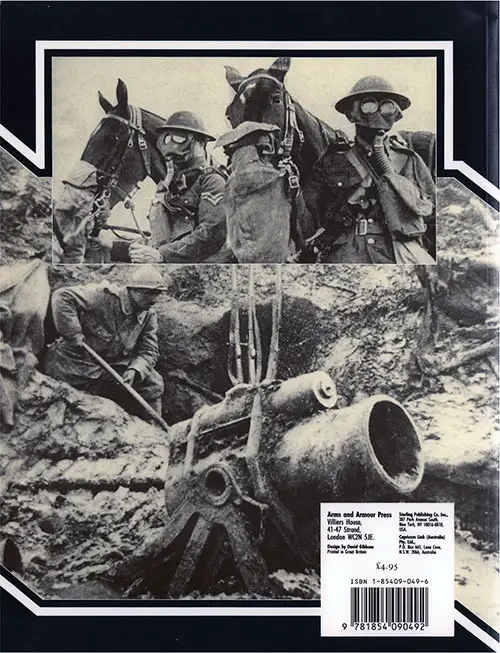 Back Cover, World War One 1917: Soldiers, 1990. GGA Image ID # 182046b484
Library of Congress Catalog Listing
LC Control No.: 91171202
Type of Material: Book (Print, Microform, Electronic, etc.)
Personal Name: Haythornthwaite, Philip J.
Main Title: World War One, 1917 / Philip J. Haythornthwaite.
Published/Created: London : Arms and Armour; New York, NY; [Distributed in the USA by] Sterling Pub., [c1990]
Description: 1 v. (unpaged) : ill.; 25 cm.
ISBN: 1854090496
Notes: Includes bibliographical references.
Subjects: World War, 1914-1918 --Pictorial works.
Series: Soldiers fotofax
LC Classification: D522 .H39 1990
Dewey Class No.: 940.3 20