The First World War: An Illustrated History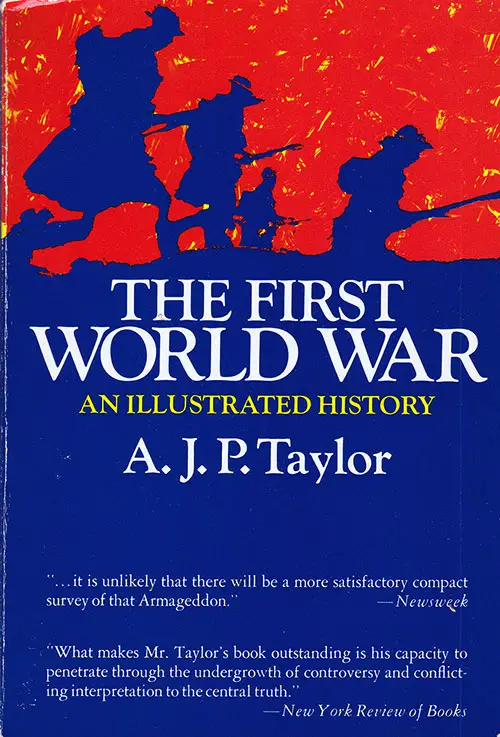 Alan John Percivale (AJP) Taylor, The First World War: An Illustrated History,  © 1963, 1970, Perigee Books, New York, Soft cover, 296 Pages, 0-399-50260-2. Dimensions (in inches): 0.79 x 7.67 x 5.20.
In his most entertaining, succinct, and critical style, Mr. Taylor has produced a concise history of World War I. Supporting the text are 14 maps and 220 photographs, chosen with obvious discretion and poignantly captioned.
The author discusses the military campaigns in terms of the ineptitude of the generals on both sides and concentrates on the strategy of the major campaigns, rather than the tactics of individual battles. It concludes with a brief discussion of the peace settlement and the League of Nations.
-- Military Review, Volume 45, Part 2, p. 110.
From the Back Cover: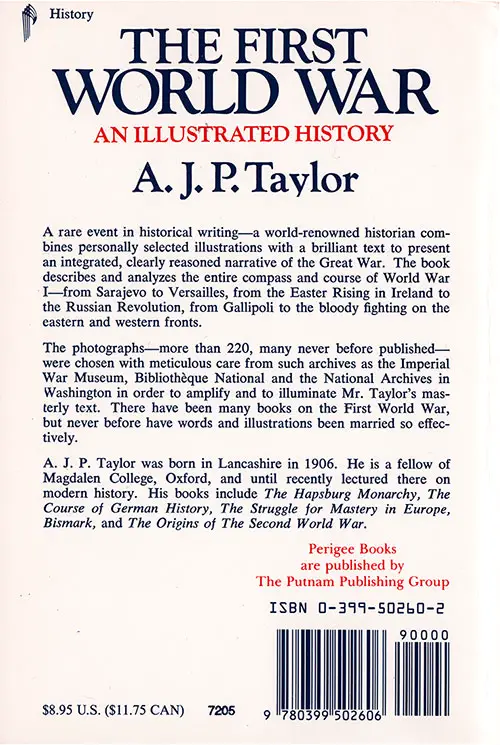 A rare event in historical writing—a world-renowned historian combines personally selected illustrations with a brilliant text to present an integrated, clearly reasoned narrative of the Great War. The book describes and analyzes the entire compass and course of World War I—from Sarajevo to Versailles, from the Easter Rising in Ireland to the Russian Revolution, from Gallipoli to the bloody fighting on the eastern and western fronts.
The photographs—more than 220, many never before published— were chosen with meticulous care from such archives as the Imperial War Museum, Bibliothèque National and the National Archives in Washington in order to amplify and to illuminate Mr. Taylor's masterly text. There have been many books on the First World War, but never before have words and illustrations been married so effectively.
About the Author
A. J. P. Taylor was born in Lancashire in 1906. He is a fellow of Magdalen College, Oxford, and until recently lectured there on modern history. His books include The Hapsburg Monarchy, The Course of German History, The Struggle for Mastery in Europe, Bismark, and The Origins of The Second World War.

Library of Congress Catalog Listing
LC Control No.: 64010878
Type of Material: Book (Print, Microform, Electronic, etc.)
Personal Name: Taylor, A. J. P. (Alan John Percivale), 1906-1990.
Main Title: Illustrated history of the First World War [by] A. J. P. Taylor.
Edition Information: [1st American ed.]
Published/Created: New York, Putnam [1964, c1963]
Description: 224 p. illus., maps, ports. 24 cm.
Notes: First ed. published in London in 1963 under title: The First World War.
Subjects: World War, 1914-1918 --Pictorial works.
LC Classification: D522 .T3 1964
Dewey Class No.: 940.3
Other System No.: (OCoLC)253080
Quality Code: premarc