Pictorial History of the World's Greatest War - 1919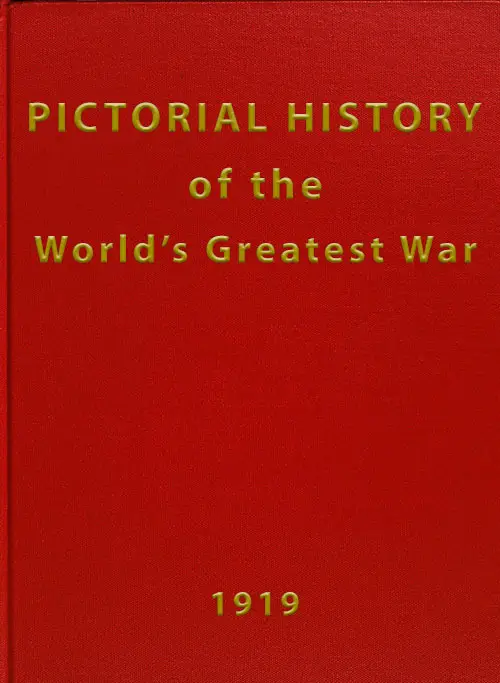 Front Cover, Pictorial History of the World's Greatest War and New International Atlas World, 1919. GGA Image ID # 190e3a0986
Synopsis
History's greatest war; a pictorial narrative by S. J. Duncan-Clark, Hon. Josephus Daniels in a special article on the marines, Gen. John J. Pershing on the American expeditionary forces and Admiral William S. Sims on the navies of the world; with a staff of war trained photographers, foreign representatives, and writers of international authority on military and naval maneuvers, geographical conditions, racial, language and religious complications, the food situation and every possible phase of the greatest war in history; containing a rare and elaborate collection of photos from every source, deluxe color gravures of the war leaders and intense situations and other views, also maps of the continents and the individual countries affected by the war with the formation of new nations.
Description from Title Page
Pictorial History of the World's Greatest War and New International Atlas World Featuring a Special History of the World's Greatest War by S. J. Duncan-Clark, World War Analyst, Containing: Detailed Maps of the Fighting Front and Illustrations Direct From the Seat of War Accompanied by About 75 Maps Specially Drawn and Engraved for This Work, From the Latest Federal, State and Transportation Surveys; Over 100,000 Indexed Place Names, With Their Populations, and Much Valuable Statistical Information; Making a Complete Compendium of Geography With Descriptive and Half-Tone Illustrations Including de Luxe Colorgravures of President Wilson and Generals Foch, Pershing and Haig, With Scenes of Intense Interest, Including the Famous Camouflaged Gun on the Western Front All Fully Indexed Compiled, Edited and Published by the Geographical Publishing Co. Chicago, Ill. Copyright, 1919, by the Geographical Publishing Co., Chicago, Illinois.
Table of Contents
The Allies Victorious
The Red Trail oí Prussia
The Spark in Europe's Powder Magazine
The Armies Are Unleashed
Prussian Plans Go Astray
The Era of Gigantic Battles
Hindenburg Retreats
The War on the Seas
Americas Long Patience
America Draws the Sword
Americans Go to France
How the Central Powers Fell
Library of Congress Catalog Listing
Personal name: Duncan-Clark, Samuel John, 1875-1938.
Main title: ...Pictorial history of the world war, by S.J. Duncan-Clark... also America's great feat of arms (the story of the United States in the war, including the official summary of the treaty of peace, with the covenant of the league of nations)Official report of the chief of staff and chronology of American operations in France by General Peyton C. March, U.S.A., Hon. Josephus Daniels... and General John J. Pershing...
Published/Created: [Chicago, Homewood press c1919]
Description: 415 [1] p. incl. col. front., illus. (part col.) ports. (part col.) maps. 26 1/2 cm.
LC classification: D522 .D8 1919
LC Subjects: World War, 1914-1918--Pictorial works. World War, 1914-1918--United States.
Notes: Lettered on cover: Story of America's achievements. At head of title: Peace edition
LCCN: 19011728
Other system no.: (OCoLC)1239051
Type of material: Book