The Infantry Soldier's Handbook: The Classic World War I Training Manual - 1917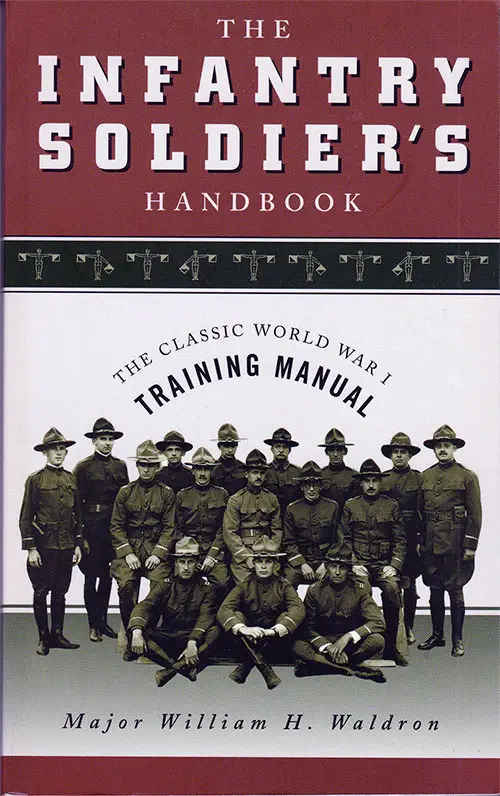 Front Cover, The Infantry Soldier's Handbook: The Classic World War I Training Manual, 1917. GGA Image ID # 17dfe55232
The Infantry Soldier's Handbook: The Classic World War I Training Manual by Major William H. Waldron, Originally published by The Harvey Press, 1917. Reprinted by The Lyons Press, New York, 2000. ISBN: 1-58574-150-7, Paperback, 247 Pages.
Synopsis
Originally published during the First World War as a reference guide for soldiers, this handy, well-indexed volume explains each and every aspect of the American infantryman's duties and responsibilities in a concise easy-to-understand manner. From bugle signals to rules for guarding prisoners, conditioning exercises to rifle inspection, readers can see how much infantry service and protocol has changed over the course of the last eighty years, and how much has, remarkably, remained the same.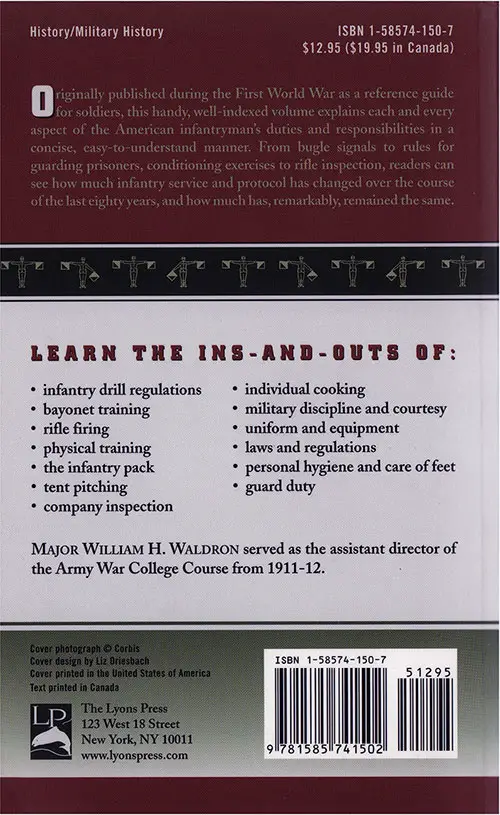 Back Cover, The Infantry Soldier's Handbook: The Classic World War I Training Manual, 1917. GGA Image ID # 1812237258
Learn the Ins-and-Outs Of:
Infantry Drill Regulations
Bayonet Training
Rifle Firing
Physical Training
The Infantry Pack
Tent Pitching
Company Inspection
Individual Cooking
Military Discipline and Courtesy
Uniform and Equipment
Laws and Regulations
Personal Hygiene and Care of Feet
Guard Duty
Major William H. Waldron served as the assistant director of the Army War College Course from 1911-12.
Table of Contents
CHAPTER I. INFANTRY DRILL REGULATIONS:—
Definitions (3); Introduction (4); General Rules (5); Orders, Commands, Signals (7); Orders (7); Commands (8); Bugle Signals (8); Whistle Signals (11) ; Ann Signals (12); Flag Signals (17); Graphic Morse Code (19); Semaphore Pode (20); School of the Soldier (22); Instruction Without Arms (22); Honors and Salutes (26); Steps and Marching (29) ; Manual of Arms (32); Nomenclature of the Rifle (34); Kille Salute (41); School of the Squad (44); Use of Cover (64); Observation (65).
CHAPTER II. BAYONET TRAINING:—
Features_of Bayonet (66); Methods—Hints to Instructors (67); Bayonet Lessons (68); Progression (73); Vulnerable Parts of Body (74); Tactical Application of the Bayonet (79); Methods of Disarming an Opponent (80).
CHAPTER III. RIFLE FIRING:—
The Rifle (81); Ammunition (82); Sights and Sighting Drills (84); Battle Sight (8/); Sighting Drills (89); Dismounting and Assembling Piece ( 91 ); Position and Aiming Drills (96) ; Position Exercise (96) ; Aiming Exercises (97) ; Trigger Squeeze Execrcise (98) ; Rapid hire Exercise (99); The Gun Sling (101); Rapid Fire (104) ; hiring Positions ( 106) ; kneeling Position (108); Silting Positions (109); Prone Positions (110).
CHAPTER IV. PHYSICAL TRAINING:—
Object (112); Methods (113); Commands (117); Starling Positions (120); Setting up Exercises (124); Miscellaneous Exercises (139).
CHAPTER V. THE INFANTRY PACK:—
History (143) Features (143); Contents (140); How to Make Up the Pack (147); How to Put the Pack in the Carrier (131); How to Wear the rack (152).
CHAPTER VI. TENT PITCHING:—
Shelter Tents (152); Detailed Methods of Pitching Tents (155); To Strike Tents (157); Sleeping Bags (158); Pitching Army Tents (158); To Fold Tents (159); Folding Pyramidal Tents (160).
CHAPTER VII. COMPANY INSPECTION:—
Preparation (161); Details of (162); Arrangement of Equipment in Ranks (164); Arrangement of Equipment in Front of Shelter Tents (165); Arrangement of Equipment in Bed (166); Method of Inspecting a Rifle (167).
CHAPTER VIII. INDIVIDUAL COOKING:—
The Ration (171); Methods of Cooking- (172); Coffee, Cocoa, Chocolate, Tea (172); Meats (172); Vegetables (174); Breads (175).
CHAPTER IX. MILITARY DISCIPLINE AND COURTESY:—
Obedience (176); Loyalty (177); Discipline (177); Military Courtesy (179); Saluting (179); Rules Governing Saluting ( 182) ; Courtesies in Conversation (185).
CHAPTER X. UNIFORM AND EQUIPMENT:—
Field Uniform and Individual Equipment (186); Care of Uniform and Equipment (188).
CHAPTER XI. LAWS AND REGULATIONS:—
General Provisions (190); Rank and Precedence (191); Extracts from Article of War Relating to Enlisted Men (192).
CHAPTER XII. PERSONAL HYGIENE AND CARE OF FEET:—
Personal Hygiene (213); Care of Feet (216).
CHAPTER XIII. GUARD DUTY:—
Sergeant of Guard (219); Corporal of the Guard (222); Musicians of the Guard (226); Orderlies and Color Sentinels (228); Privates of the Guard (229); Orders for Sentinels (229); Regulation Relating to General Orders of Sentinel (231); Countersigns and Paroles (238); Compliments from Guards (239); Guarding Prisoners (241); Flags (244).
Library of Congress Catalog Listing
LC Control No.: 00708786
Type of Material: Book (Print, Microform, Electronic, etc.)
Personal Name: Waldron, William H. (William Henry), 1877-1947.
Main Title: The infantry soldier's handbook : the classic World War I training manual / by William H. Waldron.
Published/Created: New York : Lyons Press, c2000.
Description: 245 p. : ill.; 19 cm.
ISBN: 1585741507
Notes: Reprint. Originally published: New York : Harvey Press, 1917.
Subjects: United States Army --Infantry --Drill and tactics --Handbooks, manuals, etc. United States Army --Handbooks, manuals, etc.
LC Classification: UD160 .W3 2000
Dewey Class No.: 355.5/0973 21
Geographic Area Code: n-us---