History and Rhymes of the Lost Battalion - 1919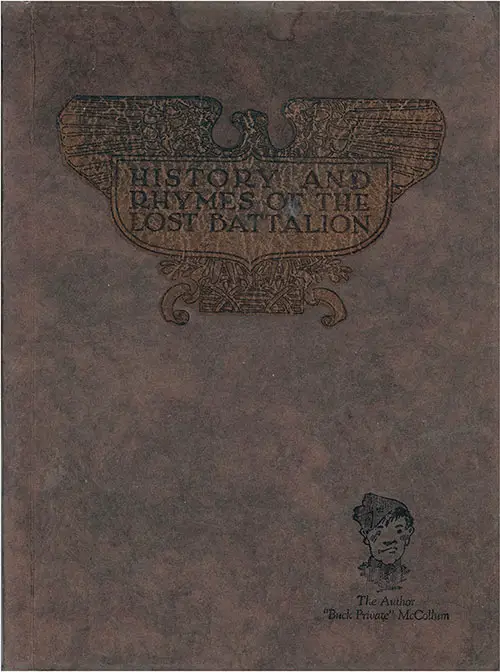 Front Cover, History and Rhymes of the Lost Battalion by "Buck Private" McCollum. Sketches by Franklin Sly and Tolman R. Reamer, 1919. GGA Image ID # 182139da06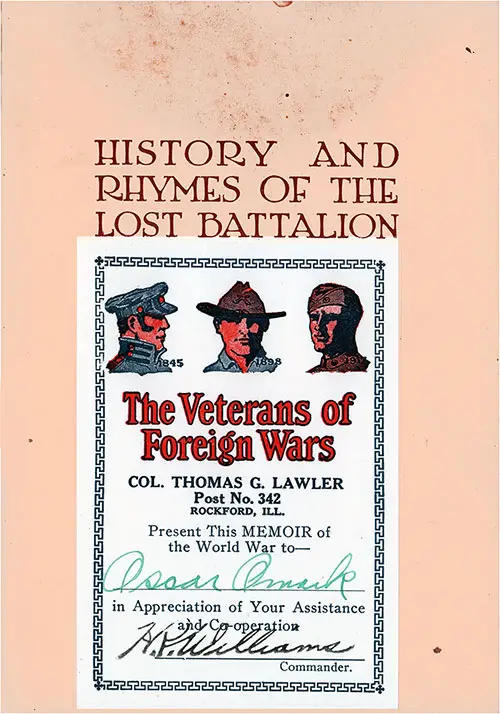 Owner's Mark: History and Rhymes of the Lost Battalion. The Veterans of Foreign Wars Col. Thomas G. Lawler, Post No. 342, Rockford, IL., Present This Memoir of the World War to Oscar Omark in Appreciation of Your Assistance and Cooperation. H. P. Williams, Commander. GGA Image ID # 18218f1ec6
That proper recognition may be given all units represented in the V J Lost Battalion, I quote herewith; General Robert Alexander's Citation of the "Lost Battalion" published April 15th, 1919 in France, as follows:
"General orders No. 80:
"I desire to publish to the command an official recognition of the valor and extraordinary heroism in action of the officers and enlisted men of the following organizations:
Company A, 808th Infantry
Company B, 808th Infantry
Company C, 808th Infantry
Company E, 808th Infantry
Company G, 808th Infantry
Company H, 308th Infantry
Company K, 307th Infantry
Company C, 306th Machine Gun Battalion
Company D, 306th Machine Gun Battalion
"These organizations, or detachments therefrom, comprised the approximate force of 550 men under command of Major Charles W. Whittlesey, which was cut off from the remainder of the Seventy-Seventh Division and surrounded by a superior number of the enemy near Charlevoix, in the Forest d'Argonne, from the morning of October 3, 1918, to the night of October 7, 1918.
"Without food for more than one hundred hours, harassed continuously by machine gun, rifle, trench mortar, and grenade fire. Major Whittlesey's command, with undaunted spirit and magnificent courage, successfully met and repulsed daily violent attacks by the enemy.
"They held the position which had been reached by supreme efforts, under orders received for an advance, until communication was re-established with friendly troops. When relief finally came, approximately 194 officers and men were able to walk out of the position. Officers and men killed numbered 107.
"On the fourth day a written proposition to surrender received from the Germans was treated with the contempt which it deserved.
"The officers and men of these organizations during these five (5) days of isolation continually gave unquestionable proof of extraordinary heroism and demonstrated the high standard and ideals of the United States Army.
Robert Alexander
Major General, U. S. A.
Commanding."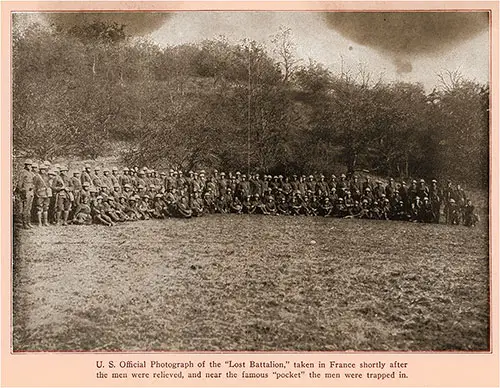 US Official Photograph of the "Lost Battalion," taken in France Shortly After the Men were Relieved, and Near the Famous "Pocket" the Men were Trapped In. History and Rhymes of the Lost Battalion, 1919. GGA Image ID # 182171ed80
A Tribute
Written expressly for this publication by Lieut. Col C. W. Whittlesey, Commander of "The Lost Battalion"
As one of the members of a regiment that fought in France, the memories that are most vivid with me,now that two years have gone since the war has ended, are the memories of the nights and days when the simple unknown soldiers of the regiment showed their fineness under trial.
In a forest in northeastern France in a cold and damp October, without rations, without surgical attention, cut off, as they supposed, from the notice of their fellow men, they gave to the day's hardships and duties a courage and plain human kindliness that will always make one proud of the record of the American soldier.
Such achievements are not attributable to any officer or group of officers or leaders. They arise from brave men working unselfishly together with faith in the cause which they serve.
When an individual shows courage under stress, we feel a thrill at his achievement, but when a group of men flash out in the splendor of manliness we feel a lasting glow that is both pride and renewed faith in our fellow men.
And as a member of such a regiment, for which I feel deep affection, I feel a bond of understanding and fellowship for the American soldier in every place and time, doing his job simply and finely, asking neither sympathy nor praise.
May the armistice be lasting, and these great qualities find their true place in Peace.
November 11, 1920.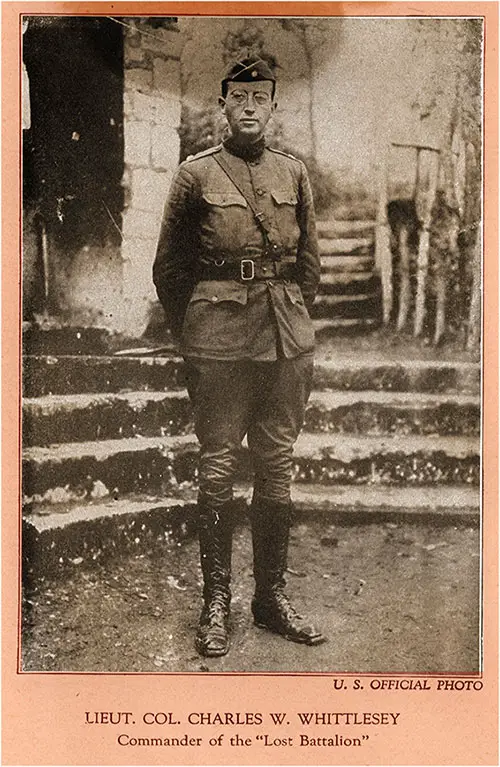 Lt. Col. Charles W. Whittlesey, Commander of the "Lost Battalion." Official Photo US Army. History and Rhymes of the Lost Battalion, 1919. GGA Image ID # 1821727f8e
Contents
A Tribute
Memorial Address
Foreword
Our Commander
Up There
Memory Lane
Bully Beef
Cooties
Rain! Rain! Rain!
Gassed
Oh Boy!
Fighting Mad
Over The Top
The Medal
Oui Oui Mon Cher!
The Debt
My Pals
Four Square
Captain Holderman's Citation
History of The Lost Battalion
How The Lost Battalion Was Lost
Private Hollingshead's Experience
Private Krotoshinsky's Experience
The Fight of The Lost Battalion
Mother
Treasures
The Flare
Visions
Detail Army
The Bandolier
Going In
Our Chaplain
Just Troops
That Night At La Harazee
Buddies
Those Who Wait
My Souvenir
Songs of Sorrow
The Ambulance Driver
The Pirate Gun
Killed in Action
Thots!
Can You Beat That In England
Homeward Bound
We Are Coming Back
The Price
The Returns
The War Is Over
The Buck
Comradeship
Phantoms
Afterword
List of Illustrations
Lieutenant Colonel Charles W. Whittlesey, and survivors of the Lost Battalion
Major General Robert Alexander, Commanding General 77th Division
Lieutenant Colonel Charles W. Whittlesey, In Command of the Lost Battalion
Major George G. McMurtry, Second in Command of the Lost Battalion
Captain Nelson M. Holderman, In Command of right wing or flank of the Lost Battalion
Map of Lost Battalion Location
The famous "pocket" of the Lost Battalion
Private Lowell R. Hollingshead, Captured American Soldier who delivered the German "Demand for Surrender" to Whittlesey
Private Abraham Krotoshinsky, Runner who delivered message which brought about the rescue of the Lost Battalion
"Buck Private" McCollum, the Author
Pen Sketches by Franklin Sly and Tolman R. Reamer
Library of Congress Catalog Listing
Personal name: McCollum, Lee Charles.
Main title: History and rhymes of the lost battalion / by "Buck Private" McCollum ; sketches by Franklin Sly and Tolman R. Reamer.
Published/Created: [Columbus, Ohio], 1919, 1921, 1922, 1923, and 1929.
Description: 140 p., 1 fold. leaf of plates : ill. ; 18 cm.
LC classification: D526.2 .M16 1928
LC Subjects: United States Army. Field Artillery Regiment, 308th. World War, 1914-1918--Poetry. World War, 1914-1918--Regimental histories--United States.
LCCN: 29006473
Other system no.: (OCoLC)2141942
Type of material: Book