Manual for Soldiers in France In Town and Field Service - 1918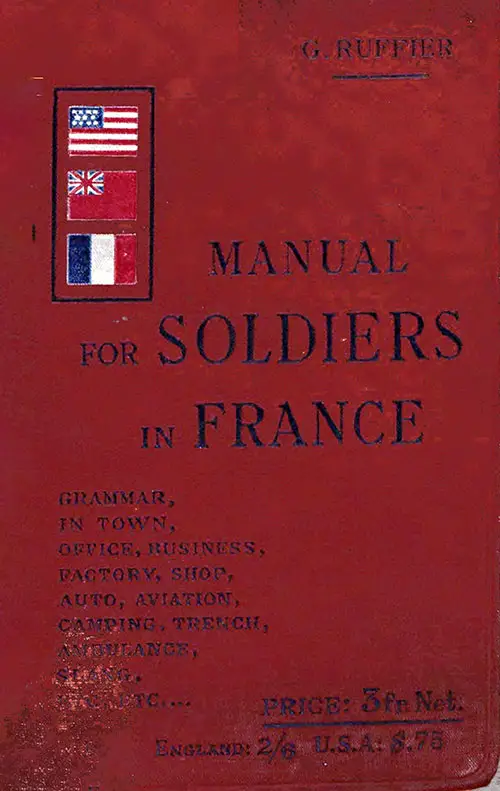 Front Cover, Manual for Soldiers in France: In Town and Field Service, 1918. GGA Image ID # 17e024b475
G. Ruffier, Manual for Soldiers in France: In Town and Field Service,  © 1918, L'Édition Française Illustrée, Paris, Hardcover, 104 Pages.  (18-15683). This work has been selected by scholars as being culturally important, and is part of the knowledge base of civilization as we know it. This book has been reprinted by Creative Media Partners, LLC, 2018, ISBN 9780341101536.
Foreword (Note 1)
In publishing this Manual for Soldiers in France, we have mostly had in mind to be of assistance to the soldiers and officers of the American and English contingents in the many casualties and difficulties that will undoubtedly face them while in France.
We aim to present a complete vocabulary and conversation book, such as have already been compiled for travelers and tourists.
Correct to say, since the English, and now the Americans, have become our Allies, many such books have come to light. Unfortunately, most of them are but copies of the formers, taking into account the changes of circumstances and forgetting that the tourist and the soldier have different needs; others are altogether too technical.
The experience of the author, who has lived many years abroad and has, furthermore, acquired the hard-won knowledge of a fighting soldier (camping, trench-life, hospital, etc.) that experience, enables him to understand the exact conditions required, that his hand-book might prove of real profit to the soldier.
The soldier of today is not to be found exclusively on the Battlefields as a fighting man. In modem war, the soldier works as a clerk, as a chauffeur, as an engineer, as an architect, as an orderly, in various functions, which justifies our special chapters on Business, Automobile, on Draughting, on Construction, etc.
It would be wise for the "Soldier" to read and study the chapter which immensely interests him rather than waits for the occasion which will oblige him to refer to the Manual.
If a mechanic, we do not expect him to work, a monkey-wrench in one hand and the book in the other; but should he, for instance, drive a car, the perusal and study, now and then, of the chapter automobile, will significantly help him if, afterward, he should work with French mechanics.
We have devoted a chapter to the slang in everyday use amongst French soldiers. We do not anticipate the soldier making a profound study of that "lingo," which, in itself, is not offensive but merely a "creation of the war." It will help him understand many expressions, incomprehensible to the non-initiated and yet worth observing for their sagacity, precision, sharpness, and wit.
We hope that they will not strike the ears of our friends strangely, but rather that their understanding will favor a closer bond of esteem between "Tommy," "Sammy," and the "Poilu."
Completeness and Concision have been our guides.
If we have produced a book of - value to the "Soldier," we are glad to have accomplished our aim.
G. Ruffier, ex-student of Columbia University, New York, wounded at Souchez (Pas-de-Calais), France, 21 February 1916.
Contents:
Pronunciation, Grammar, etc.
Numbers
Money
Time, Dates, etc.
Measures
Landing
At the Railroad Depot
At the Steamer's Office
Other in-town situations
Book Review
The Manual for Soldiers in France of Mr. Fuffier is a clearly thought out piece of work, of high value to those wishing to obtain a swift and accurate access to the idioms of daily conversation, of army usage, of social need. The words and phrases are well chosen, the presentation is intelligent.
The book could have been written only by a person who understands the temperaments, the customs, the daily life of the respective nations. The chapter on slang is of unusual popular interest as well as of service in apprehending the speech of the Poilu.
The entire pamphlet is a contribution to the international goodwill between France, England and the United States.
-- Arthur Gleason
Special Correspondent of the New York Tribune and the Century Magazine
Library of Congress Catalog Listing
LC Control No.: 18015683
Type of Material: Book (Print, Microform, Electronic, etc.)
Personal Name: Ruffier, G. [from old catalog]
Main Title: Manual for soldiers in France, in town and field service.
Published/Created: Paris, L'Édition française illustrée [c1918]
Description: 103, [4] p. illus. 16 cm.
Subjects: French language --Conversation and phrase books (for soldiers, etc.) [from old catalog]
LC Classification: PC2120.S7 R85
Note 1: Revised and Edited for Grammar and Spelling.