SS Republic Passenger Lists 1907-1926
SS Republic (1907/1924) of the United States Lines. GGA Image ID # 1d31596001
Republic (1907) United States Lines
Built by Harland & Wolff, Ltd., Belfast, Ireland. Tonnage: 17,910. Dimensions: 599' x 68'. Twin-screw, 14 knots. Quadruple expansion engines. Four masts and one funnel. The Republic had two of her original six masts removed. First voyage as Republic New York-Plymouth-Cherbourg-Bremen, April 29, 1924. Vessel was sold to United States Government in 1934. WW2 Service: Served as a troopship in World War II. Converted to hospital ship in 1945. Decommissioned as hospital ship in February 1946. Post War Service: Transformed back to troopship. Scrapped at Baltimore in 1952. Ex-President Grant (1924), ex-Servian. Note: See President Grant for further information.
All Digitized Passenger Lists For the SS Republic Available at the GG Archives. Listing Includes Date Voyage Began, Steamship Line, Vessel, Passenger Class and Route.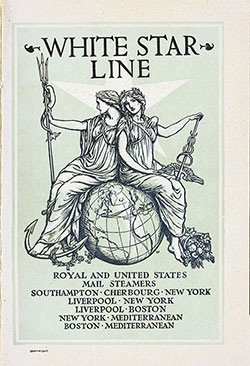 1907-08-14 RMS Republic Passenger List
Steamship Line: White Star Line
Class of Passengers: First Class
Date of Departure: 14 August 1907
Route: Liverpool to Boston via Queenstown (Cobh)
Commander: Captain J. McAuley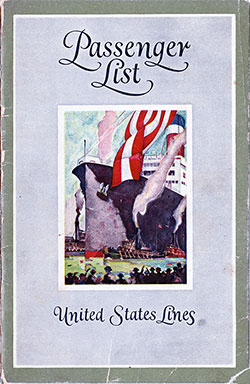 1926-09-24 SS Republic Passenger List
Steamship Line: United States Lines
Class of Passengers: Cabin
Date of Departure: 24 September 1926
Route: Bremen to New York via Southampton, Cherbourg, and Cobh (Queenstown)
Commander: Captain A. B. Randall, U.S.N.R.F
Passenger Lists contained in the GG Archives collection represent the souvenir list provided to the passengers of each cabin class (and other classes). Many of these souvenir passenger lists have disappeared over the years. Our collection contains a sampling of what was originally produced and printed by the steamship lines.