Das Boot, The Boat: Terror Under the Sea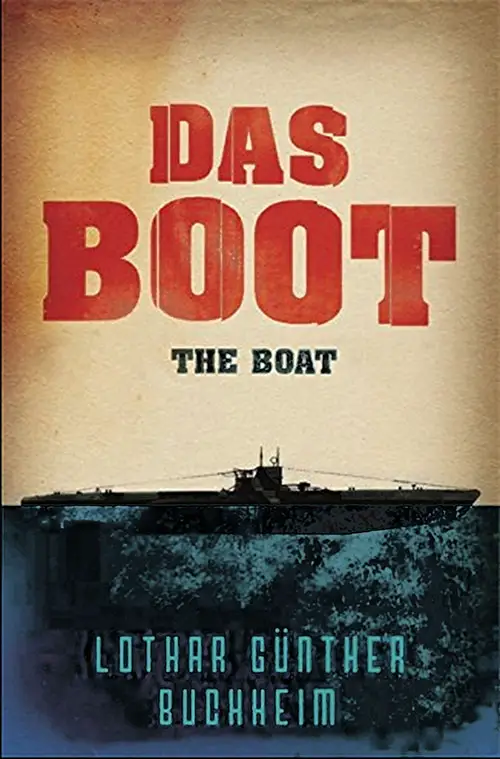 Das Boot - The Boat by Lothar-Günther Buchheim, Translated from the German by Denver and Helen Lindley, 1976. GGA Image ID # 17f96a9436
The Boat: Terror Under the Sea... The Extraordinary Novel of Life and Death in a World War II German Submarine by Lothar-Günther Buchheim. Translated from the German by Denver and Helen Lindley. April 1976. Paperback
Synopsis
Follows the patrols, waits, and attacks, through the crucial fall and winter of 1941, of the German U-boat U-96, Type UA VII-C and its crew, as they endure their shadowy, isolated, and claustrophobic inner and outer worlds.
From the Publisher
Das Boot is a thrilling wartime novel that inspired Wolfgang Petersen's Academy Award-nominated blockbuster film. Written by a naval officer in Germany's U-boat fleet, Das Boot is one of the most exciting submarine warfare stories ever published, a tale filled with an almost unbearable tension and suspense.
In autumn 1941, a German U-boat commander and his crew set out on yet another hazardous patrol in the Battle of the Atlantic. Over the coming weeks, they brave the ocean's stormy waters and seek out British supply ships to destroy. But their targets travel in well-guarded convoys.
When contact finally occurs, the hunter quickly becomes the hunted, and a cat-and-mouse game begins as the U-boat hides deep beneath the surface of the sea.
Soon, claustrophobia becomes an enemy almost as frightening as the depth charges exploding around them. The release of this supremely gripping, relentless, intense story in 1981 commemorated the 60th anniversary of World War II.
Motion Picture
Das Boot is a 1981 film about the claustrophobic world of a WWII German U-boat; boredom, filth, and sheer terror. Directed and written by Wolfgang Petersen, based on the novel by Lothar G. Buchheim.
About the Author
Lothar-Günther Buchheim (1918-2007) was a German author, painter, and art collector. He is best known for his novel Das Boot (1973), an international bestseller adapted in 1981 as an Oscar-nominated film. His novel was followed by a non-fiction work, U-Boot-Krieg (U-Boat War) in 1976, which became the first part of a trilogy, together with U-Boot-Fahrer (U-Boat Sailors, 1985), and Zu Tode Gesiegt (Victory in the Face of Death, 1988). The trilogy includes over 5,000 photographs taken during World War II.
As a Leutnant zur See in the Kriegsmarine in the Second World War in the autumn of 1941, Buchheim joined Kapitänleutnant Heinrich Lehmann-Willenbrock and the crew of U-96 on her seventh patrol in the Battle of the Atlantic. His orders were to photograph and describe the U-boat in action. From his experiences, he wrote a short story, "Die Eichenlaubfahrt" (The Oak-Leaves Patrol; Lehmann-Willenbrock had been awarded the Knight's Cross with oak leaves). Buchheim ended the war as an Oberleutnant zur See.
Library of Congress Catalog Listing
LC Control No.: 74021314
Type of Material: Book (Print, Microform, Electronic, etc.)
Personal Name: Buchheim, Lothar Günther.
Uniform Title: Boot. English
Main Title: The boat / Lothar-Günther Buchheim; translated from the German by Denver and Helen Lindley.
Edition Information: 1st American ed.
Published/Created: New York : Knopf : distributed by Random House, 1975.
Description: 463 p.; 25 cm.
ISBN: 039449105X
Notes: Translation of Das Boot.
Subjects: World War, 1939-1945 --Naval operations --Submarine --Fiction. World War, 1939-1945 --Naval operations, German --Fiction. Submarines (Ships) --Fiction. Submarine warfare --Fiction. Germany --Fiction.
Form/Genre: War stories. gsafd Sea stories. lcsh
LC Classification: PZ4.B9198 Bo3 PT2662.U3134
Dewey Class No.: 833/.9/14
Language Code: engger