Ten Days to D-Day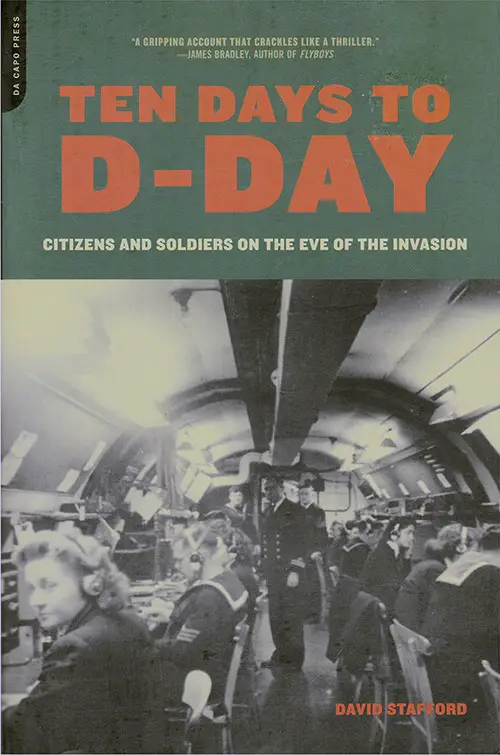 Front Cover, Ten Days to D-Day by David Stafford, 2005. GGA Image ID # 17f821436a
Publisher Description
Ten days before the largest operation of World War II was launched, it was still one of the century's best-kept secrets—thanks to countless ordinary people participating in one of history's most remarkable moments. David Stafford has written a riveting account of ten of those ordinary men and women—including an American paratrooper, a German soldier, a nineteen-year-old English woman working on secret codes, a Parisian Jew in hiding, and a daring French resistance cell—as they lived through ten very extraordinary days.
Drawing on previously unpublished diaries and letters, Stafford gives readers a fresh point of entry into one of the most significant battles ever fought. Ten Days to D-Day buzzes with the pace of a novel, as Stafford moves from country to country, from character to character, including some of D-Day's leaders: Hitler, Rommel, Eisenhower, and Churchill. Stafford compellingly brings to life the final days before the invasion through the eyes of its participants, the citizens and soldiers that made history on June 6, 1944.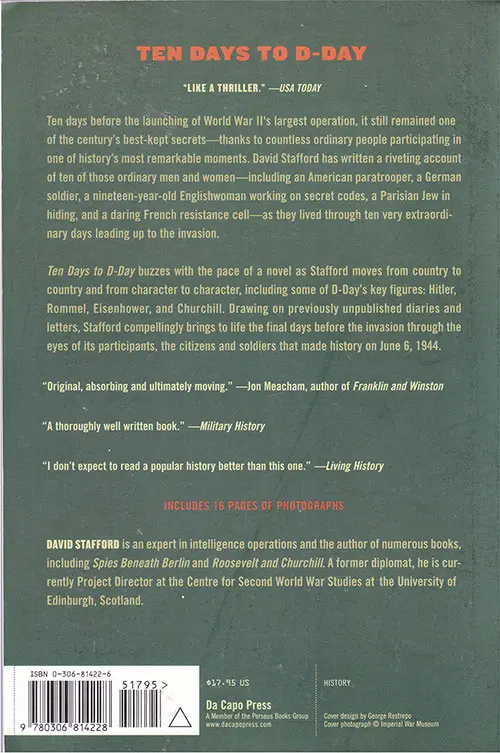 Back Cover, Ten Days to D-Day by David Stafford, 2005. GGA Image ID # 17f8880824
Contents
Preface
Map of Southern Britain and Northern France
1 What Victory Means Sunday, May 28
2 It Can't Be Far Off Monday, May 29
3 Hit the Beach Hard Tuesday, May 30
4 Rumors Get Around Wednesday, May 31
5 The Hour of Combat Is Coming Thursday, June 1
6 Soldiers in Very Good Heart Friday, June 2
7 The Nadir of Strain Saturday, June 3
8 One Hell of a Mess Sunday, June 4
9 OK, We'll Go Monday, June 5
10 It Must Be the Landings
D-Day
Epilogue
What Became of Them?
Appendices
Acknowledgments and Sources
Select Bibliography
Index
About the Author
David Stafford is an expert in Britain's wartime intelligence operations and the author of numerous books, among them Spies Beneath Berlin, Churchill and Secret Service and Roosevelt and Churchill, which was a selection of the Book-of-the-Month Club. A former diplomat who has written extensively on intelligence history, he is currently Project Director at the Centre for Second World War Studies at the University of Edinburgh, Scotland.
Library of Congress Catalog Listing
LC Control No.: 2006277321
Type of Material: Book (Print, Microform, Electronic, etc.)
Personal Name: Stafford, David.
Main Title: Ten days to D-Day : citizens and soldiers on the eve of the invasion / David Stafford.
Edition Information: 1st Da Capo Press ed.
Published/Created: New York : Da Capo Press, 2005.
Description: xv, 377 p. : ill., maps; 23 cm.
ISBN: 0306814226 (pbk.)
Notes: Originally published: London : Little, Brown, 2003.
Subjects: World War, 1939-1945 --Campaigns --France --Normandy. World War, 1939-1945 --Social aspects. War and society.
LC Classification: D756.5.N6 S66 2005
Dewey Class No.: 940.54/21421 22
Geographic Area Code: e-fr---