Norway 1940 by François Kersaudy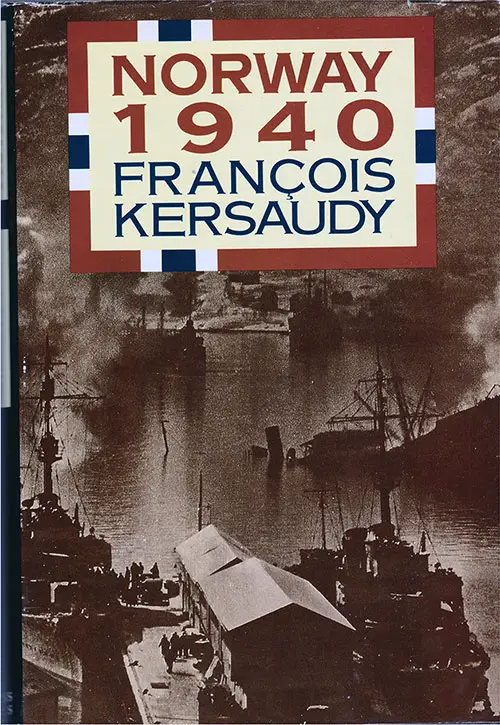 Front Cover, Norway 1940 by François Kersaudy, 1987. GGA Image ID # 17f53c9ba3
St. Martin's Press, New York, Hard cover, 272 Pages, 0-312-06427-6, 940.54'2181--dc20.
Publisher's Note
Looks at Britain and France's betrayal of Norway during World War II, and portrays the strength of Norway's King Haakon VII, whose honorable leadership united the nation in an attempt to defend itself from the invasion of Hitler's troops.
Publisher Description
In the late 1930s, as Europe moved toward war, the peaceful kingdom of Norway found itself strategically vital to the interests of Germany, France, and Great Britain.
Though Norway was strictly neutral, in April 1940 Britain and France mined Norwegian territorial waters to prevent supplies from reaching Germany. Immediately, the German Reich invaded the militarily weak Norway.
Norway 1940 shows the country fighting valiantly, assisted by the Allies in a two-month campaign that has become a textbook example of confused aims and faulty coordination.
François Kersaudy delved deeply into the archives of the nations involved to offer the most balanced account to date.
He depicts the glaring political and military errors of the campaign and goes on to consider large questions about its conduct and consequences.
From the Cover Jacket Flaps
ISBN 0-312-06427-6 $19.95
"A superb book by a very considerable historian." -- The Independent
No episode in the Allied conduct of the Second World War is more shameful than Britain and France's betrayal of Norway, a story that François Kersaudy brilliantly relates in this English bestseller that the Literary Review has called "one of the best campaign studies in this or any language."
Desperate to preserve its Neutrality in the first year of the war, Norway found itself in the midst of Germany's shipping routes since much of Hitler's iron ore was mused in Gallivere in northern Sweden.
The British realized that any interruption of this flow of maritime traffic would seriously hamper Germany's arsenal capabilities. Churchill, as First Lord of the Admiralty, was determined to sever this artery. Yet, despite Churchill's urging. Prime Minister Neville Chamberlain was as pusillanimous and ineffective with Norway as he had been with Germany at the Munich talks nearly two years earlier.
Finally, in February of 1940, after much hesitation, Churchill ordered the British and Norwegian navies to attack and seize a German ship carrying 299 British prisoners of war.
Enraged by this bold action, Hitler retaliated by invading Norway and Denmark. Yet, the characteristic hysteria and uncertainty on the part of the Allies set in again, and Norway was left to stand on its own against the German invasion forces.
Unable to offer much resistance and nearly devoid of any funds, Norway nevertheless put up a valiant struggle, while Britain and France did nothing.
King Haakon of Norway, already in his eighties, was one of the true heroes of the war, and his untrained troops with obsolete weapons were able to stave off the Germans in the vain belief that assistance would be forthcoming.
Help, however, did not arrive, and Norway was ultimately sacked and brutalized. This disgraceful episode in 1940 finally led to the downfall of Neville Chamberlain as Prime Minister of England. It facilitated the rise of the more pragmatic and fearsome Winston Churchill, effectively ending the age of appeasement.
France, which also failed to prevent the rape of Norway, was violated two months later when Germany launched its invasion of France, seizing Paris by June. Norway 1940 is one of the most interesting, original, and well-researched books recently published on World War II.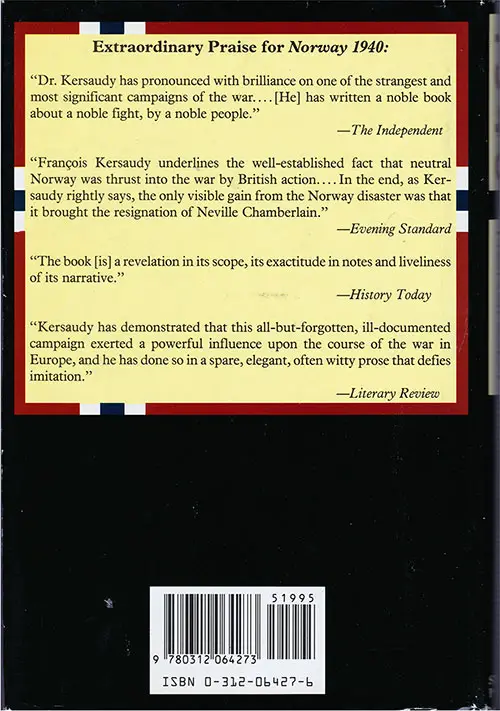 Back Cover, Norway 1940 by François Kersaudy, 1987. GGA Image ID # 17f53f60fb
About the Author
François Kersaudv was born in Paris in 1948. After study in the United States, France, Vietnam, and Austria, he graduated from the Institute of Political Science in Paris and received a doctorate in Contemporary History from the Sorbonne. He taught at the Sorbonne for seven years and was a Research Fellow at Keble College, Oxford, for three years.
His first book published in English, the highly acclaimed Churchill and DeGaulle, won the Yorkshire Post Book of the Year Award for Best First Work. With a working knowledge of eight languages, he is the first historian to have examined the archives of all the nations involved in the Norwegian debacle. The Cover Jacket photograph was by Gérard Oriol, courtesy of Archives Tallandier.
François Kersaudy was a research fellow at Keble College, Oxford University. He is the author of Churchill and DeGaulle.
Library of Congress Catalog Listing
LC Control No.: 98033494
Type of Material: Book (Print, Microform, Electronic, etc.)
Personal Name: Kersaudy, François, 1948-
Uniform Title: 1940. English
Main Title: Norway 1940 / François Kersaudy.
Published/Created: Lincoln, Neb. : University of Nebraska Press, 1998.
Description: 272 p. : ill., maps; 23 cm.
ISBN: 0803277873 (pbk. : alk. paper)
Notes: Originally published: Great Britain : W. Collins Sons, 1990. Includes bibliographical references (p. 250-256) and index.
Subjects: World War, 1939-1945 --Campaigns --Norway. Norway --History --German occupation, 1940-1945.
LC Classification: D763.N6 K4413 1998
Dewey Class No.: 940.54/281 21
Language Code: eng fre
Geographic Area Code: e-no---