The Memoirs Of A Merchant Marine During WWII 1939-1945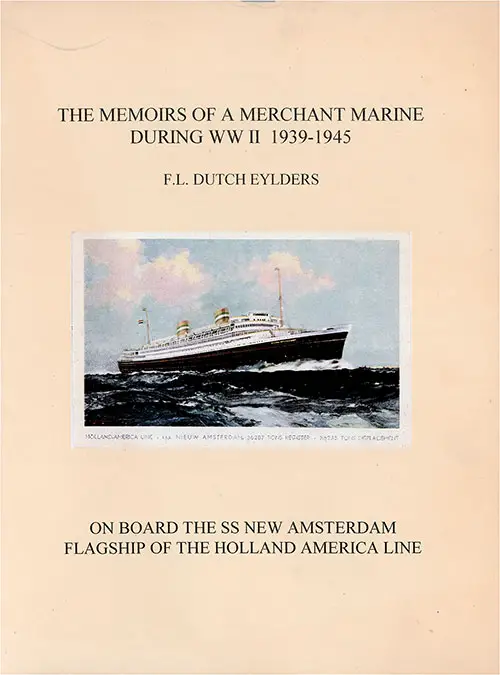 Front Page, The Memoirs Of A Merchant Marine During WW2.1939-1945 By F.I. Dutch Eylders, 1999. GGA Image ID # 17f3499ab4
The Memoirs Of A Merchant Marine During WW2.1939-1945 By F.I. Dutch Eylders, On Board The SS Nieuw Amsterdam, Flagship Of The Holland America Line. September, 1999...1st Edition Autographed To A Friend Of The Author. Paperback .Large Format...Spiral Bound.172 Pages.
Privately published book of the memoirs of a Merchant Marine, F. L. "Dutch" Eylders, who kept a diary of his experiences during World War II. Assorted ephemera supplemented his diary through numerous photocopied photographs, newspaper clippings, and extracts from several brochures.
Contents
Phase I: The Early Years 1921-1939
Phase II: The Adventure Begins 24 August 1939
Phase III: Moving Troops, Refugees, Prisioners, and a King May 1941 - February 1942
Phase IV: 14 July 1942 - 27 March 1943
Phase V: 27 March 1943 - 31 July 1943
Phase VI: 17 December 1943 - 28 July 1944
Phase VII: 29 July 1944 - 26 December 1944
Phase VIII: 26 December 1944 - 27 July 1945 US Marines on Iwo Jima Captured Mount Suribachi, Where They Raised the American Flag
Phase IX: 28 July 1945 - December 1948 V-J Day
The first portion (Phases I & II) of the book contained many family/extended family photographs of different locals. Phase III began with images of the Nieuw Amsterdam as a troopship followed by several articles about Durban, South Africa, and military parades held featuring British Regiments, Durban Women of War (WAAF's), Wartime Tribute to the Men of the Merchant Marine, more parades featuring Australian soldiers, Natal Regiments, Modern Sites in the City of Durban, British Navy, New Zealander Soldiers, the RAF, and even the Indian Soldiers. This was followed by a photocopied lengthy article featuring pictures with expanded captions about life aboard a Springbok troopship, January 1942.