Berlin Diary: The Journal of a Foreign Correspondent 1934-1941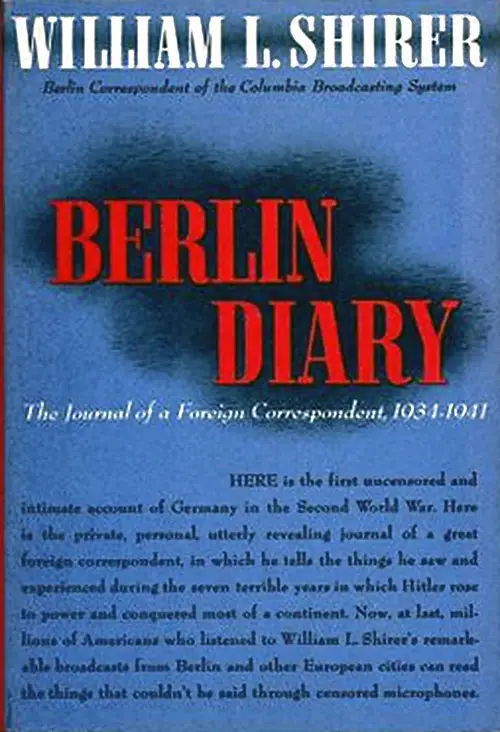 Front Cover, Berlin Diary: The Journal of a Foreign Correspondent 1934-1941 by William L. Shirer, 1941. GGA Image ID # 17ee9da885
1941 Berlin Diary: The Journal of a Foreign Correspondent 1934-1941, William L. Shirer. The great bestseller that records - hour-by-hour, day-by-day the hell that was Hitler's Germany. Paperback
A day to day record of events that happened before his eyes, such as he was in Vienna when the German Forces took over Austria, he covered the Sudetenland fighting in 1938 and watched the sellout of Czechoslovakia at Godesberg, Berlin and Munich.
Synoposis
This is Shirer's first-hand account as he watched with increased fascination and horror as Europe plunged madly down the road to Armageddon in the last half of the 1930s. Shirer spent many years in close proximity to Hitler, witnessing first hand the brutality with which Hitler tried to conquer Europe, hoping against hope that Hitler would somehow lose.
From the Publisher
Here is the first uncensored and intimate account of Germany in the Second World War. Here is the private, personal, utterly revealing journal of a great foreign correspondent, in which he tells the things he saw and experienced during the seven terrible years in which Hitler rose to power and conquered most of the continent.
Millions of Americans who listened to William L. Shirer's remarkable broadcasts from Berlin and other European cities can read the things that couldn't be said through censored microphones.
Nowadays, the name of William L. Shirer is virtually a household word among those interested in the study of his era. This is because of the publication in 1960 of his authoritative masterpiece, "The Rise and Fall of the Third Reich."
Shirer had been virtually the only correspondent able to report on the startling events which occurred during the period 1934 to 1940, with the rise to power and eventual domination by Adolph Hitler.
Shirer had been near to Hitler during this period, and he almost alone was able to report firsthand on the startling events of that period.
Shirer was the only Western Correspondent in Vienna on March 11, 1938, when the German troops marched in and took over Austria.
Shirer alone was the one who reported the surrender by France to Germany on June 22, 1940, even before the Germans reported it.
During this entire time, Shirer kept a diary, a record of events, many of which could not be publicly reported because of censorship by the Germans.
In December 1940, Shirer learned that the Germans were building a case against him for espionage, which was punishable by death. Shirer did the right thing: He escaped and fortunately was able to take most of his diary with him.
Library of Congress Catalog Listing
LC Control No.: 41009746
Type of Material: Book (Print, Microform, Electronic, etc.)
Personal Name: Shirer, William L. (William Lawrence), 1904-1993.
Main Title: Berlin diary; the journal of a foreign correspondent, 1934-1941 [by] William L. Shirer.
Published/Created: New York, A. A. Knopf, 1941.
Related Names: Rouben Mamoulian Collection (Library of Congress)
Description: 3. p. l., [v]-vi p., 2 l., [3]-605, xxi, [1] p. 22 cm.
Notes: "First edition."
Sequel: End of a Berlin diary.
Subjects: Hitler, Adolf, 1889-1945. Shirer, William L. (William Lawrence), 1904-1993 --Diaries. World War, 1939-1945 --Personal narratives, American. World War, 1939-1945 --Germany. Europe --Politics and government --1918-1945. Germany --Politics and government --1933-1945.
LC Classification: D811.5 .S5 1941
Dewey Class No.: 940.5343
Geographic Area Code: e------ e-gx---