Battles For Scandinavia: World War II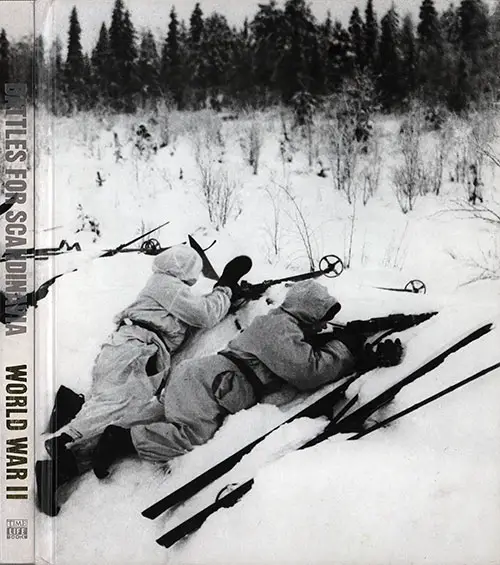 Front Cover of the Time Life Book Battle For Scandinavia, included in their World War II Series. On the fringe of a Soviet-occupied forest stronghold in the north of Finland, Finnish ski troopers lie against a snowy hummock with their bayoneted rifles at the ready. Bitter weather and hostile Arctic terrain bedeviled the foreign troops—German, Russian, British and French—who fought with and against the Scandinavians between 1935 and 1945. Chicago: Time Life Books, 1981. GGA Image ID # 1661b27166
Synopsis from Publisher
The four nations of Scandinavia—Denmark, Norway, Sweden and Finland—hoped to remain neutral in World War II. But the Arctic crest from Petsamo in Finland to Narvik in Norway was rich in iron, nickel, copper and molybdenum—the stuff of arms and armor.
For the Germans, the long Norwegian coast afforded sheltered waters from which Britain and British shipping might be attacked. The airfields of Denmark provided a steppingstone to Norway.
Finland and its gulf offered a passageway between Germany and the Soviet Union. For all these reasons, the major European combatants of the War converged on Scandinavia.
Table of Contents
CHAPTERS
A War That Winter Brought
The Grab for Norway
A Failed Rescue
The Necessary Alliance
Ordeal in the Crudest Sea
Retreat in the North
PICTURE ESSAYS
A Model Scandinavian Hero
Spoils for Ghost Soldiers
The Swiftest Blitz
A Masterpiece of Movement
Sweden on the Alert
Hard Duty in a Harsh Land
A Battle Queen in Exile
Return to Desolation
OTHER
Bibliography
Picture Credits
Acknowledgments
Index
Library of Congress Catalog Listing
LC Control No.: 81005698
Type of Material: Book (Print, Microform, Electronic, etc.)
Personal Name: Elting, John Robert.
Main Title: Battles for Scandinavia / by John R. Elting and the editors of Time-Life Books.
Published/Created: Alexandria, Va. : Time-Life Books, c1981.
Related Names: Time-Life Books.
Description: 208 p. : ill. (some col.); 29 cm.
ISBN: 0809433974; 0809433966 (lib. bdg.); 0809433958 (retail ed.)
Notes: Includes index. Bibliography: p. 202-203.
Subjects: World War, 1939-1945 --Scandinavia. Scandinavia --History --20th century.
Series: World War II
LC Classification: D754.S29 E47
Dewey Class No.: 940.53/48 19
Geographic Area Code: ev-----