Not Me! The World War II Memoir of a Reluctant Rifleman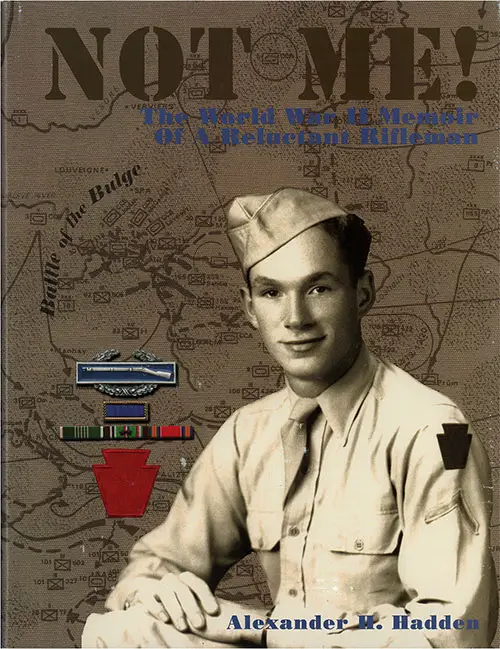 Front Cover, Not Me! The World War II Memoir of a Reluctant Rifleman by Alexander H. Hadden, 1999. GGA Image ID # 17f5ecac8b
© 1999, Merriam Press, Bennington, Vermont, Hardcover, 160 Pages, 1-57638-094-7. The story of Company B, 112th Infantry Regiment of the 28th Division which included George Knaphus.
From the Publisher
What happens when an Ivy League preppy is suddenly dumped from a comfortable college environment into World War II combat as an infantry rifleman? The revelations of Alexander Hadden of the ghastliness of infantry life and not that of military romanticism.
Sandy Hadden well knew that he would find no glamour or glory in a foxhole, and for the first two years of his service managed to avoid answering that question. Knowing he would never be a hero, he said "Not me!" to Air Corps flight training and "Not me!" to dropping behind German lines in an OSS parachute. But like a moth to the flame, he was sucked into war's vortex.
And so it was that in the early morning hours of December 16, 1944-the date personally picked by Hitler to launch his surprise Ardennes Offensive (the "Battle of the Bulge") - Hadden found himself exactly where he dreaded to be: in a front line foxhole with Baker Company of the 28th Division, stupefied by the first assault.
This book explains how this came about and the horrors that followed. It tells of the terrifying German tank and artillery attacks, of the chaos of retreat and being reported as missing in action, of Baker's devastating losses and of the anguish of its men.
And it goes on to document how almost miraculously the survivors rose above their "chickenshit" training, their misguided and even cowardly leadership, and especially their own terror to take the war to the Germans.

In doing so, it strips away the veneer and cant that cloaks most combat writing and lays bare what soldiers really think. The closing chapters are startling in their contrasts: as a new second lieutenant, Hadden is a staffer at the Potsdam Conference where he rubs elbows with Truman, Churchill, and Stalin, and he then spends a year of extraordinary occupation duty in postwar Berlin with side visits to romantic Paris.
This book is unflinching in its look at combat. Its style is direct and unaffected, and it has the kind of real drama about it that comes from absolute authenticity. 32 photos; 3 maps; 3 appendices.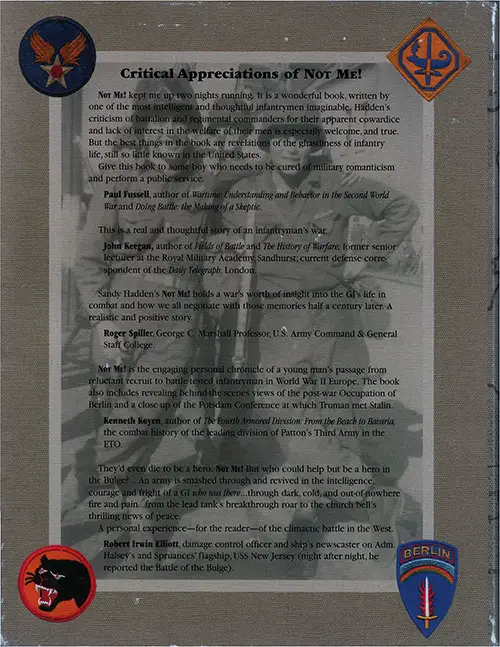 Back Cover, Not Me! The World War II Memoir of a Reluctant Rifleman by Alexander H. Hadden, 1999. GGA Image ID # 17f5f387bb
Library of Congress Catalog Listing
LC Control No.: 97169997
Type of Material: Book (Print, Microform, Electronic, etc.)
Personal Name: Hadden, Alexander H.
Main Title: Not me! : the World War II memoir of a reluctant rifleman / Alexander H. Hadden.
Published/Created: Bennington, Vt. : World War II Historical Society, 1997.
Description: 155 p. : ill., maps; 29 cm.
ISBN: 1576380947 (hardcover)
Subjects: Hadden, Alexander H.; United States. Army. Infantry Regiment, 112th --History.; United States. Army --Biography.; Ardennes, Battle of the, 1944-1945.; World War, 1939-1945 --Personal narratives, American.; Soldiers --United States --Biography.
Series: World War II Historical Society monograph series. World War II Historical Society monograph.
LC Classification: D756.5.A7 H33 1997
Dewey Class No.: 940.54/21482 21
Geographic Area Code: n-us--- e-be---