Comes the Comrade! by Alexandra Orme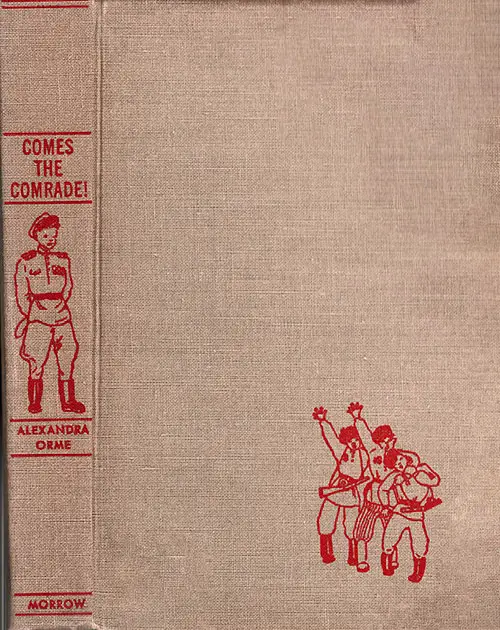 Front Cover, Comes the Comrade! by Alexandra Orme, 1950. GGA Image ID # 166256462b

1950 Comes the Comrade! by Alexandra Orme
Story of a little Hungarian town that was liberated by the Russians in 1944 and how the people couldn't wait for the Russians to leave. Illustrated by the author.
A Report by John P. Marquand
On the dust jacket of Comes the Comrade! the publishers have described the author's amazing cultural and personal experiences with the Russian army, when a part of it swept over a small Hungarian village at the end of the last war. as "gay . . . amusing . . . slightly terrifying!" Technically this is a correct appraisal.
The book is very gay and very amusing, because no matter in what situation she may be thrown, its author is a gay and amusing person. The pages sparkle with her humor and her sophisticated sympathy.
It is true also that her adventures with war-worn Russian troops from all parts of the Soviet Union are not particularly terrifying in themselves, because she was lucky enough to know the language and the thought processes of Russia.
Yet no curtain of good-natured impartiality can conceal the final impact of this narrative, or its implications. These arc more than slightly terrifying.
They are calculated to curl the hair of anyone brought up in an ordered environment. For Alexandra Orme, for all her grace and wit. has given us an utterly devastating. though friendly, picture, of the migrations of a northern barbarian horde arriving in an area of civilization.
Her personal experiences possess a unique but universal quality. They finally become a page of history, the like of which I have never read before.
If someone living in a Gallic villa at the time of the break-up of the Roman empire, instead of in a Hungarian manor house, had written of the visitation of Alaric and his Goths, the general values would be almost identical.
Time has little to do with uncultured people who suddenly encounter the luxuries and amenities of a peaceful and established society. The nightmarish farces and comedies as well as the tragedies so brightly recounted by Alexandra Orme arc actually the inevitable pictures of a world in chaos.
To an American reader these scenes may have a distant unreality but not to a European. They will repeat themselves again and again before our lives are over, if there is another war, and if the Russians move farther west. In spite of her most hectic experiences. Alexandra Orme has a genuine sympathy and liking for the Russians.
She recognizes their impulsive generosities and condones their mental confusions. When the Russian invaders reached Hungary, she was already a refugee from Poland, living with her family and family-in-law in a semi-feudal Hungarian manor house in the small village of Mora, twenty miles from Budapest.
The Russians made their appearance there just before Christmas in 1945, and until Easter of that year Mora was in the restless rear area of a theater of operations, filled with tired and dirty and muddy Russians, all sorts of Russians. They occupied the manor; they overran the grounds; day and night they were everywhere.
Because she understood both them and war's disruptive values, she was able to keep her family together as a unit, but from first to last the process never allowed her a dull moment.
In fact she never had time to change the ski pants she was wearing when they first arrived. Her days were a succession of arguments with Russians drunk or sober, with officers, belligerent privates and political police, all moving under a wild, informal sort of discipline reminiscent of Genghis Khan.
She describes Russians in the mass and Russians as individuals in a merry and entirely unique fashion. Even in her worst moments, she was keenly aware of the farcical elements of her situation.
Even when a pistol was pointed at her head by one of her admirers us he invited her to sleep with him, she did not lose her sense of humor.
It was her imperishable humor. her unbreakable good nature in the face of rape, stupidity, pillage and vodka, that brought her relationship with the Soviet to a happy ending.
The unpredictable quality of the Slavic mind gives Comes the Comrade! the suspense of violent fiction. It can be read like a novel, but at the same time Miss Ormes deep and discerning insight makes it as good a text book as has yet been written on Russian manners and mass behavior.
Miss Orme's characters are as vivid as her criticism. It is hard to forget her drunken officers, her harassed political policemen, her Hero of the Republic, her girl soldiers or the smug Soviet youth who debated with her on cultural subjects.
Although she does imply that nearly all her Russians seem to lack the capacity for free and independent thought and that they lived under conditions which made independent thought impossible, Comes she Comrade! is in no sense a criticism of Communism.
With the exception of a few broad slogans, these people do not appear to have been influenced at all by the principles of Marx or Lenin.
One leaves them with the feeling that they would have behaved in exactly the same manner under the rule of a Tartar prince.
Anyone who reads this book will find in it food for hours of serious afterthought. In these days of the cold war, perhaps everyone should read it, not to seek in it an ugly preview of tomorrow's world but to discover some means of preventing any such world of tomorrow.
About the Author
The name of Alexandra Orme is a pseudonym. It conceals the identity of the author of Comes the Comrade! but there is nothing eccentric or in the least whimsical about her desire to remain anonymous.
The fact is that Miss Orme's parents. Polish survivors of the German blitz in Warsaw and of the Russian invasion, still live in the Russian Zone, and she fears reprisals from the Soviet which may endanger their lives. Lest the entire venture sound like an elaborate political undertaking, she assures us that she wrote the book purely by chance.
She has always considered herself an illustrator and a teller of fairy tales, rather than a full-fledged writer. And even these callings were really avocations. Basically and professionally. Miss Orme is a Pole— and being Polish, she admits, is enough to occupy anyone's entire life.
Even Paderewski regarded himself as a Pole first, a pianist second. Her genealogy makes her about twelve and a half percent Polish, the rest East Prussian, Russian, Italian and Lithuanian; but she was born in Warsaw, and once you start being a Pole, she suggests, it's terribly hard to stop. Certainly the typically Polish effervescence and the sense of cosmopolitan gaiety are important ingredients of her personality.
Library of Congress Catalog Listing
LC Control No.: 50006729
Type of Material: Book (Print, Microform, Electronic, etc.)
Personal Name: Orme, Alexandra.
Main Title: Comes the comrade! Translated from the Polish by M. A. Michael and L. Meyer]
Published/Created: New York, Morrow, 1950 [c1949]
Description: vi, 376 p. illus. 22 cm.
Notes: London ed. (Hodge) has title: From Christmas to Easter.
Subjects: Soldiers --Soviet Union. World War, 1939-1945 --Personal narratives, Hungarian.
LC Classification: D811.5 .O749 1950
Dewey Class No.: 940.54814391
Language Code: engpol
Other System No.: (OCoLC)293445