Norway and the Second World War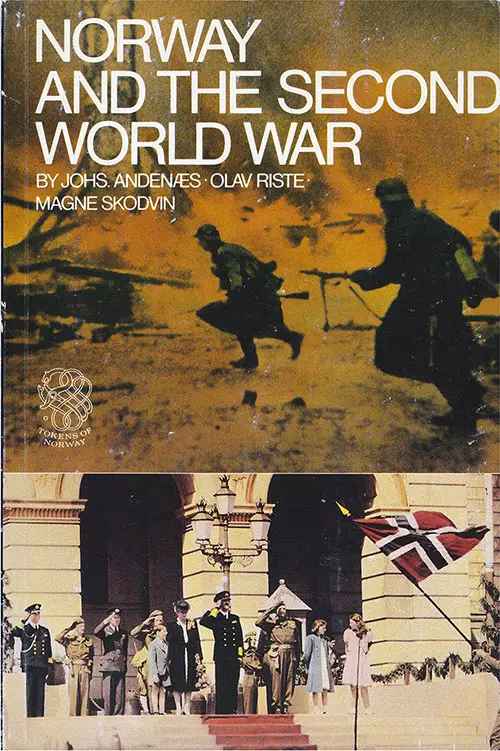 Front Cover, Norway and the Second World War by Johs. Andenæs, O. Riste, and M. Skodvin, 1966. GGA Image ID # 17f59dc5fa
Norway and the Second World War: How the invasion came -- Quisling and the German Authorities -- Norway in the Alliance. The Proceedings Against The Collaborators by Johs. Andenæs, O. Riste, and M. Skodvin, Trykt hos Mesna-Trykk A/S, Lillehammer, Norge, Soft Cover, 173 Pages, 82-03-16154-5.
Book Description
The German invasion of Norway in 1940 opened a crucial chapter of Norwegian history. During the five years that followed, the fate of this nation on the outskirts of Europe was firmly interlocked with the gigantic struggle that raged in Europe and beyond. Yet Norway's war, while being a part of the universal conflict, still presented many unique features.
So far, the results of scholarly enquiry into this period of Norway's history have mostly been available only to those whe read Norwegian. Consequently, people abroad who are interested in Norwegian war-time history have had to rely on the occasional, often inadequate and sometimes distorting, accounts that have been published abroad.
The present work is an attempt to amend this situation, by providing a balanced and concise survey of the period. But rather than presenting just a condensed review of Norwegian war-time history in all its aspects, the authors have chosen to emphasize the less accessible-and therefore more easily misunderstood-story of collaboration with the enemy during the occupation.
To a large extent the authors have relied on their own study of the events, but the aim has also been to present a critical synthesis of years of conscientious research by a number of scholars.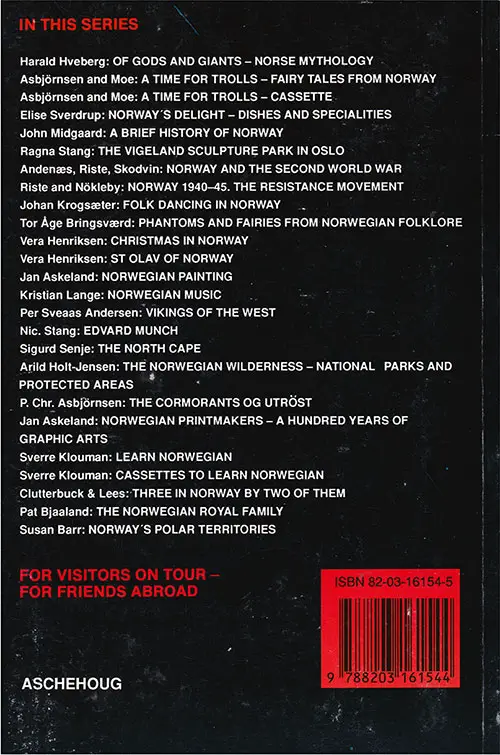 Back Cover, Norway and the Second World War by Johs. Andenæs, O. Riste, and M. Skodvin, 1966. GGA Image ID # 17f59fd263
Library of Congress Catalog Listing
LC Control No.: 66077821
Type of Material: Book (Print, Microform, Electronic, etc.)
Personal Name: Andenæs, Johannes, 1912-
Main Title: Norway and the Second World War. by Johs. Andenæs, O. Riste, M. Skodvin.
Published/Created: Oslo, Tanum, 1966.
Related Names: Riste, Olav. Skodvin, Magne.
Description: 167 p., illus., ports, maps. 21 cm.
Notes: Includes index.
Bibliography: p. 159-[163]
Subjects: World War, 1939-1945 --Norway. Norway --History --German occupation, 1940-1945.
Series: Tanum's tokens of Norway
LC Classification: D763.N6 A57
Other System No.: (OCoLC)1902771
Quality Code: premarc