The Collapse of the Third Republic: An Inquiry into the Fall of France in 1940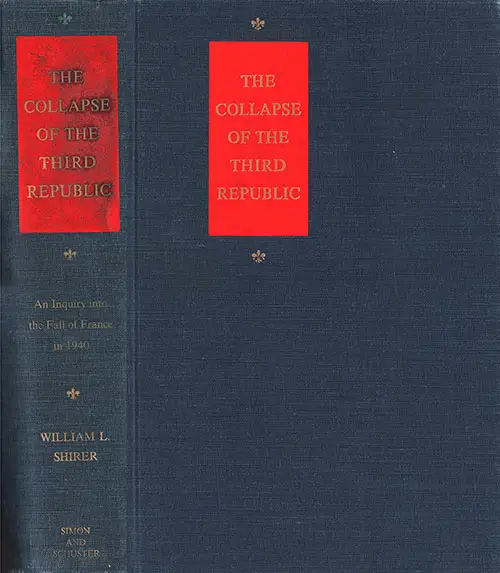 Front Cover, The Collapse of the Third Republic: An Inquiry into the Fall of France in 1940 by William L. Shirer, 1969. GGA Image ID # 166224efa6
1969 The Collapse of the Third Republic: An Inquiry into the Fall of France in 1940 By William L. Shirer. SBN 671-20337-1 LOC 72-91306
Synopsis
A detailed description of the events leading to the outbreak of the Second World War, the battle for Frame and the reasons why France lost when it clearly had superiority in numbers and quality of weapons over Germany.
Description:
On June 17, 1940 William L. Shirer stood in the streets of Paris and watched the unending flow of gray German uniforms along its boulevards. In just six lovely weeks in the spring and summer of 1940 a single battle brought down in total military defeat one of the world's oldest, greatest, and most civilized powers—the second mightiest empire on earth and the possessor of one of the finest military machines ever assembled.
How did it happen? After nearly a decade of research in the massive archives left from World War II and after hundreds of conversations with the Third Republic's leaders, generals, diplomats, and ordinary citizens, Shirer presents the definitive answer in his stunning re-creation of why and how France fell before Hitler's armies in 1940.
His book is also a devastating examination of the confusion, corruption, and cynicism that drained the strength and toughness of a democracy which Thomas Jefferson once called 'every man's second country.' This book complements and completes the dramatic story of The Rise and Fall of the Third Reich and continues to rank as one of the most important works of history of our time.
Library of Congress Catalog Listing
LC Control No.: 72091306
Type of Material: Book (Print, Microform, Electronic, etc.)
Personal Name: Shirer, William L. (William Lawrence), 1904-1993.
Main Title: The collapse of the Third Republic; an inquiry into the fall of France in 1940, by William L. Shirer.
Published/Created: New York, Simon and Schuster [1969]
Description: 1082 p. maps. 25 cm.
ISBN: 0671203371
Notes: Bibliography: p. 997-1010.
Subjects: France --History --1914-1940.
LC Classification: DC396 .S48 1969
Dewey Class No.: 944.081
Geographic Area Code: e-fr---