T-34 Russian Armor : World War II Weapons Book No. 21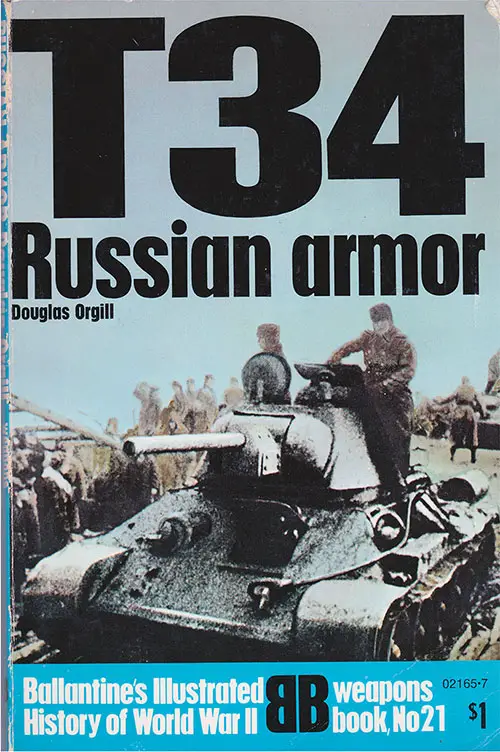 Front Cover, T-34 Russian Armor - Ballantine's Illustrated History of World War II. Weapons Book No. 21 by Douglas Orgill, 1971. GGA Image ID # 17f92f121c
Illustrated with over 100 B/W photographs.. Some have claimed the T-34 was the best tank of WWII. It was, in the very least, a revolution in tank development. Book covers the devlopment, tactics, and WWII combat history of the T-34 tank as well as the German response to it.
From the Back Cover
Colonel-General Heinz Guderian, commanding Second Panzer Army: "Very worrying." Major General F. W. Mellenthin, Chief of Staff of XLVII Panzer Corps: "We had nothing comparable."
Field-Marshal Ewald von Kleist, of First Panzer Army: "The finest tank in the world."
Who could be better judges?
Back Cover, T-34 Russian Armor - Ballantine's Illustrated History of World War II. Weapons Book No. 21 by Douglas Orgill, 1971. GGA Image ID # 17f9381123
About the T-34
The T-34 is a Soviet medium tank introduced in 1940, famously deployed during World War II against Operation Barbarossa. Its 76.2 mm (3 in) tank gun was more powerful than its contemporaries, while its 60 degree sloped armor provided adequate protection against anti-tank weapons.
The T-34 was the mainstay of Soviet armored forces throughout the war. Its general specifications remained nearly unchanged until early 1944, when it received a firepower upgrade to introduce the greatly improved T-34/85 variant.
The Soviets ultimately built over 80,000 T-34s of all variants, allowing steadily more significant numbers to be fielded despite the loss of tens of thousands in combat against the German Wehrmacht. With 44,900 lost during the war, it also suffered the most tank losses ever.
Library of Congress Catalog Listing
LC Control No.: 70021897
Type of Material: Book (Print, Microform, Electronic, etc.)
Personal Name: Orgill, Douglas, 1922-
Main Title: T-34: Russian armor.
Published/Created: [New York, Ballantine Books, 1971]
Related Titles: Russian armor.
Description: 159, [1] p. illus., plans, ports. 21 cm.
ISBN: 0345021657
Notes: On spine: Russian armor.
Bibliography: p. [160]
Subjects: Tanks (Military science) --Soviet Union. World War, 1939-1945 --Equipment and supplies.
Series: Ballantine's illustrated history of World War II. Weapons book, no. 21
LC Classification: UG446.5 .O72
Dewey Class No.: 940.542/1
Geographic Area Code: e-ur---