Norway 1940-45: The Resistance Movement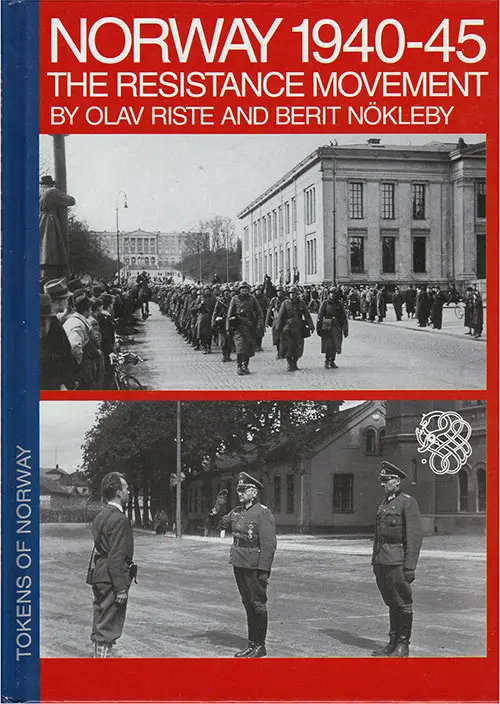 Front Cover, Norway 1940-45: The Resistance Movement by Olav Riste and Berit Nökleby, 1970. GGA Image ID # 17f4ffa0a5
Nor-Media A/S, Norge, Hardcover, 93 Pages, 82-03-22087-8.
Foreword
To those who arc familiar with what has already been written by historians about the Norwegian Resistance, this book does not pretend to bring much information that is new. The aim of the authors—both of whom are historians working on related topics—has been to provide a concise survey based on existing studies and aimed at non-Norwegian readers with a serious interest in the subject.
To the extent that we have succeeded, most of the credit belongs to the historians on whose original research this survey is based. The book's shortcomings are, of course, our own responsibility.
The authors wish to express their gratitude to the Norwegian Resistance Museum for generous assistance with illustrations.
Olav Kiste and Berit Nökleby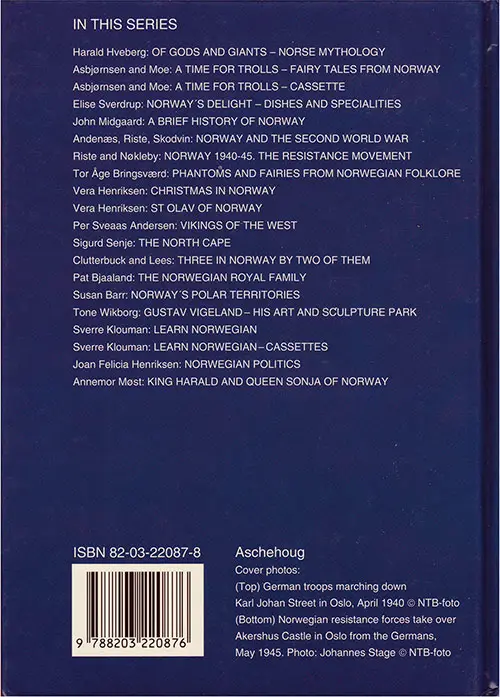 Back Cover, Norway 1940-45: The Resistance Movement by Olav Riste and Berit Nökleby, 1970. GGA Image ID #
Contents
Foreword
Interregnum
Initiatives
The Struggle Begins
The Fronts are Established
A Military Resistance Movement
Terror Strikes
Watershed 1942
Civilian Resistance
Military Resistance
1943: The Long View
New Dimensions
The Heavy Water Sabotage
Looking Ahead
The Activists
New Challenges
The Final Year
Milorg: Sabotage and Protection
Civilian Resistance: Preparing for Peace
The Liberation
Index

The Norwegian Resistence Movement, in General
The Norwegian resistance to Norway's occupation by German Forces began after Operation Weserübung in 1940 and ended in 1945. It took several forms:
Asserting the exiled government's legitimacy, and by implication, the lack of legitimacy of Vidkun Quisling's pro-Germany regime and Josef Terboven's military administration.
The initial defense in Southern Norway, which was mostly disorganized, but succeeded in allowing the government to escape capture
The more organized military defense and counter-attacks in parts of Western and Northern Norway, aimed at securing strategic positions and the evacuation of the government
Armed resistance, in the form of sabotage, commando raids, assassinations, and other special operations during the occupation
Civil disobedience and unarmed resistance
Library of Congress Catalog Listing
LC Control No.: 73503398
Type of Material: Book (Print, Microform, Electronic, etc.)
Personal Name: Riste, Olav.
Main Title: Norway 1940-45: The resistance movement. By Olav Riste and Berit Nökleby.
Published/Created: Oslo, Tanum, 1970.
Related Names: Nøkleby, Berit, 1939-, joint author.
Description: 92 p. illus., ports., maps. 21 cm.
Subjects: World War, 1939-1945 --Underground movements --Norway. Norway --History --German occupation, 1940-1945.
Series: Tanum's tokens of Norway
LC Classification: DL532 .R54
Dewey Class No.: 940.548/6/481
National Bibliography No.: N70-21
Geographic Area Code: e-no---