Battle of the Ruhr Pocket - World War II Battle Book, No. 2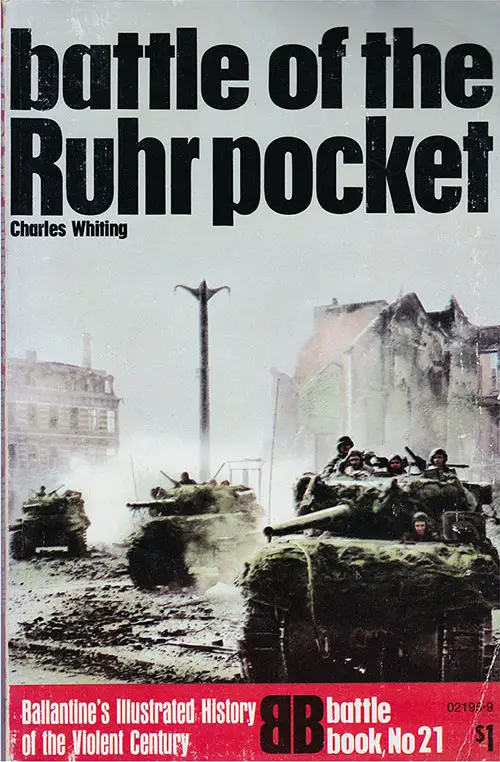 Front Cover, Battle of the Ruhr Pocket by Charles Whiting, Ballantine's Illustrated History of the Violent Century. Battle Book, No. 21, 1970/1971. GGA Image ID # 1662749edb
Ballantine's Illustrated History of the Violent Century #21 Battle Of The Ruhr Pocket By Charles Whiting Battle Book #21. Ballantine Books 1971 1st printing. Very Good condition. 160 pages. Lavishly illustrated with multiple pictures, bibliography.
The end of the struggle against the German Forces are in sight. But there remains one last major campaign to be waged by the U.S. Army in Europe in World War II. From headquarters staff conferences to tank turrets to frontline foxholes on both sides of the fines, here are the sounds, sights, smell, and feel of the desperate battle that arose from Eisenhower's surprise abandonment of the race for Berlin, instead to encircle Field Marshal Model and his 300,000 troops in the shattered industrial heartland of the Reich.
Amidst desertions, civilian mutinies, Gestapo executions, and the eventual suicide of one of the most talented and feared of Hitter's generals, a victory was won in a battle that perhaps never should have been fought a battle whose result was the division of Europe that yet holds real consequence for today and is even now shaping tomorrow.
Library of Congress Catalog Listing
Personal name: Whiting, Charles, 1926-2007.
Main title: Battle of the Ruhr pocket.
Published/Created: [New York, Ballantine Books, 1971, c1970]
Description: 160 p. illus., maps, ports. 21 cm.
ISBN: 0345021959
LC classification: D756.5.R8 W48
LC Subjects: Ruhr Pocket, Battle of the, Germany, 1945.
Notes: Bibliography: p. 160.
Series: Ballantine's illustrated history of the violent century. Battle book no. 21
LCCN: 76024019
Dewey class no.: 940.542/1
Geographic area code: e-gx---
Type of material: Book