Me 109: Willy Messerschmitt's Peerless Fighter - Weapons Book, No. 4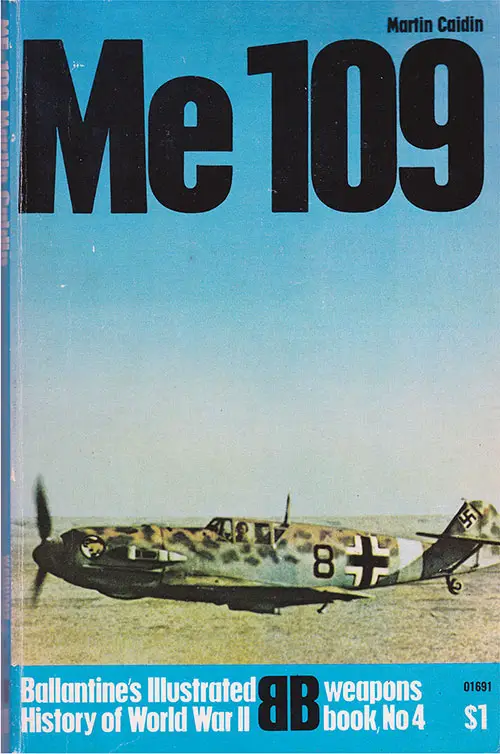 Front Cover, Me 109: Willy Messerschmitt's Peerless Fighter. Ballantine's Illustrated History of World War II. Weapons Book, No. 4 by Martin Caldin, 1968. GGA Image ID # 17f2f7b862
Ballantine, 160 pages, profusely illustrated with photos and maps. Paperback
Book Description
The Me-109 took to the air in 1935, and at war's end it could still fly and fight on even terms with the best fighters produced by its opponents. Through a host of variations and modifications, the Me-109 was probably the most consistently great aircraft in aviation history.
Extract from Introduction
The Me-109 was an aircraft with a distinct character which did not forgive many pilot errors. It was known to Professor Messerschmitt and his designers that the narrow undercarriage and the odd angle of the struts and wheels caused instability in takeoffs and landings, especially with cross-winds. But the mounting of the undercarriage on the fuselage was an important factor in keeping down the weight, which nevertheless rose from 2,400 kg to 3,600 kg. Many of our good and faithful mechanics later appreciated the lift, when escaping from Tunis or Stalingrad, even if it wasn't a comfortable ride when our pilots carried two of them at once.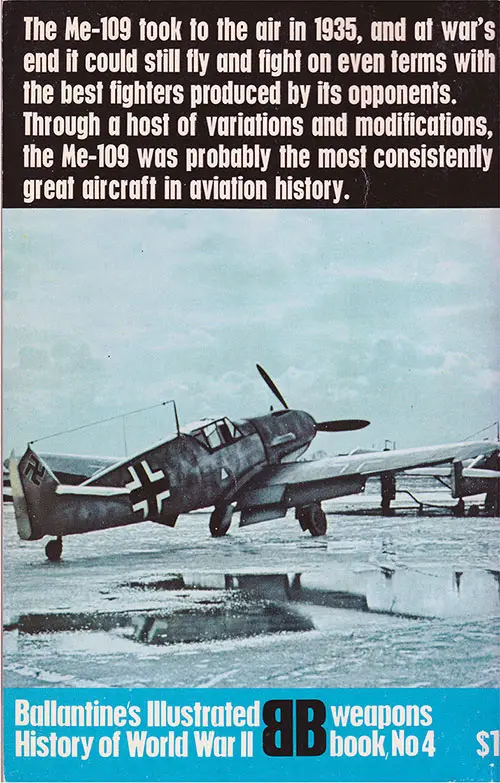 Back Cover, Me 109: Willy Messerschmitt's Peerless Fighter by Martin Caldin, 1968. GGA Image ID # 17f30ba0e0
Contents
8 Prologue
14 A thoroughbred is born
24 Trial at Travemünde
38 Legion Kondor
52 Me-109R : the plane that never was
62 The Luftwaffe strikes
74 Me-109E vs Spitfire
94 Improving the breed
112 Gustav V I: the killer
131 The German aces
143 The rare ones
157 Epilogue
160 Bibliography
About the Series
Ballantine's Illustrated History of World War II, later re-titled Ballantine's Illustrated History of the Violent Century, was a series of paperback books printed in both the USA and UK. The series deals with all aspects of Twentieth Century conflict, and each volume has a wealth of detailed information and illustrations. Many of the titles were written by well-known military authors.
Library of Congress Catalog Listing
Type of Material: Book (Print, Microform, Electronic, etc.)
Personal Name: Caidin, Martin, 1927-
Main Title: Me 109; Willy Messerschmitt's peerless fighter.
Published/Created: [New York, Ballantine Books, 1968]
Description: 160 p. illus., ports. 21 cm.
Notes: Bibliography: p. 160.
Subjects: Messerschmitt 109 (Fighter planes)
Series: Ballantine's illustrated history of World War II. Weapons book, no. 4
LC Classification: TL686.M44 C3
Dewey Class No.: 623.7/464