Military Leaders of World War II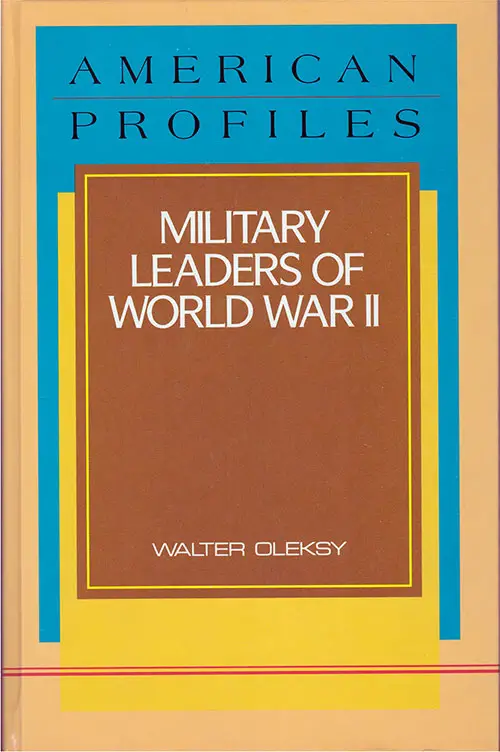 Front Cover, Military Leaders of World War II by Walter Oleksy, 1994. GGA Image ID # 17f3f8da05
Facts On Files, Inc., New York, Hard cover, 154 Pages, 0-8160-3008-1, 940.54'4973-dc20
Publisher's Note
This book profiles the lives and achievements of ten American aviators, generals, and admirals, including Claire Lee Chenault, Chester W. Nimitz, Omar Bradley, Jacqueline Cochran, and George S. Patton. Students will enjoy reading about these military figures' outstanding leadership, including MacArthur, Patton, and Bradley. The book is divided between the war in the Pacific and the war in Europe. It is well organized for research.
From the Back Cover
World War II raged across continents and oceans, making it the largest and most devastating war in history. America fought the Axis powers along many fronts, concentrating its effort mainly on the battle in Europe, while fighting a more limited war in the Pacific.
Americans believed that they were fighting to make the world safe for democracy and lost almost 700,000 men and women for that cause.
America's outstanding leadership played a vital role in the Allied victory. Military Leaders of World War II profiles the lives and accomplishments of 10 prominent American military figures who commanded the struggle against the Axis powers: including General George S. Patton, who led the 2nd Armored Division to victories in North Africa; Colonel Claire Chen- nault, who headed the 'Flying Tigers'—a group renowned for its air strikes against the Japanese in China; and Jacqueline Cochran, who spearheaded the Women's Air Force Service Pilots—a unit responsible for flying planes from North America to the European war zone.
The reference value of every book in American Profiles, the series of which Military Leaders of World War II is a part is greatly enhanced by the inclusion of chronologies and further reading lists and a concise introduction to the general subject of the book.
The first reference of its kind designed with the needs of middle school and high school students in mind, the series presents a wealth of useful information on important Americans and their achievements all fields of endeavor.
Other volumes of interest include:
Military Leaders of the Chi War
Military Leaders Since World Warll
Aviators
Women Aviators
Great Figures of the Wild West
Great Scientists
Contemporary Women Scientists
Black Scientists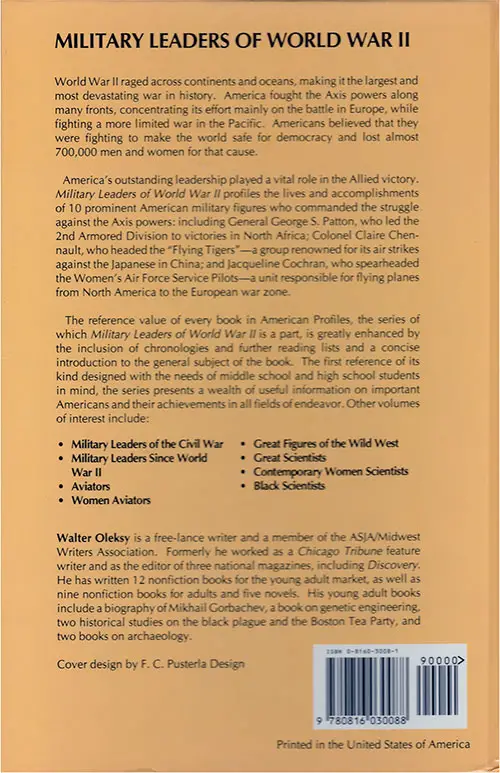 Back Cover, Military Leaders of World War II by Walter Oleksy, 1994. GGA Image ID # 17f4acd35f
About the Author
Walter Oleksy is a free-lance whier and a member of the ASJA/Midwest Writers Association. Formerly he worked as a Chicago Tribune feature writer and as the editor of three national magazines, including Discovery. He has written 12 nonfiction books for the young aduit market as well as nine nonfiction books tor adults and five novels- His young adult books include a biography of Mikhail Gorbachev. a book on genetic engineering, two historical studies on the black plague and the Boston Tea Party, and two books on archaeology.
Library of Congress Catalog Listing
LC Control No.: 93033641
Type of Material: Book (Print, Microform, Electronic, etc.)
Personal Name: Oleksy, Walter G., 1930-
Main Title: Military leaders of World War II / Walter Oleksy.
Published/Created: New York, NY : Facts on File, c1994.
Description: vi, 154 p. : ill.; 24 cm.
ISBN: 0816030081 (acid-fee paper)
Notes: Includes bibliographical references and index.
Subjects: World War, 1939-1945 --Biography --Juvenile literature. World War, 1939-1945 --United States --Juvenile literature. Soldiers --United States --Biography --Juvenile literature. World War, 1939-1945 --Biography. Soldiers. United States --Armed Forces --Biography --Juvenile literature. United States --Armed Forces --Biography.
Series: American profiles. American profiles (Facts on File, Inc.)
LC Classification: D736 .O44 1994
Dewey Class No.: 940.54/4973 20
Geographic Area Code: n-us---
Quality Code: lcac