Grey Wolf, Grey Sea: Aboard the German Submarine U-124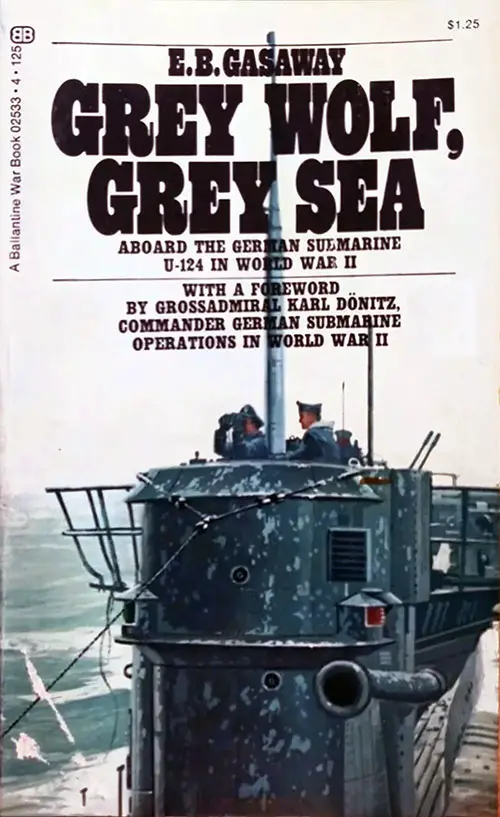 Front Cover, Grey Wolf, Grey Sea: Aboard the German Submarine U-124 by E.B. Gasaway, 1970. GGA Image ID # 17f12313bf
1970 Grey Wolf, Grey Sea: Abord the German Submarine U-124 in World War II by E.B. Gasaway. SBN 345-01937-7-095. Paperback
From the Back Cover
Grey Wolf, Grey Sea...
This is the story of the German submarine U-124 and her celebrated commander, Kapitanleutnant Jochen Mohr. In her short life, Mohr's U-124 sank 49 ships for a total of 226,949 tons to become the third most successful of all the hundreds of Axis and Allied submarines which fought in World War II.
With 8 Pages of Photographs
Book Description
With "you are there" realism and total authenticity, Grey Wolf, Grey Sea takes the reader aboard the German U-Boat 124 in World War II.
From the day of her commissioning to the day when a British escort destroyer sank her, this is a story of daily life in the cramped and complicated quarters of a submarine, of the crewmen and officers who made U-124 one of the most effective and famous of all subs to see action on either side and of the excitement and the terror of the perilous war undersea.
Based on official German records and the vivid recollections of those who served on U-124 and survived Grey Wolf, Grey Sea is as close a picture as we will ever have of the men who fought and died in the German U-Boat service.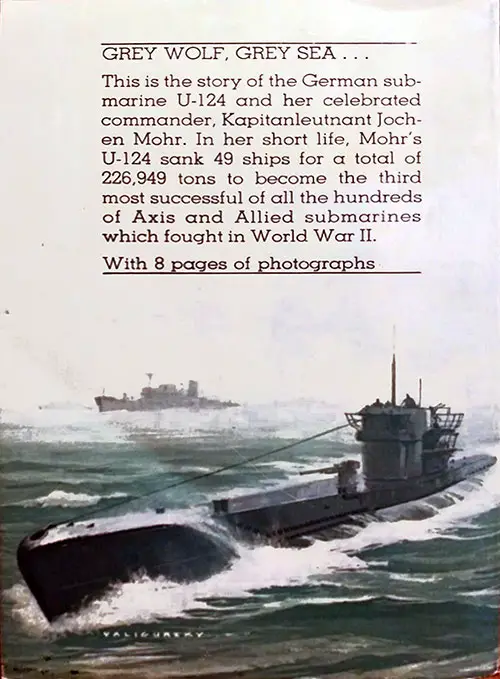 Back Cover, Grey Wolf, Grey Sea: Aboard the German Submarine U-124 by E.B. Gasaway, 1970. GGA Image ID # 17f2642792
Copyright © 1979 by E. Blanchard Gasaway
SBN 345-01937-7-095
All Rights Reserved.
First Printing: June, 1970
Cover Art by Ed Valigursky
Printed in the United States of America
Ballantine Books, Inc., New York
Library of Congress Catalog Listing
LC Control No.: 70014981
Type of Material: Book (Print, Microform, Electronic, etc.)
Personal Name: Gasaway, E. B.
Main Title: Grey wolf, grey sea [by] E. B. Gasaway.
Published/Created: New York, Ballantine Books [1970]
Description: 245 p. illus., ports. 18 cm.
Subjects: Mohr, Jochen, 1916 or 17-1943. U-124 (Submarine) World War, 1939-1945 --Naval operations --Submarine.
LC Classification: D782.U16 G38
Dewey Class No.: 940.545/1