Melnotte-Simonin - Parisian Fashion Designer - 1920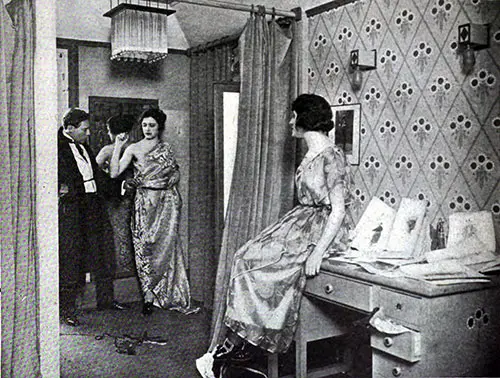 A corner in the artistic studio of Melnotte Simonin in Paris, showing M. Simonin in the act of draping one of his latest creations
Color is All-Important Factor for Parisian Designer Who Urges Liberal Use of Warm and Vivid Shades for Chic Beltless Frocks with Flaring Hems
Here are the photographs of my last creations of the season, taken in my home, in whose artistic atmosphere arise my personal interpretations of the fashion.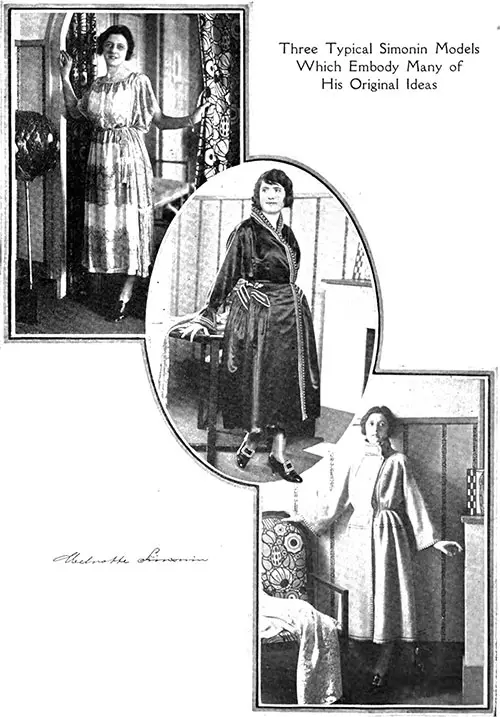 My first and clearest impression is that I am far and away advanced in my ideas; many innovations launched by me six months ago are being adopted madly by the ensemble of la mode.
As original ideas improve with evolution, I will transform this winter my system of invisible tucks at the waist suppressing the belt; this novelty introduced by me at the creation of my establishment has been, by the way, taken up by almost all our great dressmakers.
This new and beltless silhouette will be based on a system of gores, very deeply studied, a form of which I have introduced on a tailor-made baptized "Louis XV" which will be photographed and sent for your next number. The outline obtained, very flaring at the hem, combines Parisian elegance with the stamp of originality.
I will trim it with fur and embroidery adapted to the new stuffs designed for the Winter season.
As to the all-important question of color. I will endeavor to explain to you all the interest I attach to it.  At one of the last gatherings at Longchamp, I was struck by the warm and vivid colors of the jockey caps and jackets as they rode slowly out to the race course,  as compared with the monotony of the eternal blue, white and mauve worn by the crowd in the paddock. Mauve particularly is an impersonal shade, as the painter only obtains it by blending three or four shades.
Nature and the Sun give us, at first sight, a symphony in different greens, expressed by the trees and grass, picked out in a few brighter spots of color made by the flowers and water.
Our greatest impressionist painters, Monet, Cézanne, Pissarro, have helped us to realize this by painting in patches of color, without attempting to render detail.
That is why I insist on the importance the bright hues lavishly used in Nature should have on the elegance of outdoor meetings. To bring these impressions into the domain of clothes, I see, in perfect harmony, green, black and white (always a distinguished combination) a few tones and touches in different shades of red.
Many flowers or stripes, variations shaded in of one color on a black or dark blue ground. Our great silk manufacturers have created for the coming season many fabrics with bold designs on a dark ground, which will, I know, please you.
Thus slowly will return to France, to Paris, the superlative grace and taste, which have always made fashion a fine art. Although this elegance was abandoned during the war, it has reappeared with peace to show the Parisienne as an ideal woman.
As the poet compares woman so aptly to a flower, let us, by all means, return to nature as a source of inspiration, light, and beauty!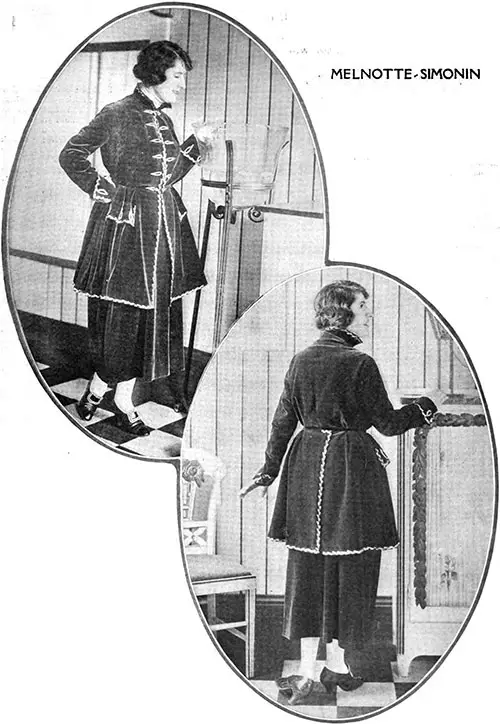 "Louis XV'" dark green velvet tailleur edged and embroidered in silver
Melnotte-Simonin is one of the Rue de la Paix's youngest recruits; he has created in his salons a most delightful home-like atmosphere as a fitting surrounding to his most Parisian models.
The  adaptation of classical lines to the modern silhouette is one of the firm convictions of Melnotte-Simonin.  Panniers, excessive draperies, unduly tight effects are equally abhorred by him as a sin against freedom of movement and natural grace of attitude. He affects light, loose draperies in ethereal filmy materials, velvets in severe folds and a very Parisian collection of alert trim tailor-mades
"French Couturier Favors Bright Hues," in the Garment Manufacturers' Index, New York: The Allen-Nugent Co. Publishers, Vol. II, No. 1, August 1920: 40-41.
"Melnotte-Simonin" in the Garment Manufacturers' Index, New York: The Allen-Nugent Co. Publishers, Vol. II, No. 3, October 1920: 33.