Madame Premet - Parisian Fashion Designer - 1920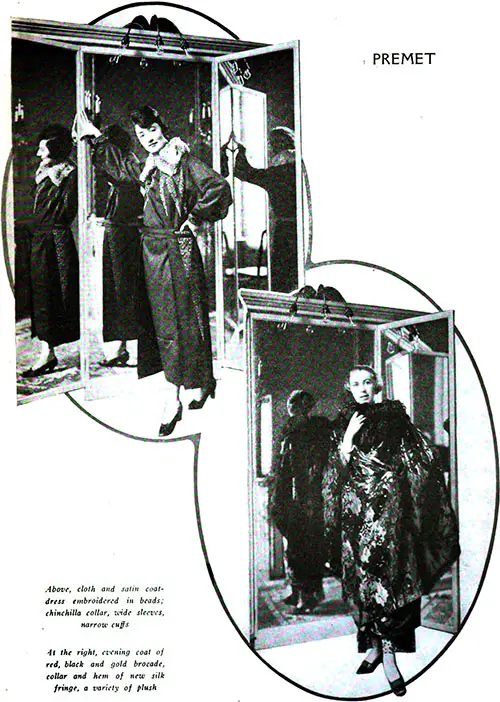 Cloth and satin coat-dress embroidered in beads, chinchilla collar, with sleeves with narrow cuffs.
Evening gown with red, black and gold brocade, collar and hem of new silk fringe, a variety of plush.
Skirts of Ankle Length, Loose, Wrappy Coats and Mantles with Elaborate Linings Included in Large Range of Attractive Models
The Place Vendôme, for many years the center of Parisian elegance—the home of higher dressmaking circles, boasts no smarter or better-known firm than Premet, of which M. Winter is the able director.
The fall collection presented by Premet has many striking features:
one of which, general to all the models, is a quite long hemline, in many cases ankle length.
Tailor-mades of broadcloth, cheviot, drapella, blanket cloth, duvetyn are mostly black, iron-grey, cinnamon, snuff or mustard. The jackets, three-quarters or longer, are very plain and straight, mostly with high collars, a picturesque and unexpected detail giving a personal note to one and all.
A beige model has immense patch pockets of black pony picked out in white; another, of black cheviot, has deep slits lined with red at the sides of both coat and skirt.
Yet, a third, of black drapella, has a high collar and deep black leather points let into the hems of jacket and skirt. Skirts occasionally have a double pleat or bias at the side, but the major part is plain.
To compensate, each suit is worn with an elaborate blouse put on over the skirt; the prettiest are of Georgette, high necked, much embroidered in metal, silk or beads.
Next, I noticed a whole series of business-like, double-breasted suits, perfectly severe, finished off as to collars and sleeves like a man's coat. They are very smart; one black broadcloth is edged all around by fine black silk braid. One chic model to finish: the coat is grey to the hips, where a broad band of black is added: two similar black bands appear on the skirt.
A short grey lamb coat worn with a Persian blue gown has a soft, comfortable collar, the ends tied in a kittenish bow (lined with the blue of the dress) at the side.
Premet presents a large and complete collection of coats and capes; soft blanket fabrics in burnt orange, mandarin, greenish yellow, plaid or grey make ideal traveling wraps; immense floppy sleeves, big, indefinite collars and a generally loose line make them easy to slip into.
Other materials which I am almost tempted to class as fur, are very fine flat plush imitations of broad-tail in black, musquash in brown, pony-skin and caracul in grey.
The new woolen goods with stripes and plaids woven much in relief are well represented: red and grey stripes crossing on a fawn ground make a smart coat. A mustard colored blanket wrap has a big blue and yellow worsted collar and cuffs; another of grey is trimmed with the hand-woven grey braid launched this season, which looks like drawn-work or herring-bone.
For the afternoon, mantles are worn with a tiny barrel-shaped muff matching the fur collar; the coats belong to the loose categories, often with deep embroidered yokes. One black velvet with a huge upturned ermine collar is cut around the hips by an inset band of ermine slightly shirred.
Plush in white, electric blue and pink is rather a surprise; white plush, trimmed at the sleeves and collar by pale yellow floss silk arranged in rows of thick fringe to imitate fur, is also new.
Special attention is paid to linings, many of which are colored, figured and edged by a tiny detail of braid, soutache or ribbon. A black velvet coat with a white wool crochet yoke is lined in swansdown, white with an edge of black. A plain seal cape with a very good line has wide sleeves of black silk muslin.
Of course, there are coat dresses—one of blue serge, the sleeves, collar and back forming one piece and coming over a narrow straight front, the collar, broad belt and sides embroidered in red cloth and gold.
Most of the day dresses have a flat apron hanging to a loose belt in front, or a tunic a little longer than the skirt at the back, coming well over the sides; two panels overlapping are another way of "doing" a back.
There are many high necks; collars finishing as a scarf or tied in a bow are chic. Sleeves are long; very full ones may have a tight cuff to the elbow, the fullness shirred into it there: others forming a point on the outer arm are cut in a V to the elbow inside.
The trimmings are various; fur worked in patterns for collars and motifs; drawn work braid; thick fringes of floss silk.
The latter is well used on a black charmeuse, the fringe edging the sides and hem of the detached panels. Velvet appliquéd is well done at Premet's; it is applied in semi-circles below the belt of a black velvet gown.
A straight black satin embroidered in white spangles has white Georgette sleeves worked over in black spangles, a happy instance of a popular effect.
Waxed crepe de Chine is the latest addition to the ciréd list: parts of a brocade pattern traced over in beads is an ingenious idea; dyed lace is in frequent use, red combined with black I liked particularly; crepe brocaded in flame-colored velvet is beautiful.
Evening dresses managed to be tight and draped at the same time. The long line includes a train (or sometimes two), the necks are square or pointed; these gowns, of which a Royal blue velvet is an example, are draped up at the back and have two panels, the longest one forming a train to one side at the back, the shorter hanging a little to the front on the same side.
Another velvet gown is caught up to the left, a short loop covering the starting point; a Parma violet panne frock, with a very low V neck, gives a slender, straight line ending in a pointed tail.
Worn with this is a coat of yellow brocade with a sulfur fox collar; the lining, almost as handsome as the exterior, is striped in yellow and black swan's-down.
"Premet" in the Garment Manufacturers' Index, New York: The Allen-Nugent Co. Publishers, Vol. II, No. 3, October 1920: 18-19.