House of Madeleine et Madeleine - Parisian Fashion Design - 1920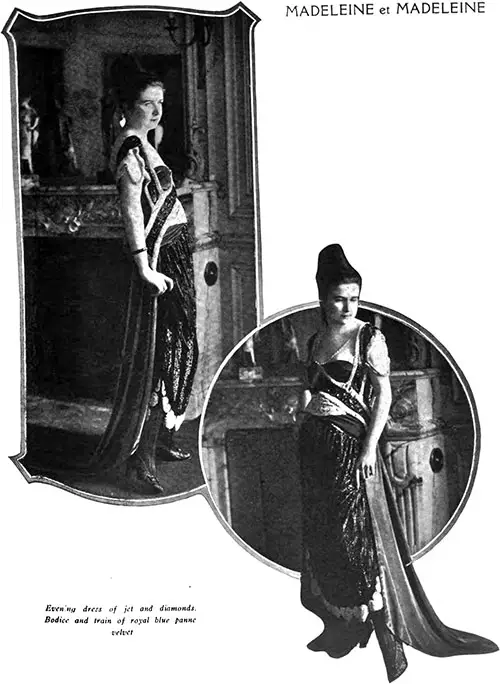 Evening dress of jet and diamonds. Bodice and train of royal blue panne velvet
Madeleine et Madeleine, established just a year ago, have found it necessary to enlarge their premises under growing success. The first Madeleine used to be with Drecoll, the second Madeleine with Jeanne Hallée.
This young and promising house is financed by a group of old French nobility among whom are the Comte de Munand Comte Hubert de Montégut
One of the best collections shown in Paris this fall is that of Madeleine et Madeleine. Their straight lines, launched in the thick of the pannier period, have conquered and it must not be forgotten that they "invented" the low waisted effect.
As the torch is handed on from one season to another, we find this autumn a few improved features of the spring styles. To begin at the beginning, we have an extensive range of tailor-mades.
The stuffs are varied: many mixy tweeds in greys, serge, velours de laine and duvetyn, which latter seems to be the basis everywhere; brocade and moiré for the afternoon tailleurs and many velvets, plain, stamped in checks or in one case black with a pin stripe of white. The range of colors takes in many reds, blues, négre, bottle green, all shades of brown and much black.
All the skirts are plain, no matter what type the jacket belongs to; the coats be they severe or fancy, with few exceptions, favor the long basques, flaring a very little, the flat back and front; the length varies from knee to hem.
In tweeds and rough stuffs, we find masculine revers and tailored sleeves, the suit evidently to be worn with a separate fur. Otherwise, the majority have high fur collars, turned over or erect and fan-shaped.
An interesting example of the tweed style is a grey and black plaid coat worn with a blue serge skirt;  while a handsome afternoon suit of black velvet, the jacket but a few inches shorter than the skirt, has a high kolinsky collar, the very wide sleeves edged with the same; the flaring side panels are embroidered in flat silk roses of narrow silk braid.
The dress underneath is a tight chemise of white Georgette with a hem of the velvet, the whole frock worked in the same black braided flowers. Occasionally the back of the jacket is longer than the front, but in the case of another black velvet with a white fox collar the side gores dip down in points to the hem.
The trimmings are always original and interesting; one of the few examples of short coats is a blue serge, with a small seal collar, belted and fastened to one side, the importance of the suit lying in the sleeves, which are immense, bell-shaped, the shoulder and outer part trimmed in horizontal strips of scarlet leather framed in gold embroidery; another medium length blue tailor is adorned coat and skirt in squares of turquoise blue-fuzzy woolen braid.
By the side of three misses suits, we have very elaborate coats matching the frock underneath. Capes are equally numerous, while a few short fur coats are essayed, proving a marked contrast.
A short, old-fashioned jacket, hip-length, of baby seal accompanies a blue duvetyn, while a delightful little white lamb coat (with a high fan-shaped collar) forming a cape at the back, to the waist, is lined with mauve panne and goes with a dress of the same material.
The fur wraps are numerous; Madeleine et Madeleine have launched baby lamb this year, dyed in fawns and greys or, better still, left white. A coffee lamb coat very plain and comfortable with a high rolling collar, the same model in white melton and white lamb, were both much noticed.
Here are two tight, round capes, the first of priceless broad tail, the second of seal scalloped around the hem, the intervals between the scallops filled in by finely pleated black silk muslin; both are very chic.
The capes here are built on one model varied by materials and trimmings, very tight and sleeveless, minus arm-slits even, with rather small fur collars. The simplest is merely blue serge; the chic lies in the narrow seal collar tied in the back by blue serge streamers.
A wine-colored tweed is smart with its immense detached panel swinging clear from the neck at the back. When capes are trimmed it is in panels at the sides or in pleatings, let in also at the sides.
Speaking of pleats reminds me that one blue duvetyn has a detached accordion lining of voile finished off at the hem in deep red points, very chic and unusual.
An original négre panne cape has as its only ornament a small round collar of shiny lophophore feathers worn with a dress of négre lace over satin trimmed sparsely with the same feathers.
Evening capes are embroidered much on the narrow yokes and huge sleeves; one of black velvet is heavily traced over in gold.
To return to coats after this long digression—the line is long and rather skimpy, or with a slight flare at the sides, a high collar buries the chin, and the sleeves are enormously wide.
One old blue velours de laine has no sleeves at all, barring long slits, which does not matter as the dress underneath has long ones of the  same material; the coat with a sable collar is extremely tight to the knees where a band is shirred on a little, the stuff slashed into tiny strips, revealing a gleam of gold lace underneath.
A Havana ratine has an original collar of skunk edged all around with the tails of the animal. Black plush is very distinctive, but I have kept a beautiful coat of Royal blue velvet to the last.
It has a low beltline from which the skirt is shirred on very full, a huge kolinsky collar and cuffs, and fastens at the waist under a cut jet ornament. A dress of the same color goes with it.
Stamped velvets, charmeuse, satin cloth, panne, moiré, duvetyn, and serge are used pell-mell for afternoon wear; after black, white and blue, the Parisian stand-bys, we find Royal blue, turquoise, fawns, Havanas, chocolate,  nasturtium, and brick widely liked.
The characteristic line of the house is flat, long waisted; the skirt caught up to one side very slightly to accentuate the narrow unbroken line to the feet. With this silhouette high collars predominate, although they are not absolutely the rule, as the straight-across-the-shoulder and rounded neck also exist.
The newest high collar follows closely the line of the throat and tightly encases the chin; flowing sleeves (or the width at the wrist gathered into a narrow cuff) are the most popular.
Monkey, black or white, makes several collars, so does baby seal; a white silk muslin tunic edged by black monkey over dark satin is one of the few ways in which it is used here.
Embroidered panels and motifs are varied and plentiful; a favorite trimming is applications of the dress material cut into designs and applied on tulle or gold lace. On a brick-red and black satin gown is embroidery made of long black and brick fringe darned across and consolidated.
Large motifs of silk braid embroidered on net prove very effective and are often used at one or both sides of the skirt over a drapery; thus, broad bands of flat red China pastilles catch up a slightly draped blue serge at each side.
One amusing instance of unusual resources is a side panel worked in steel letter clips and square blue beads: another ingenious idea is the use of small tin buttons to outline a motif.
A rather wild effect is given, on a black satin with flowing muslin sleeves of red, by strings of red and black wooden beads swinging from the waist to the hem; large mother-of-pearl motifs, plush, wool and silk embroidery; the list is endless; we even have hand-painted roses on a ruffled black taffeta.
Combinations of lace over velvet we find several times; a deep, round, black lace yoke forming the top of a square velvet bodice and long lace sleeves give a good line.
A model of black satin is edged around the hem by a broad band of stiff gold lace, which is draped with the satin, tightly to one side, the lace standing out like a fin!  When the side of the drapery is left hanging free it is often lined with a contrasting color; one severe black satin cloth reveals a lining of pale pink velvet.
The coat-dress, beltless, with a few invisible gores at the waist gives us even straighter lines; the simplest model I have ever seen is blue serge ending at the neck in a scarf lined with red, wound around several times.
Another dress, two panels of coffee lamb back and front, is duvetyn and plush embroidery at the sides.
For the evening, we find very soft filmy effects; one cannot say there is any clearly defined line; panels, aprons, capes of lace, give an indefinite line. However, two white velvet dinner dresses, both giving the narrow medieval line already described, enjoyed great success.
The first, with a round neck, has one black tulle and velvet shoulder knot, while the opposite side of the skirt, which is draped, has streamers of the same tulle, the ends trailing on the ground.
The second, also with a round neck and low waistline, has a deep yoke worked in black beads, a long hanging apron of black lace shirred on at the back and wide lace sleeves, embroidered this time in white beads.
The neckline for dinner dresses is quite high, round or straight across; favorite materials, Georgette or chiffon.
A beautiful white Georgette, with a sleeveless, straight, flat bodice, is trimmed by bands of sapphires crossing the front and forming a low belt. The skirt is a succession of rounded detached panels edged with the sapphires.
For full dress, we have very little metal brocade but many all tulle gowns and muslin draperies; tight sheaths are accompanied by immense transparent coats caught in at the waist or allowed to flow.
A biscuit brocade is covered by a ring of beige chiffon faintly embroidered in delicate colors and reaching the feet. A rose pink satin has a long blue muslin cape, weighted down, here and there, by large, flat, pink velvet flowers and forming a long train.
We find many pointed backs, round in front, tiny cap sleeves, small side trains. Tulle dresses are short and fluffy; an arsenic one has huge butterfly bows as shoulder knots; a pale pink one has a belt (and trimmings here and there) of cream ostrich; a pleated turquoise net, very much off the shoulders, is decorated with garlands of flowers.
"Madeleine et Madeleine" in the Garment Manufacturers' Index, New York: The Allen-Nugent Co. Publishers, Vol. II, No. 2, September 1920: 18-19.