Christopher Drecoll - Parisian Fashion Designer - 1920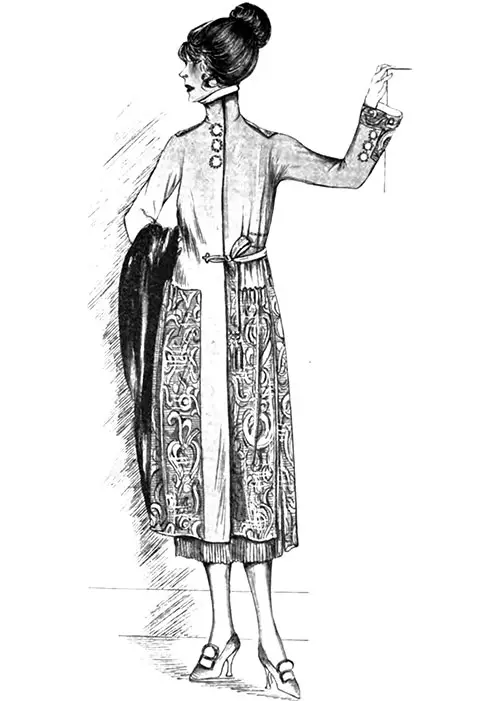 Dress of navy blue serge, brocade to match, enamel buttons bordered with white beads
A very large collection is shown by Drecoll.
Tailor-mades are particularly numerous and well represented. Good mixed stuffs, duvetyns, and velvets in browns and black form the bulk of the costumes.
Apart from the classical tailor, pinched in at the waist with slightly flaring basques, we find a new kind of short, loose coat, almost like a small wrap to be held around one, very often worn with a tight skirt folding over the front in a point or tunic.
These loose coats have wide sleeves, high collars and fasten at the side under a band of fur inside or out. They may be longest in the back, like this black duvetyn, both the tunic skirt and coat  (trimmed by a broad band of seal) sloping up to one side.
In many instances the back alone is loose, the fullness in front belted in. When the jackets are shorter, still they become boleros, of which we have several examples.
One little black velvet model has a collar and edging of natural cock's feathers. A very chic suit is blue serge, the bolero embroidered in black silk dragons, the skirt finished off by a big black satin sash at the right.
Among the medium length jackets, a blue model is prettily trimmed with bands of pleated blue ribbon; a three-quarter black velvet jacket attracted great attention by its contrasting skittishness, the flaring basques edged with skunk.
Halfway between the tailleurs and coats is a collection of short page capes; a lovely one of seal gathered into a straight collar has a hood at the back gaily finished off by a black and red silk tassel. A gray woolen cape, quite long in the back, but short and square in front, also ends in a tassel with a collar and deep yoke of squirrel.
All the outdoor wraps are of plush, fur or imitation of fur. There are many short capes of a thick woolly stuff simulating lamb and mole. Rabbit, dyed to look like moleskin, succeeds admirably in a big coat with a loose sash of the fur.
Gray caracul with a huge shawl collar is beautiful, squirrel and lamb generously provide enormous collars, sleeves, and yokes.
All the capes and coats have dresses to match underneath. A short cape of black caracul is worn with a straight frock of the same fur simply trimmed by a low belt of woolen braid studded in turquoise and a little black lace.
A big brown coat has a large turned-over collar very wide, almost oval from side to side. It is striped and patterned in a narrow silver braid.
The fur coats of scarce pelts, such as ermine, kolinsky, and mink, are numerous and serve to bridge the distance between day and evening wraps. The smartest of the latter is made as follows: of burnt orange plush with a large and turned-up fur collar; the middle of the back is finely shirred into a round rosette, from the center of which hangs a tassel.
Tailored dresses harken very much to plaids, satin, and serge combined and duvetyn in blues, brick, red and black. A new stuff is serge brocaded in silk.
Before I go any further, I must describe some of the new embroideries on view here for day wear. First, large mosaic patterns are formed of black and white, round, woolly braid completely covering a light ground.
Another heavy embroidery is made of several shades of deep, thick, curly wool-like lamb, blended together in a bold pattern; orange and blue is a successful combination.
Duvetyn yokes and collars traced in fine woolen threads is also new; so is close black and orange silk chain stitch on net. A very fine wool or silk work, raised in relief in several colors to form a brocaded design, is most effective and decorative.
Pleating is used at Drecoll's, sometimes as a lining, over which is worn a straight sheath, or as detached side panels; an accordion pleated black serge skirt accompanies a tight bodice of waxed satin.
A very pretty example of the plaid fashion is a blue serge model, cut into squares of drawn work and worn in panels over a blue and yellow plaid lining, the round collar and loose belt of the same cheerful blue and yellow.
The Zouave effect (bolero blouse and turned-in hem) is popular here; the vest much adorned in gold tracery. For the afternoon, nets, velvets, and satin are the order of the day. Brick and a great many blues are employed–dark or light; two shades of the same color in violent contrast are much liked.
High collars fitting in points to the ears are unusual. Almost all the skirts have tunics or loops, also the much-loved combination of lace and velvet panels and velvet sheaths with light lace sides and sleeves.
Pleats are a great resource and displayed effectively in the shape of an accordion skirt and bodice of black satin; the blouse embroidered in gold. The sleeves are négre duvetyn; the skirt is partially veiled by flat loops of the same duvetyn all around.
Broad bands of pink silk covered by tiny rows of black ruching weight down the hem of a black satin gown.
Tunics of unequal lengths are liked; symmetry has been voted very dull. A silver tunic over black edged in black chiffon is pretty.
The evening gowns are very lovely. There is every kind of décolleté, provided it is low; round, pointed, square and entirely off the shoulders, the latter type edged by bands of dark fur.
Royal blue, flamingo, coral, shell pink, geranium and black are the leading colors in panne, brocaded chiffon, satin, Persian panecla. Jet is much liked—a striking example is a black net sheath embroidered in immense jet disks.
"Drecoll" in the Garment Manufacturers' Index, New York: The Allen-Nugent Co. Publishers, Vol. II, No. 3, October 1920: 23.