Mayer et Bulloz - Parisian Fashion Design House - 1920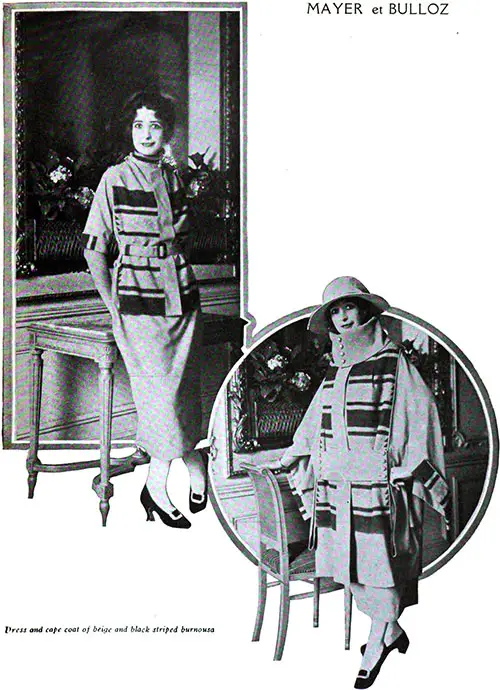 Dress and cape coat of beige and black striped burnousa
Broad Band of Different Material Accentuates Waist Line of Jacket
Novel Combinations of Materials in introduced in New Models
Maurice Mayer, the well-known tailor, went into partnership a year ago with an equally old Parisian, Bulloz, who manages the firm. The happiest results have been received from this connection. The efforts of their reputed designer, Madame Burling, contribute to make their collection this winter unique.
The collection of tailleurs at Mayer et Bulloz compares very favorably with the others I have seen. Many excellent rough stuffs, sacking or blanket, velours de laine, serges, velvets in rich, warm tones of browns and blues, are among the materials employed.
Although every type, I was going to write length, of winter jacket is exhibited, the long, straight kind predominates. The very high collar ending in a ruff or snugly encasing the chin, when worn open is frequently lined in a shade contrasting with that of the waistcoat blouse that accompanies it. There is also a fair sprinkling of shawl collars, always becoming, fastening at the waist.
Skirts are not quite plain here; series of small tucks at the waist taper down toward the hips, while a flat panel may be stitched down back and front, leaving a band three inches wide standing out at the sides. A charming little costume of nasturtium bure has a skirt like this: the coat is short and straight, with a seal shawl collar.
When jackets are long and straight, a new idea, to accentuate the low waistline, is to insert a broad band of a different material at the hips, which band may also end in streamers, thus providing a refreshing change from buttons as a fastening. A long, hunter's green velvet suit has a wide black satin belt of this persuasion, a shawl collar of gray lamb, which fur also edges the flaring cuffs.
A totally different line is shown by a blue serge model three-quarter length, the swagger of the full basques intensified by a hem of broad ruching; the idea is repeated at the neck, the collar forming a Pierrot frill.
Robes-manteaux are extremely numerous; faint lines of satin ciré or waxed braid are used to trim them. Beltless or not, a little shirring at the sides does not take away from their severe straightness, nor do the high collars; the latter may be worn open, which gives the opportunity of showing a little-embroidered vest.
An elephant-gray duvetyn has such a collar; the skirt is box pleated, a wide satin ciré sash threaded through the pleats at the hips ties in a bow. A smart blue serge striped in tiny waxed braid has a high turned-over red serge collar and fastens all the way down the side under large triangles of beautiful red and gold embroidery.
An innovation consists in combining blue serge and black lace; a voluminous lace tunic is cut by pleatings of the serge, and a standing ruff at the neck carries the note of lace onto the bodice.
The greatest variety exists as to material, cut and color among the more elaborate gowns; beads and jet, gaily colored brocades, charmeuse (one beautiful cream is draped and combined with brown lace), much chiffon (a brown silk voile has a dashing nasturtium sash trimmed with brown roses), Georgette, velvets in good lighting colors, turquoise and periwinkle. Mousseline de soie waxed makes a delightful and to me unknown fabric. Electric blue is effective, so is dark gray over brick satin.
A wide coral pink ciréd muslin coat, scalloped by three rows of skunk, is worn over finely pleated pink lace and crepe. Turquoise velvet and black lace cunningly draped, a pointed train of each resulting, is chic. White satin, the skirt a succession of black lace points, has strings of pearls looped up all around the waist.
The square décolleté with a pointed back and square train is preferred; skirts are tightly draped; what is known as the enveloping movement is carried out here in a slightly different manner. The skirt is draped up toward the back and partly concealed under a square train.
A glorious model of jet and beads gives the unbroken Egyptian line, the waist indicated by a scarab. A blue and yellow brocade, square necked, has squares of the brocade hanging in points from each side, lined in bright blue, the whole effect being one of vivid but not glaring color.
"Beer" in the Garment Manufacturers' Index, New York: The Allen-Nugent Co. Publishers, Vol. II, No. 3, October 1920: 22.