Nicole Groult - Parisian Fashion Designer - 1920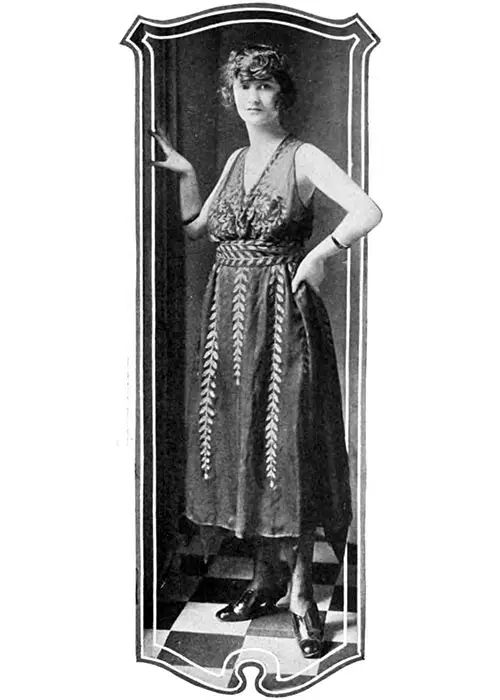 "Les Lauriers," an evening gown of black silk muslin embroidered in gold over black satin.
Madame Nicole Groult, wife of the celebrated decorator, founded her house ten years ago and became well-known at once by her original ideas and personal way of adapting them to clothes. She comes honestly by talent as the sister of Paul Poiret.
The slavish following of style is no part of the philosophy of Nicole Groult, hence an unusual way of interpreting them.
The general impression here is of extremely youthful dégagés silhouettes—little or no drapery, the straight line everywhere; light but not loud colors, chamois, beige and powder blue.
A chic hat made on the premises accompanies each tailored gown or suit. Plain tight skirts, short, straight jackets of duvetyn and velvet trimmed with bands and pockets of fur (moleskin will be a great favorite, I am told, also caracul) are characteristic of the tailor-mades.
Afternoon frocks have round necks and are practically sleeveless or even entirely so in the case of a very smart black panne velvet model, the hem slightly gathered in under a band of chinchilla, faintly embroidered in bouquets of flowers strewn here and there, giving a subdued note of color. A broad sash worn well over the hips finishes off a most modern silhouette.
For the evening I saw very little brocade, but a great deal of metal and silk embroidery, designed by the house, and much lace traced over and heavily worked. While the low décolleté is popular here, it is not universal; an eminently wearable and dainty dinner gown giving a good idea of Groult's talents is shown on this page.
"Nicole Groult" in the Garment Manufacturers' Index, New York: The Allen-Nugent Co. Publishers, Vol. II, No. 2, September 1920: 32.