John Tollmann - Parisian Fashion Designer - 1920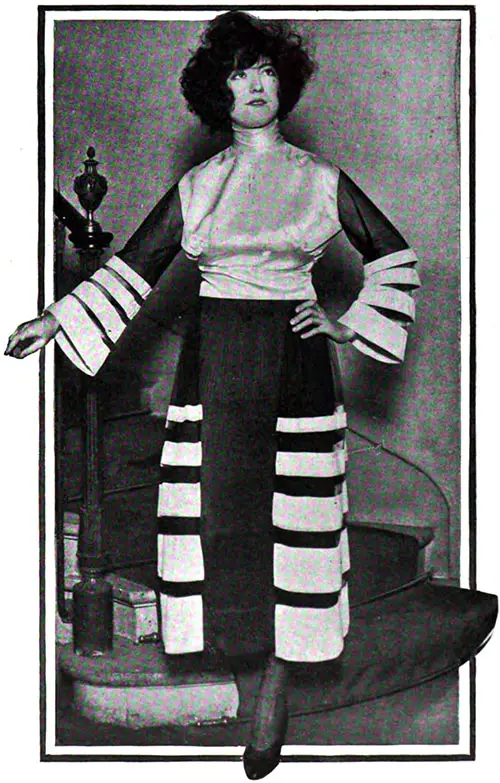 Afternoon gown of black and white satin; side panels of net striped with white duvetyn
The establishment of John Tollmann is pervaded by his interesting personality. His great love of color and scenic effects have made him famous as a stage decorator and costumer.
For private life, his collection is as good, his taste as sure, although in quite a different style. The following models selected recently give an idea of his line.
A blue serge coat dress has a detached back, and front over a sheath of the same material checked in beautiful red beads. The wide bishop sleeves fastened into a narrow cuff are also beaded, the high collar is plain and uncompromising, but a tiny pleated muslin frill lightens up this Parisian little dress.
A long-sleeved, high-necked afternoon dress is very smart indeed. The white satin blouse buttons down the back, the skirt of pleated black satin has wide side panels of black net striped with bands of white duvetyn. The result is a frock of simple elegance and grace.
The last frock is a charming ball dress for a young girl. Of pale blue taffeta with a round neck and tiny puff sleeves, the bodice fastens down the back under a row of close buttons.
The skirt in front is four pleated ruffles which disappear at the sides leaving a flat back. A wreath of flowers tied around the waist finishes off in a very nonchalant sash.
"Tollmann" in the Garment Manufacturers' Index, New York: The Allen-Nugent Co. Publishers, Vol. II, No. 3, October 1920: 37.