House of Molyneux - Parisian Fashion Design - 1920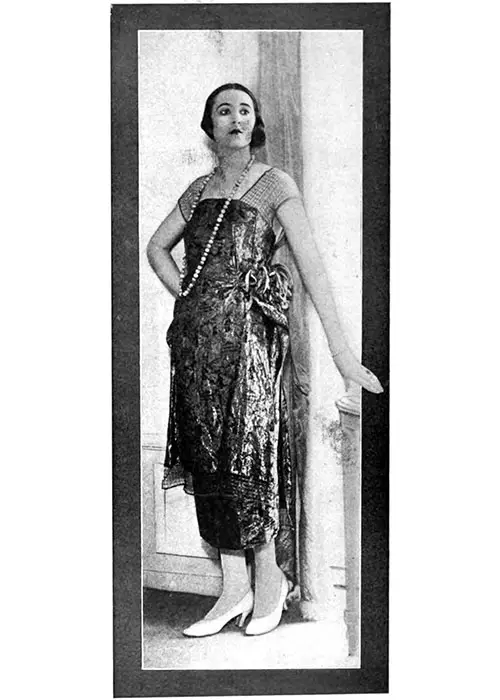 "Sumurun," a Chinese gold brocaded evening gown, caught up on each hip. One side is held by orange and yellow chrysanthemums. Fish net of gold thread forms shoulder bands which cross in the back.
Duvetyns and Corduroy in bright blues and browns, with little fur trimming, used for suits and dresses for this house.
Although barely a year old, the house of Molyneux is the most promising of junior firms, its success lastingly confirmed by a daring winter collection.
Captain Molyneux, late of the British army and at one time connected with Lucile, is the most active of directors, every model shown in his salons being designed and created by him.
Recently transferred to 5 rue Royale, Captain Molyneux found time to decorate the magnificent suite of grey rooms, the ideal background for dresses, which are rapidly becoming famous.
The grey taffeta curtains part and model after model glides in, each one, simple tailor-mades to gorgeous evening gowns, striking a note of originality, bringing us a new idea. The elegance of the dress is expressed in beautiful unbroken lines and an inimitably simple cut.
Duvetyns and corduroys are much employed in bright blues and browns for tailor-mades which are mostly three piece dresses, the long lines used here making it easy and smart to wear a shortish, loose coat, forming a straight outline with the tight frock underneath.
The little jacket, reaching just below the hips is either loose and fastened at one side as in the case of a practical brown leather coat combined with a skirt of the same-toned gabardine or, like a dark blue corduroy, slightly trimmed with grey astrakhan round the high collar and cuffs, the coat gathered and flaring out from the hips.
The collars are interesting; the huge enveloping turned-over kind is smart, while quite a new idea is expressed by the high, loose, straight one forming a right angle with the front of the coat.
Sleeves are long and flaring—widest at the cuff; the dresses underneath the coats are plain little affairs buttoned all the way down the front, a loose belt emphasizing the low waistline.
Fur is little used except for a touch here and there on a coat or walking suit. We make up for it by a priceless collection of fur evening wraps which we will come to later.
The whole scale of browns is favored for day and silver for evening wear; the one characteristic of all styles of dresses is the lowered waistline; many bodices join the skirt well below the hips.
A beautiful model worn by the no less beautiful Hebe is of golden brown chiffon velvet; the very long flat line of the bodice is accentuated by a shirred knee-length tunic edged by a broad band of red fox.
For day dresses, duvetyn, gabardine, and chiffon velvet are liked; here again, we have tight plain lines, in other words the robe-chemise, straight and even beltless, redeemed from absolute simplicity by an interesting cut.
The cape effect for instance—a square detached panel falling from the shoulders to the hem or, as in the case of a beautiful black velvet example of the severely plain, with its high turned-over collar, tight sleeves and flat blouse, where the skirt forms a diversion by having a sort of detached "apron" from hip to hip at the back, rather long and trimmed by a large band of monkey, which seems not to have said its last word.
A gorgeous afternoon gown of pale biscuit crepe gives us another line. The simply crossed bodice has a dear little turned-over collar of fine gray lace; the skirt is also crossed and draped a trifle to one side in front, while the square train is a panel starting from the waist.
Evening dresses, though they may be divided into two groups, the useful dinner gown and the frock for more elaborate functions, both favor long, clinging lines and graceful draperies.
The stuffs are wonderful; gold and silver lamés, throcades, a good deal of metal laces; velvets are effectively used, plain and unadorned; net cut into points and superposed many times makes ethereal filmy skirts.
The same idea is also interpreted in different tones of silk muslins: petunia and flame, magenta and blue, two daring combinations I have in mind.
I must describe this elegant evening gown, characteristic of the entire collection: of geranium velvet, the bodice drapes into a point over one shoulder, the other shoulder bare but for a jeweled strap (this is a new idea and gives an unexpected line).
A long square train starting from the waist as a detached panel trails at least a foot on the ground; the skirt itself follows the famous enveloping movement.
That is, a band of the material, apparently seamless, starts from one hip, is wound around the wearer and is draped slightly up on the other side; this gives a tight hemline and causes the skirt to cross and open at the feet.
Low décolletés persist, the very low back is still seen. Sometimes as a concession a loose lace fichu with very long filmy sleeves appears over bare shoulders where a tunic is worn over the skirt.
Sometimes a lace cape starts from the back and falls to the waist, as in the case of a gray brocade dinner gown;  again, we have tulle or lacewings; one good example of this is a dress of clinging net covered with huge gold and silver flowers draped up to the shoulder in one unbroken line having black lace wings forming two tiny trains.
Another unusual way of treating a low neck is as follows: an evening gown of black gauze with a gold spot design, short and tight in front, low on the shoulders, becomes an immense long cape curving around the arms and fastening at each hip, the interval belted by a band of flat roses; this cape is very long in the back, descending from invisible tulle shoulder straps.
Dinner dresses, which are, as a rule, very short, frequently have a filmy over a skirt of silver lace or tulle much worked in different metals, the tunic being mostly longer than the underskirt.
With these loose but not voluminous tunics, the crossed bodice and tiny sleeves are indicated; metal lamés make effective foundations for tunics; I noted a very happy instance in a silver slip with a black net tunic faintly traced over in fine black straw.
Another attractive movement is the robe-chemise effect, applied to evening gowns; Molyneux uses some beautiful transparent stuffs, net embroidered in sequins in one instance, winds it once and a half round the lining.
It falls in long, seamless draperies and holds to the figure in the back or the front, or both, by a beaded cord; as a rule, we have here the rounded neck and short sleeves.
One straight chemise of silver lace over silver lamé is simply two widths, the front width short, the back long enough to form a square train.
Who can describe the gorgeousness of ermine, kolinsky, seal and broadtail evening wraps? They are vague, enveloping capes with huge kimono sleeves lined with wonderful brocades.
One magnificent ermine example with a huge shawl collar is spotlessly white but for a row of tiny tails at the hem; a squirrel wrap is particularly chic with its white lining striped in black velvet; a white panne velvet cape has a second shorter cape over the shoulders and an immense ermine collar.
I noticed good traveling coats built along the same loose lines with huge comfortable collars and sleeves: one orange blanket cloth, fastening down the side, has a chic collar rolled, very high and standing out from the face.
"Molyneux" in the Garment Manufacturers' Index, New York: The Allen-Nugent Co. Publishers, Vol. II, No. 2, September 1920: 20.