The Hook - The Battle of Palmdale - Spring 2004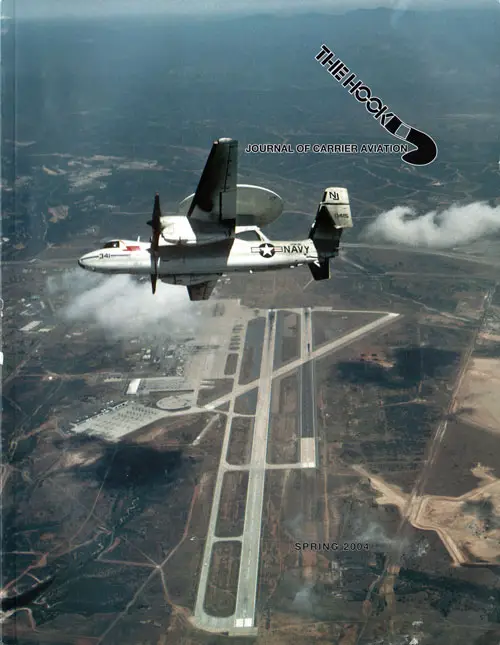 Cover: VAW-I 10 E-2C Hawkeye, BuNo 160415, banks over NAS Miramar on an 18 Apr '84 flight. The Firebirds were established on 20 Apr '67 as RVAW-110, the West Coast E-2 replacement squadron and home squadron for deploying E-lBs. It became UAW-110 on I May '83 and disestablished on 30 Sep '94. lifilCro-160211-5-served with UAW-120, UAW-110 and the Coast Guard before being placed in storage at Davis-Monthan AFB on 5 Oct '92.
Table of Contents
BRIEF
The Navy's New Operational Construct
ADM William J. Fallon, USN
Fleet Response Plan and Naval Aviation
RADM Mark P. Fitzgerald, USN
From the President: Current Operations Update
CAPT David A. "Roy" Rogers, USN
From the Executive Director: Planning for Tailhook '04
CAPT J.R. Davis, USN(Ret)
TAILHOOK EDUCATIONAL FOUNDATION
FROM THE CATWALK
From the Catwalk
conducted by CAPT Hook
U.S. Navy Support, Train Hoook and Aircraft Test Units
LCDR Rick Burgess, USN(Ret)
The Battle of Palmdale
Bob Wilson
The Further Adventures of Youthly Puresome: Cheating Grampaw Pettibone
CDR Jack D. Woodul, USNR(Ret), artwork by Carl Snow
LAUNCH
CVG-101 and Boxer In Korea: "Where Do We Get Such Men?"
Rick Morgan
Tailhook Aircraft From Mr. Grumman's Iron Works: Vietnam — The Graveyard Spiral, Part Five — 1960-1969
Bob Lawson
AT MARSHAL
Command Changes
Air Wing and Squadron Reports
RECOVERY
Washington Report: CVN-21 on Path to Begin Construction in 2007
Sandra I. Erwin
Midway Embarks on Final Mission
Scott McGaugh
Navy's 2005 Budget Begins Downsizing Trend
Sandra I. Erwin
IN REVIEW
RESPOT
The Beginning of the End for the Viking
CDR Doug Siegfried, USN(Ret)
Black Aces Homecoming
Cheryl Bly Chester
WAVEOFFS & BOLTERS
What Is It?
Steve Millikin and Hal Andrews
IBC PATCH PAGE
Articles and news items are welcomed. Submit material for The Hook to: Editorial Offices, The Hook, 9696 Businesspark Ave., San Diego, CA 92131-1643. (858) 689-9227 or (800) 322-HOOK, Fax: (858) 578-8839
Air Plan *%,

©2004, all rights reserved ISSN: 0736-9220

VOLUME 32 NUMBER 1 SPRING 2004

photo by Bob Lawson

EDITOR
CAPT Steve Millikin, USN(Ret)

MANAGING EDITOR
CDR Jan C. Jacobs, USNR(Ret)

ASSOCIATE EDITORS
CAPT Wynn F. Foster, USN(Ret)
Barrett Tillman
Carmelle Carter

CONTRIBUTING EDITORS
Hal Andrews
Margaret Bone
CDR Doug Siegfried, USN(Ret)
Mike Weeks
CDR Jack D. Woodul, USNR(Ret)

CONTRIBUTING
PHOTOGRAPHERS
Ted Carlson
Rick Llinares
Jose M. Ramos
CDR Chris Buhlmann, USNR

Printing by Neyenesch Printers
San Diego, Calif.
Advertising: Truby Chiaviello, Potomac Media LLC, 2125 Observatory Place N.W., Washington, DC 20007. (888) 325-9943 Fax: (202) 333-8786
THE HOOK, Spring 2004 Page 1