The Hook - Where are the Carriers? - Fall 2000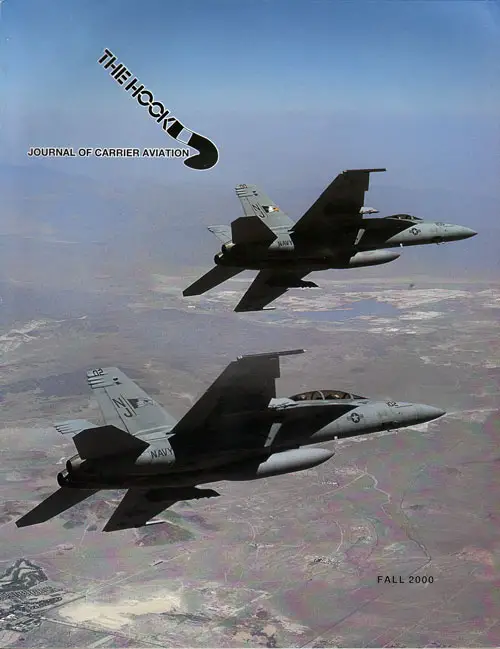 VOLUME 28 NUMBER 3 FALL 2000
©2000, all rights reserved
ISSN: 0736-9220
On The Cover
Section of VFA-122 Flying Eagle Super Hornets cruise over central California on a training mission. In the lead is an F/A-18E with an F/A-18F on the wing. Photo by Neville Dawson.
Table of Contents : Air Plan
BRIEF

In Harm's Way: Naval Aviation at the Dawn of the 21st Century
VADM John NathmCOmmander,
Commander, NaFOrcesr Forces Pacific Fleet
Where are the Carriers?
From the Chairman: The View From Here
RADM Thomas F. Brown III, USN(Ret)
Naval Aviation in Color: The F6F Hellcat
photo essay by Robert L. Lawson

FROM THE CATWALK

From the Catwalk
conducted by CAPT Hook
The Further Adventures of Youthly Puresome: A Near Thing
CDR Jack D. Woodul, USNR(Ret), artwork by Carl Snow
Where Are They Now? Whitey Feightner
LCDR Rick Morgan, USN(Ret)
Check Flight in "01' Shaky"
LCDR Rick Morgan, USN(Ret)

LAUNCH

A 50-Year Tribute: Naval Aviation In Korea
Barrett Tillman
Up To Speed With the Super Hornet FRS
Jeff Hall, photos by Neville Dawson

AT MARSHAL

Command Changes
Air Wing and Squadron Reports
CVW-5 Shows Off at Wings 2000
photo essay by PH3 Michael A. Damron, USN
Carrier Air Wing Composition as of 1 October 2000

MANNING THE SPARE
RESPOT

They Came Back: A Report on Tailhook 2000
Barrett Tillman and LCDR Rick Morgan, USN(Ret)

IN REVIEW
WAVEOFFS & BOLTERS

What is It?
Steve Millikin and Hal Andrews
Patch Page: World War II VC Squadrons
Managing Staff Members
EDITOR : CAPT Steve Millikin, USN(Ret)
MANAGING EDITOR : CDR Jan C. Jacobs, USNR(Ret)
ASSOCIATE EDITORS

CAPT Wynn F. Foster, USN(Ret)
Barrett Tillman
Carmelle Carter

CONTRIBUTING EDITORS

Steven P. Albright
Hal Andrews
Margaret Bone
CDR Doug Siegfried, USN(Ret)
Mike Weeks
CDR Jack D. Woodul, USNR(Ret)

CONTRIBUTING PHOTOGRAPHERS

Ted Carlson
Rick Llinares
Jose M. Ramos
CDR Chris Buhlmann, USNR
Printing by Neyenesch Printers, San Diego, Calif.
Advertising: Truby Chiaviello, Potomac Publishing Services, 2125 Observatory Place N.W., Washington, DC 20007. (888) 325-9943 Fax: (202) 333-8786
Articles and news items are welcomed. Submit material for The Hook to: Editorial Offices, The Hook, 9696 Businesspark Ave., San Diego, CA 92131-1643. (858) 689-9227 or (800)322-HOOK, Fax (858) 578-8839