The Hook - History of USS Lexington - Summer 1992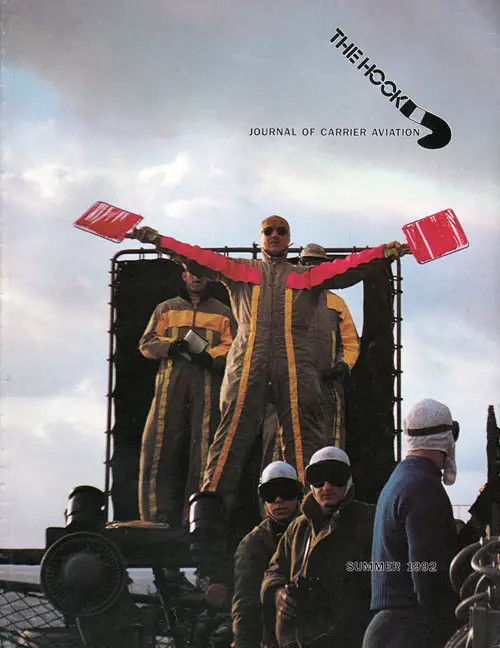 VOLUME 20, NUMBER 2, SUMMER 1992
©1992 all rights reserved
ISSN: 0736-9220
ON THE COVER
Brightly colored paddles worked well in days of wooden decks and iron men. An incoming aircraft is slightly high on glide slope according to CVG-14 Landing Signal Officer LCDR Ernie Courtney on board USS Randolph (CVA-15), April 1954. Photo by Howard Lawson.
Table of Contents : Air Plan
BRIEF

From the Chairman
CAPT W.D. Knutson, USN(Ret)

VULTURE'S ROW
FROM THE CATWALK

Where Are They Now? -- Zeke Cormier
Barrett Tillman
The Further Adventures of Youthly Puresome Of Teeny, Tiny Tinker Tankers
CDR Jack Woodul, USNR(Ret)
Almost An Ace
Bob Butcher

LAUNCH

The Life and Times of "The Blue Ghost": An Operational History of USS Lexington (CV/CVA/CVS/AVT-16), 1943-1991, Part One
Robert J. Cressman
A Lexington Pictorial
At Marshal: Summer of 1942
Barrett Tillman

AT MARSHAL

Command Changes
Air Wing/Squadron Updates
Intruder with the Top Down
Blue Wolves at Work
Photos by LT Chris Buhlmann, USN
CVW-15 Deploys to NAS Fallon
Photo essay by LT Tom "Tumor" Twomey, USN
Hail and Farewell: MCAS El Toro's VMFA(AW)-225 and VMFA-531
Photo essay by Bob Lawson

MANNING THE SPARE

Twenty Years, Same Pilot, Same Plane

RESPOT

Doolittle Raid Reenacted
Carl Snow
USS Midway Decommissioned
Carl Snow

IN REVIEW
WAVEOFFS & BOLTERS
INSIGNIA PAGE

In Memoriam: Carrier Air Wing Six, 1 September 1948-1 April 1992
Executive Staff Members
EDITOR : CAPT Steve Millikin, USN(Ret)
MANAGING EDITOR : Jan C. Jacobs
ASSOCIATE EDITORS

CAPT Wynn Foster, USN(Ret)
Barett Tillman
CWO4 Carl Snow, USN(Ret)

CARRIER EDITOR : Robert J. Cressman
EDITORIAL COMMITTEE

RADM James D. Ramage, USN(Ret)
Barrett Tillman

CONTRIBUTING EDITORS

CDR Doug Siegfried, USN(Ret)
CDR Jack D. Woodul, USNR(Ret)
Hal Andrews

CONTRIBUTING PHOTOGRAPHERS

Douglas D. Olson
Michael L. Grove
Keith Snyder
Printed on Recycled Paper
Color by American Color
Printing by Neyenesch Printers, San Diego, Calif.
Typesetting by Slipshot Graphics, Inc.
Articles and news items are welcomed. Submit material for The Hook to: Editorial Offices, The Hook, Box 45308, NAS Miramar, San Diego, CA 92145, (619) 689-9227, FAX (619) 578-8839. Advertising information available from: Hook Media-Diane Stevenson, 3790 Via de la Valle, Suite 204, Del Mar, CA 92014, (619) 759-0861