The Hook - The A-7 Corsair II - Fall 1991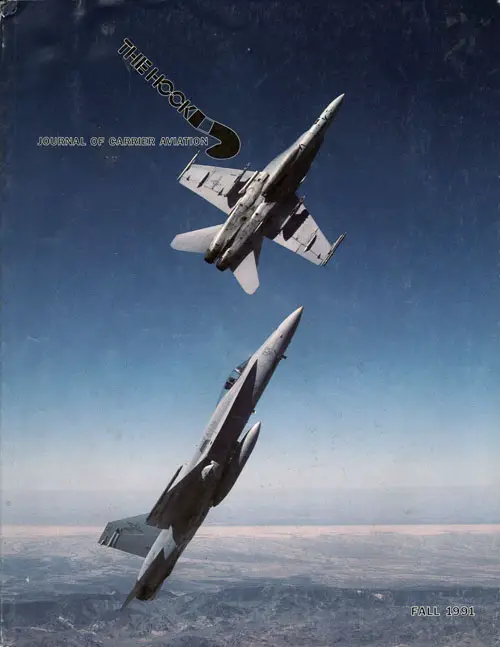 VOLUME 19, NUMBER 3, FALL 1991
©1991 all rights reserved
ISSN: 0736-9220
ON THE COVER:
A flight of VMFA-134 F/A-18A Hornets during recent Active Duty for Training on the TACTS range near MCAS Yuma.
Photo by Robert L. Lawson
TABLE OF CONTENTS : AIR PLAN
BRIEF

War at Sea During Desert Storm
RADM R.J. Zlatoper, USN, ComCarGruSeven
From the President
CAPT F.G. "Wigs" Ludwig, USN

FROM THE CATWALK

Terror in the Eye of the Bull's-Eye
MAJ Dennis A. Cavagnaro, USMC(Ret)
The Further Adventures of Youthly Puresome
CDR Jack D. WOOdul, USNR(Ret)

LAUNCH

Fighting Two-The Flying Chiefs/Part Two, Pearl Harbor to Coral Sea
CAPT William E. ScarborOugh, USN(Ret)
Flying the Brewster F2A-3 with Fighting Two
CDR HOward S. "Pack" Packard, USN(Ret)
No Slack in Light Attack/The A-7 Corsair II in Fleet Service, Part Two
LT Mark L. Morgan, USNR
A Close Call Off Formosa
Dick Jordan
Tribute to a Naval Aviator
Thomas Thomson

AT MARSHAL

Command Changes
Heroes of the Gulf
Photo essay by AZ2 Alan Warner, USN
Tomcatting NAVCADS/Who Said You Need a Degree to Fly the F-14?
LCDR BOb Frantz, USNR
Night Attack Harriers to VMA-211
Photo Essay by BOb Lawson

MANNING THE SPARE

West Coast Reserves Deploy to Fallon
Photo Essay by Jan Jacobs and Bob Lawson
Smokin' in the Desert
Photo Essay by Bob Lawson

RESPOT
RECOVERY
IN REVIEW
WAVEOFFS & BOLTERS
INSIGNIA PAGE

Naval Air Reserve 75th Anniversary, Reserve Carrier Air Wing 30
About the Publication
The Hook is published quarterly by The Tailhook Association, a non-profit corporation dedicated to foster, encourage, develop, study and support the aircraft carrier, sea-based aircraft, both fixed and rotary wing, and aircrew of the United States of America and to educate the public in the aircraft carrier's appropriate role in the Nation's defense system.
Views expressed in The Hook are those of the authors and do not necessarily represent the policies of The Tailhook Association or the United States Navy. Printed in U.S.A. Bulk-rate postage paid at Bonita, California. Copyright ©1991 by The Tailhook Association. All rights reserved.
Subscription for The Hook is included in the $25.00 annual membership in The Tailhook Association. Regular Membership is open to anyone who has made a carrier landing as a pilot or aircrewman. Associate Membership is open to anyone having the background and interest to support the goals of The Tailhook Association, as stated above. Ordinary subscriptions are also available to organizations or individuals.
Editorial Offices
EDITOR : CAPT Steve Millikin, USN(Ret)
MANAGING EDITOR : Jan C. Jacobs
ASSOCIATE EDITORS

CAPT Wynn F. Foster, USN(Ret)
Barrett Tillman
CWO4 Carl Snow, USN(Ret)

CARRIER EDITOR : Robert J. Cressman
EDITORIAL COMMITTEE

RADM James D. Ramage, USN(Ret)
Barrett Tillman

CONTRIBUTING EDITORS

CDR Doug Siegfried, USN(Ret)
CDR Pete Clayton, USN
Hal Andrews

CONTRIBUTING PHOTOGRAPHERS

Douglas D. Olson
Michael L. Grove
Bruce R. Trombecky
Keith Snyder
Articles and news items are welcomed.
Submit material for The Hook to:
Editorial Offices, The HOOk
BOx 45308
NAS Miramar
San Diego, CA 92145
(619) 689-9227
FAX (619) 578-8839
Membership/subscriptions information, back issues, change of address and Tailhook Symposium requests:
Tailhook Association
Box 40
BOnita, CA 91908-0040
(619) 689-9223
Advertising information available from:
Hook Media-Diane Stevenson
3790 Via de la Valle, Suite 204
Del Mar, CA 92014
(619) 759-0861
Color by American Color
Printing by Neyenesch Printers, San Diego, Calif.
Typesetting by Slipshod Graphics, Inc.