The Hook - Marines and Carriers - Fall 1986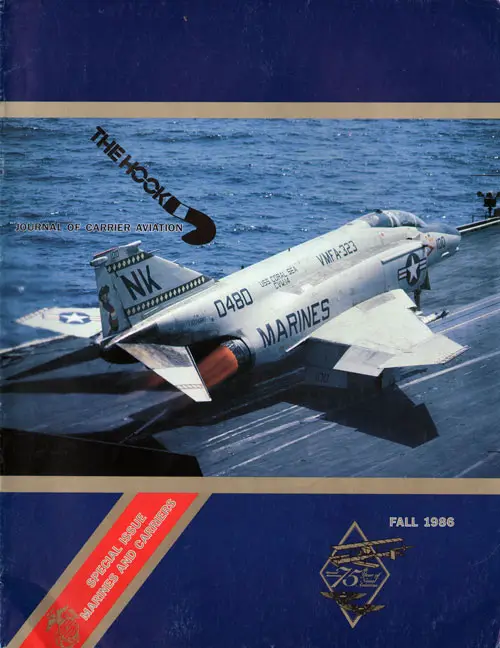 VOLUME 14, NUMBER 3, FALL 1986
©1986 all rights reserved
ISSN: 0736-9220
ON THE COVER:
VMFA-323 F-4N Phantom about to launch from Coral Sea during 1979-80 WestPac/Indian Ocean deployment. The Deathrattlers of 323, along with VMFA-531's Grey Ghosts, provided Carrier Air Wing 14's fighter cover the entire deployment, which set a precedent in Naval Aviation history. The Marine Corps' service in Navy carriers is long and illustrious.
In honor of the 75th Anniversary of Naval Aviation, The Hook is pleased to feature the proud association of Marines and carriers in this issue.
Photo by LCDR Pete Clayton
Table of Contents : Air Plan
BRIEF
FROM THE CATWALK
Barrett Tillman
LAUNCH

"Carrier Aviation in the U.S. Marine Corps"
MAJ John M. Elliott, USMC(Ret)
"It Was Not To Be"—MCVG-9 and Saidor (CVE-117)
COL Hamilton Lawrence, USMC(Ret)
"That First Night Trap"
COL R. Bruce Porter, USMCR(Ret)
"Korean Incident"-VMF-312 vs the Chinese Air Force
Steve Blake
"A Tour in Hell"-First Naval Aviator POW in Korea
"The Epic Voyage of the Vagabonds"-
VMA-324's Around the World Cruise in Saipan (CVL-48)
MGEN R.H. "Smoke" Spanjer, USMC(Ret)
"Postwar Marine Carrier Deployments"
Matrix by Douglas D. Olson
"Marines and Carriers"
photo essay

AT MARSHAL

Command Changes
"TraCom Hits 'The Hawk"
photo essay by Bruce Trombecky

MANNING THE SPARE
RECOVERY
IN REVIEW
VULTURE'S ROW
RESPOT
WAVEOFFS & BOLTERS
THE HOOK
Editorial Offices
EDITOR : Robert L. Lawson L.
ASSISTANT EDITOR : Barrett Tillman
ASSOCIATE EDITOR : CDR Doug Siegfried, USN
CARRIER EDITOR : Robert J. Cressman
CONTRIBUTING EDITORS

LCDR Pete Clayton, USN
LCDR Jan C. Jacobs, USNR-R
CDR R.R. "Boom" Powell, USN(Ret)
Hal Andrews

CONTRIBUTING PHOTOGRAPHERS

Douglas D. Olson
Michael L. Grove
Bruce R. Trombecky
Articles and news items are welcomed.
Submit material for The Hook to:
Editorial Offices, The Hook
5126 Central Ave., Bonita, CA 92002
(619) 479-8896
Advertising information available from:
California Publicom Inc.
4141 Fairmount Ave.
San Diego, CA 92105
(619) 284-1145
Color by American Color
Printing by Neyenesch Printers, San Diego, CA
Typesetting by Slipshod Graphics, Inc.