The Hook - Never Forget 11 September - Winter 2001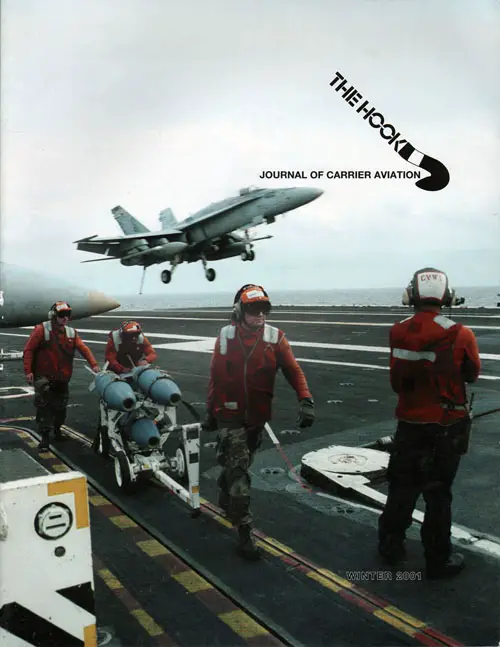 VOLUME 29 NUMBER 4 WINTER 2001
©2001, all rights reserved
ISSN: 0736-9220
On The Cover
US. Marine Corps ordinancemen from VMFA-251 move training bombs around the flight deck of USS Theodore Roosevelt (CVN-71) on 27 Sep 2001 as they train for Operation Enduring Freedom. In the background, a VFA-86 F/A-18C Hornet makes its final approach for an arrested landing.
Photo by PH2 Robert R. McRill, USN, via CHINFO
Table of Contents : Air Plan
BRIEF

Never Forget 11 September
The Hon. Gordon R. England, Secretary of the Navy
From the Air Boss: Where Are the Carriers?
VADM John B. Nathman, USN
Commander, Naval Air Force, U.S. Pacific Fleet
From the Board: Put Me In, Coach!
LCDR Jim "Guido" DiMatteo, USNR
From the Detailer: Assignment Opportunities for the Naval Warrior
CAPT Joe Kilkenny, USN
Director Of Aviation Officer Distribution (Pers 43)
From the Executive Director: Working for the Future
CAPT J.R. Davis, USN(Ret)

TAILHOOK EDUCATIONAL FOUNDATION

Foundation Sets Long-Range Goals
RADM Glen L. "Corky" Lenox, USN(Ret)

FROM THE CATWALK

From the Catwalk
conducted by CAPT Hook
The Further Adventures of Youthly Puresome: Crubfoot Active
CDR Jack D. Woodul, USNR(Ret), artwork by Carl Snow
Where Are They Now: Martin "Red" Carmody
CDR R.R. "Boom" Powell, USN(Ret)

LAUNCH
Operation Enduring Freedom: USS Carl Vinson Carries the Fight to the Enemy
LT Mutt O'Neal, USN, and J01 Melissa Martinez, USN
History of VF-143, Part II: Who Let the Dogs Out?
Fred Tannenbaum
AT MARSHAL
Command Changes
Air Wing and Squadron Reports
Tribute to the Testers and Trainers photo essayphoto
RECOVERY
Commentary: Potomac Currents
Michael Dennis
IN REVIEW
RESPOT
The Way It Was: NAS Whiting Field
CDR Doug Siegfried USN(Ret)
Archivist Corner
CDR Doug Siegfried USN(Ret)
WAVEOFFS & BOLTERS
What is It?
EDITOR
CAPT Steve Millikin, USN(Ret)
MANAGING EDITOR
CDR Jan C. Jacobs, USNR(Ret)
ASSOCIATE EDITORS
CAPT Wynn F. Foster, USN(Ret)
Barrett Tillman
Carmelle Carter
CONTRIBUTING EDITORS
Hal Andrews
Margaret Bone
CDR Doug Siegfried, USN(Ret)
Mike Weeks
CDR Jack D. Woodul, USNR(Ret)
CONTRIBUTING
PHOTOGRAPHERS
LCDR Ian Anderson, USN
Ted Carlson
Jose M. Ramos
CDR Chris Buhlmann, USNR
Printing by Neyenesch Printers
San Diego, Calif.
THE HOOK, Winter 2001 26 LAUNCH

Steve Millikin and Hal Andrews
IBC PATCH PAGE
NAS Whiting Field
Articles and news items are welcomed. Submit material for The Hook to: Editorial Offices, The Hook, 9696 Businesspark Ave., San Diego, CA 92131-1643. (858) 689-9227 or (800) 322-HOOK,
Fax: (858) 578-8839,
Advertising: Truby Chiaviello, Potomac Media LLC, 2125 Observatory Place N.W., Washington, DC 20007. (888) 325-9943 Fax: (202) 333-8786