The Hook - Tailhook Salute - Spring 1982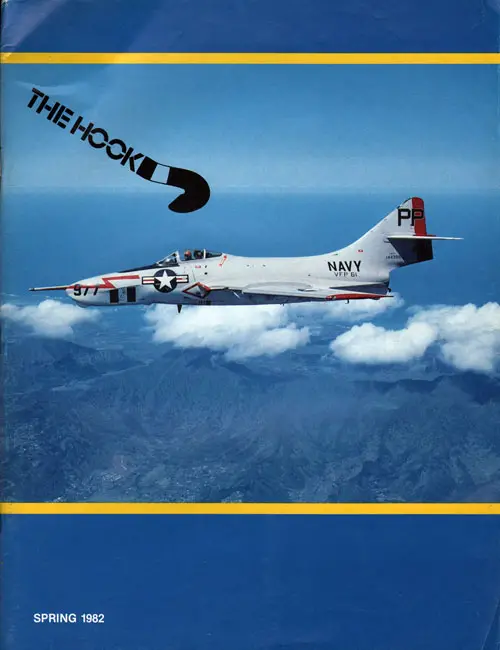 LTJG Al Francher in his F9F-8P Cougar of VFP-61 Det C flying from USS Shangri La (CVA-38) was photographed over Hawaii in 1958 by CDR Bo Masek. Story pages 20-37. The Hook, Vol. 10, No. 1, Spring 1982. GGA Image ID # 16823fd4a6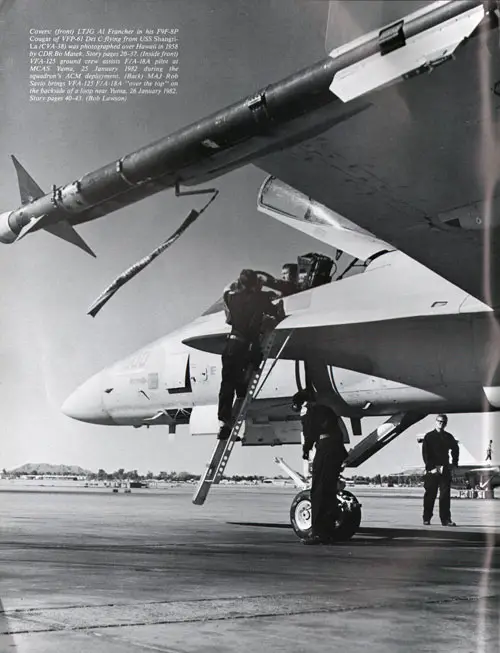 VFA-125 ground crew assists F/A-I8A pilot at MC AS Yuma, 25 January 1982 during the squadron's ACM deployment. GGA Image ID # 16831d5d3b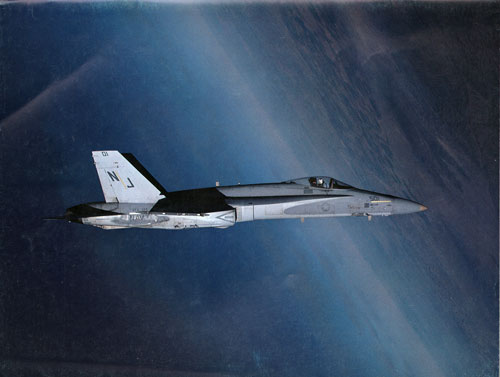 MAJ Rob Savio brings VFA-12S F/A-18A "over the top" on the backside of a loop near Yuma, 26 January 1982. Story pages 40-43. (Bob Lawson). GGA Image ID # 16837d764b
Table of Contents : Air Plan
BRIEF
FROM THE CATWALK,
Peter Kilduff

"Where Are They Now?"
Charlie Bolka and Barrett Tillman

LAUNCH

"If We're Not Here, They Don't Go—Flight Deck Crew"
Story and photos by Bill Powers
"Tailhook Salute to the Gang on the Roof"
Photo essay by Bob Lawson
"Aerial Reconnaissance for the Fleet"
LT Doug Campbell, USNR-R and Bob Lawson
"The Recce Hornet"
Ralph Pruitt, McDonnell Douglas

AT MARSHAL

"Rough Raiders at Yuma"
Story and photos by Bob Lawson
Command Changes

MANNING THE SPARE
RECOVERY
IN REVIEW
WAVEOFFS AND BOLTERS
About the Publication
The Hook is published quarterly by The Tailhook Association, a non-profit corporation dedicated to foster, encourage, develop, study and support the aircraft carrier, the carrier-based aircraft and aircrew of the United States of America and to educate the public in the aircraft carrier's appropriate role in the Nation's defense system.
Views expressed in The Hook are those of the authors and do not necessarily represent the policies of The Tailhook Association or the United States Navy. Printed in U.S.A. Bulk-rate postage paid at Bonita, California. Copyright ©1982 by The Tailhook Association. All rights reserved.
Subscription for The Hook is included in the $15.00 annual membership in The Tailhook Association. Regular Membership is open to anyone who has made a carrier landing as a pilot or air-crewman. Associate Membership is open to anyone having the background and interest to support the goals of the The Tailhook Association, as stated above. Ordinary subscriptions are also available.
THE TAILHOOK ASSOCIATION
Membership /Administration
P.O. Box 40
Bonita, CA 92002
(714) 479-8525
PRESIDENT : CAPT Thomas A. Stanley, USN
SENIOR VICE PRESIDENT : D.S. Laird, CDR, USN (Ret)
VICE PRESIDENTS

CAPT T.C. Wimberly, USN
Thomas J. Kane, Jr.
Robert H. Thompson

BOARD OF DIRECTORS

F.A.W. Franke, Jr. CAPT USN (Ret)
D.S. "Diz" Laird, CDR USN (Ret)
CDR Rod Knutson, USN
LCDR John P. Wrynn, USN
LCDR Gregory A. Cassady, USNR

ADVISOR, NAVAL AVIATION MATTERS : James D. Ramage, RADM USN (Ret)
EXECUTIVE SECRETARY : Ron Thomas
GENERAL COUNSEL : R.E. Gallatin, CAPT USN (Ret)
CORPORATE MEMBERS
The following corporations exhibit their strong support of Naval Aviation through their membership in the Tailhook Association:
Air Fuel Corporation
Beech Aircraft Corporation
Beech Aerospace Services, Inc.
Cubic Corporation
General Dynamics/Convair Division
General Dynamics/Pomona Division
General Electric Company-Aircraft Engine Group
Grumman Aerospace Corporation
Harris Corporation-PRD Electronics Division
Hughes Aircraft Company
Litton Systems, Inc. Guidance & Control Systems Division
Lockheed-California Company
McDonnell Douglas Corporation
Northrop Corporation
Northrop Corporation, Ventura Division
Pratt & Whitney Aircraft Group
Raytheon Company
Rockwell International
Sanders Associates, Inc.
Teledyne Ryan Aeronautics
Texas Instruments Corporation
United Technologies-Norden Systems
Vought Corporation