The Hook - World War II in Color - Summer 1994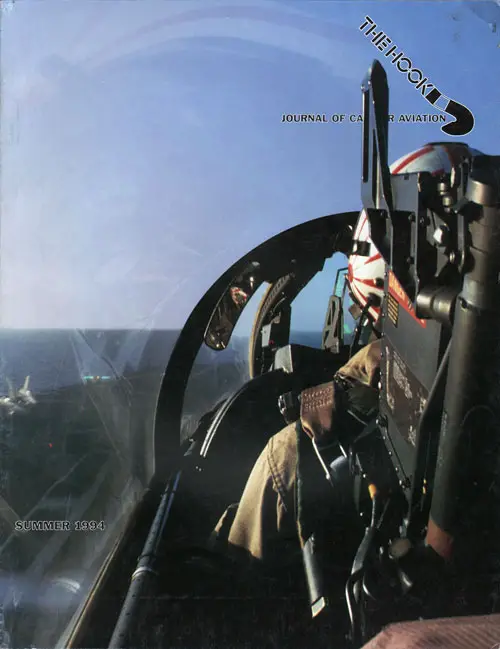 VOLUME 22, NUMBER 2, SUMMER 1994
©1994, all rights reserved
ISSN: 0736-9220
Cover Photo
VF-124's LT Bob "Tube" Bettendoff, USN, pilots a Gunfighters' F-14D over the ramp of USS Nimitz (CVN-68) in the Southern California OpArea while completing Landing Signal Officer transition carrier qualifications. Flying the back seat and taking this view was LCDR Tom "Tumor" Tivomey, USN.
Table of Contents : Air Plan
BRIEF

Do Whatever You Think is Right!
VADM John H. Fetterman, USN(Ret)
From the President
CAPT W.D. Knutson, USN(Ret)

FROM THE CATWALK

From the Catwalk
conducted by CAPT Hook
World War II in Color
photo essay
The Further Adventures of Youthly Puresome: The Great Earlobe Episode
CDR Jack D. Woodul, USNR(Ret), artwork by Carl Snow
Where Are They Now: Bob Vermilya
by Barrett Tillman
The J2F and the Carrier Pilot: A Duck On The Pond
CAPT John A. Harper, USN(Ret)

LAUNCH

Carrier to the Rescue: When Lexington Lit Up Tacoma
COL James W. Hammond Jr., USMC(Ret)
Lexington Legacy
Carl Snow
At Marshal: Summer of '44
Lt. Tillman Barrett, NUS-R

TAILHOOK FOUNDATION
AT MARSHAL

Command Changes
Carrier Air Wing Composition
BeDevilers Disestablished
Bandits Gone After 38 Years
Desert Rescue III
story and photos by Ted Carlson

MANNING THE SPARE
RECOVERY

Training for the Future: The Joint Primary Aircraft Training System (JPATS)

Vikings, Greyhounds and Intruders
photo essay by LT Chris Buhlmann, USN

IN REVIEW

Front Seat Photos
photo essay by LT David Holmes, USN

RESPOT
WAVEOFFS & BOLTERS
IBC PATCH PAGE
Executive Staff Members
EDITOR : CAPT Steve Millikin, USN(Ret)
MANAGING EDITOR : CDR Jan C. Jacobs, USNR(Ret)
ASSOCIATE EDITORS

CAPT Wynn Foster, USN(Ret)
Barrett Tillman
CWO4 Carl Snow, USN(Ret)

CARRIER EDITOR : Robert J. Cressman
EDITORIAL COMMITTEE

RADM James D. Ramage, USN(Ret)

CONTRIBUTING EDITORS

CDR Doug Siegfried, USN(Ret)
CDR Jack D. Woodul, USNR(Ret)
Mike Weeks
Hal Andrews
Steven P. Albright

CONTRIBUTING PHOTOGRAPHERS

Douglas D. Olson
Michael L. Grove
Ted Carlson
Printed on Recycled Paper
Color and 'Typesetting by ColorType, San Diego, Calif.
Printing by Neyenesch Printers, San Diego, Calif.
Articles and news items are welcomed. Submit material for The Hook to: Editorial Offices, The Hook, 9696 Businesspark Ave., San Diego, CA 92131-1643. (619) 689-9227 or (800) 322-4665, FAX (619) 578-8839.
Advertising information available: Hook Media—Roxine Lukens, 9696 Business Park AveTwomeyDiego, CA 92131-1643. (619) 689-9223 or (800) 322-4665, FAX (619) 578-8839.