Nordmædene I Amerika (Norsemen in America, Their History and Record) 1913 - Volume 1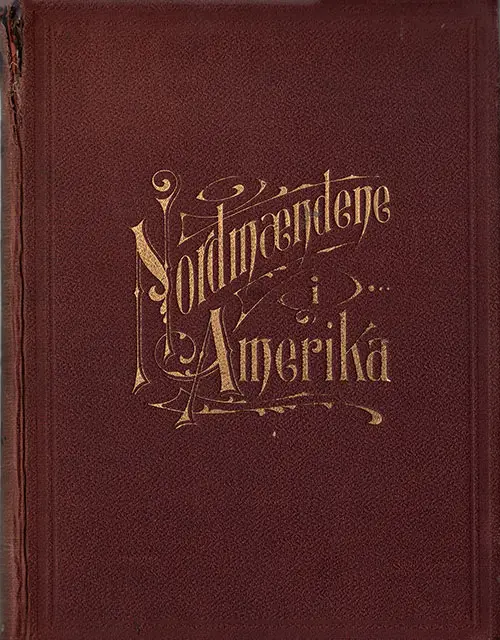 Nordmændene i Amerika: Deres Historie og Reford by Martin Ulvestad published 1913 in Norwegian.
Nordmændene i Amerika, deres historie og rekord (Norsemen in America, Their History and Record). 2 vols. Minneapolis, Minnesota, Published by the History Book Company's Forlag, 1906-1913. Volume I gives a history of the settlements and discusses various accomplishments of the settlers.
A list of those who fought in the Civil War is also included. Includes a compilation of Norwegian towns and areas with emigrants' names and where they resided in America at the time of publication.
This history, arranged by state and county, was compiled from 450,000 questionnaires sent by the author to Norwegian Americans. Detailed information on settlers is presented in order of their arrival, with names of spouses and children, times of migration, and many anecdotes. Other lists include Norwegians who served in the American military, Norwegian-American newspapers, schools and clergy.
Vol. 1 has 872 pages with a fold-out map showing communities mentioned.
About the Book
This is THE book to find if you are searching for genealogy of Norwegians who immigrated to America between 1800's up to 1913 by Martin Ulvestad 'Nordmædene I Amerika' (Norwegians in America). This is a HUGE thick heavy large reference book listing thousands of names of immigrants, where they came from in Norway, the year they came and where they live and what they do in America along with their family members names.
The book also lists people who were involved in the Civil War (Borgerkrig) and Indian Wars etc. Martin Ulvestad did more than anyone person to perserve and protect the history of this great immigration from Norway and we know of no other book as complete as this man's efforts in history/genealogy!
The book is very hard to find, the pages are all good and clean the cover had a small amount of repair to binding - the top part came loose, but has been repaired and doesn't effect the content pages
Contains more than 500+ pages. if you know the name of your relative, person you are searching and correct spelling good chance you will find what you are looking for.