Guide to Minnesota for Immigrants (1911)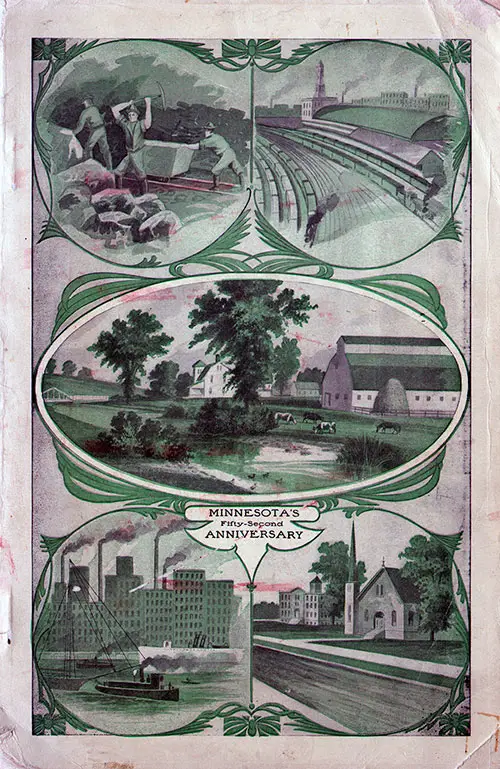 Minnesota State Board of Immigration, Minnesota's Fifty-Second Anniversary, State of Minnesota: St. Paul, Minnesota (1911), 200 pages, softcover.
INTRODUCTION.
In handing this book to the public we deem it proper to say a few words relative to its contents. All information regarding the state, as well as the statistics of each county, are absolutely authentic, and there has been no attempt made to say anything about any county in the state that close investigation will not substantiate. The crop statistics shown by counties are based upon averages taken by the United States Census Enumerators, for the crop season of 1909, and may in some cases do an injustice to certain sections on account of climatic conditions prevailing in that particular year.
It is also well to remember that no consideration is given to the size of the farms and consequently none to the amount of labor used in their production. The averages are based on the acreage planted, whether it has been cultivated, cared for, harvested or not. Individual yields might be cited showing considerable more than double these averages. The averages shown are what the various counties did produce and not what they can produce by more scientific and intensive tillage.
This book is a personal gift to you from the state, from the people of the state. When the legisature of 1907 created the Immigration Board it was for the purpose of advertising the state and inducing immigration, but this book is issued more to assist and guide the homeseeker than to advertise.
The writer has no land to sell, no mines or mills to operate, no waterpower to develop, therefore in preparing this book we have been absolutely unbiased and given the reader the benefit of plain facts and figures relative to the state. We do not claim for Minnesota anything that cannot be proven. We do not claim that it is the only place in the world to live, neither do we claim that a fortune awaits every one who moves within her border line, but we do claim and will undertake to prove that Minnesota offers better inducements and greater opportunities for men in all walks of life than any other state in the Union.
To the farmer, improved farms can be purchased in the developed portions of this state at a lower price than any other section in America, considering the improvements, producing value and close proximity to markets, while farther north a vast area of land, which is practically in its infancy so far as development is concerned, can be purchased from $5 an acre and upwards. Minnesota lands have never been boomed or advertised, but have had a steady and substantial development because of the healthy climate of the state, productiveness of her soil, pure water, transportation facilities, and close proximity to good markets.
The farmers of this state have never had a crop failure. Farm products have increased from, approximately, $10,000,000 in 1860 to $429,000,000 in 1909. In addition to these, thousands of acres of rich state and government land can be had almost for the asking.
To the manufacturer, you can find an unlimited field for operation in almost any part of the state; with its thousands of rivers to furnish waterpower, with its unexcelled railway and waterway transportation facilities, no better field could be desired.
The capitalist and professional man are needed here, for with the steady growth of the many villages in southern and eastern Minnesota, new demands are constantly made in this line each year, while the many new towns which are springing up as if by magic on the borders of civilization farther to the north, offer a profitable and permanent location.
The laborer is also offered a profitable field, for our manufacturing plants, railroads, Great Lakes, mines and farms afford employment to hundreds of thousands of laboring men at good wages, and with the present rapid development of the unoccupied portions of the state, demands for laboring men will continue to increase.
Over forty pages of this book have been given over to reproducing photographic scenes from all parts of the state, and if considerable space has been surrendered to illustrations, it is because they speak louder than words of the shining possibilities of this state.
Come to Minnesota, a state of unparalleled opportunities and matchless resources, a state of good schools and churches, healthy climate, pure water and over two million happy, intelligent and prosperous people. A royal welcome is extended to every person who wishes to become a citizen of this state, and the people of Minnesota bid the prospective home-builder to cast his lot among us.
GEORGE WELSH, Commissioner State Board of Immigration.
1910