The Immigrant Tide: Its Ebb and Flow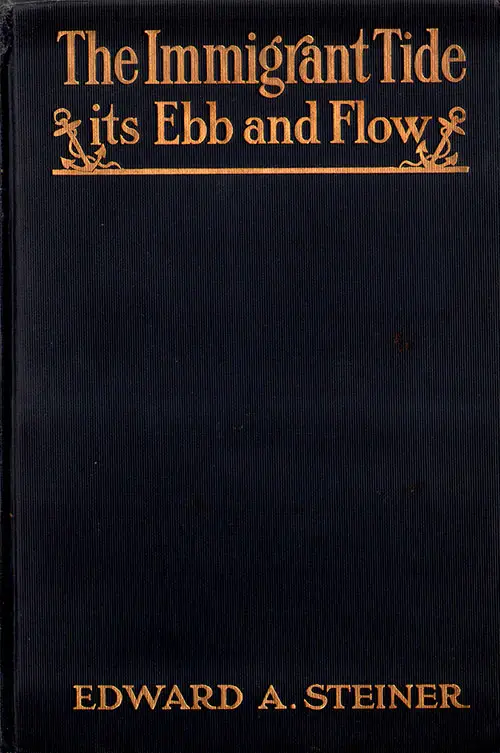 Steiner, Edward A., The Immigrant Tide: Its Ebb and Flow, Fleming H. Revell Company: New York (1909). Hardcover, 370 pages.
Synopsis by Author
In the first part of my book, I have tried to show the influences of the returned immigrant upon his peasant home and his social and national life. In the second part, I interpret the relation of various races to our institutions, their attitude towards them and their influence upon them.
CONTENTS
PART I: WITH THE OUTGOING TIDE
" THEY THAT GO OUT IN SHIPS "
THE PRICE THEY PAY
A MURDERER, MARY AND AN HONORARY DEGREE
REFLEX INFLUENCES
OUR CRITICS
THE DOCTOR OF THE KOPANICZE
" MOSCHELE AMERIKANSKY " .
" NOCH 1ST POLEN NlCHT VERLOREN
THE DISCIPLES IN THE CARPATHIANS
THE GUSLAR OF RAGUSA
WHERE THE ANGEL DROPPED THE STONES
"THE HOLE FROM WHICH YE WERE DIGGED "
PART II WITH THE INCOMING TIDE
PROBLEMS OF THE TIDE
THE SLAV IN THE IMMIGRANT PROBLEM
THE SLAV IN HISTORIC CHRISTIANITY
FROM EPHRATA TO WHISKEY HILL
FROM THE LOVCZIN TO GUINEA HILL
THE JEW AND THE CHRISTIAN
THE JEW IN THE IMMIGRANT PROBLEM
FROM FIFTH AVENUE TO THE GHETTO
FROM LAKE SKUTARI TO LAKE CHAUTAUQUA
THE PROTESTANT CHURCH AND THE IMMIGRANT
TWENTY-FIVE YEARS WITH THE NEW IMMIGRANT
FROM CHAOS TO COSMOS
Appendices
APPENDIX I (Classification of the New Im-migrant Groups)
APPENDIX II (Net Immigration to the United States 1899-1908) .
APPENDIX III (Industrial Depression and Immigration) .
APPENDIX IV (Suggested Changes in Im-migration Laws)
INDEX
ILLUSTRATIONS
A CZAR IN Embryo
Dirty Mary During the Period OF Transition
TRIEST
A CONTRAST IN HOMES
THE MARKET SQUARE IN CRACOW
AT THE FOOT OF THE TATRA MOUNTAINS
Coast OF Dalmatia
WHERE THE ANGEL DROPPED THE STONES AND NOW DROPS DOLLARS
Two Types OF Poles
RUTHENIANS
THE SLAVIC HOME IN HUNGARY
THE SLAVIC HOME ON WHISKEY HILL
A JEW OF THE POORER TYPE
A Jew OF THE Finer Type
Albanians
Faculty and American Students at Missions-Haus, Kattowitz
Slavic Women
GENERAL AND MRS. RICIOTTO GARIBALDI AT THE FOOT OF HIS FATHER'S MONUMENT IN ROME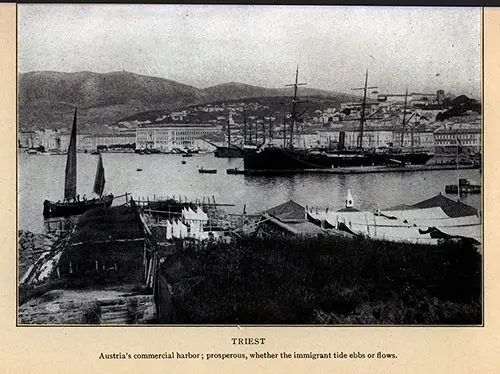 Triest. Austria's commercial harbor; prosperous, whether the immigrant tide ebbs or flows.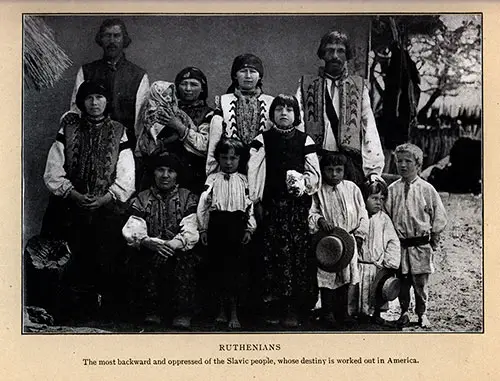 Ruthenians. The most backward and oppressed of the Slavic people, whose destiny is worked out in America.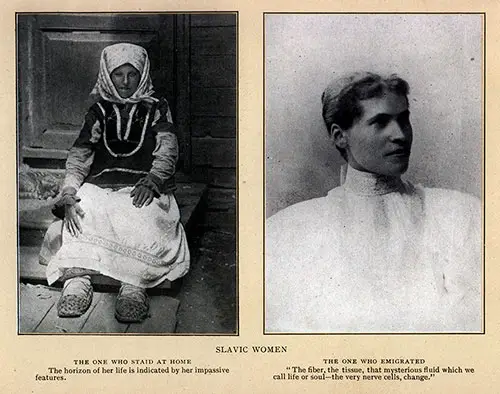 Slavic Women
Left: The one who staid at Home. The horizon of her life is indicated by her impassive features
Right: The one who Emigrated. "The fiber, the tissue, that mysterious fluid which we call life or sould -- the very nerve cells, change."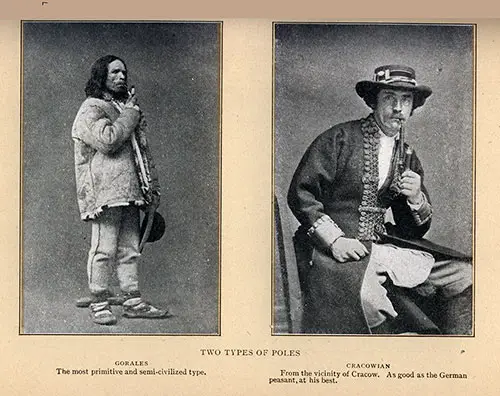 Two Types of Poles
Left: Gorales. The most primitive and semi-civilized type.
Right: Cracowian. From the vicinity of Cracow. As good as the German peasant, at his best.