Gateway to Liberty: The Story of the Statue of Liberty and Ellis Island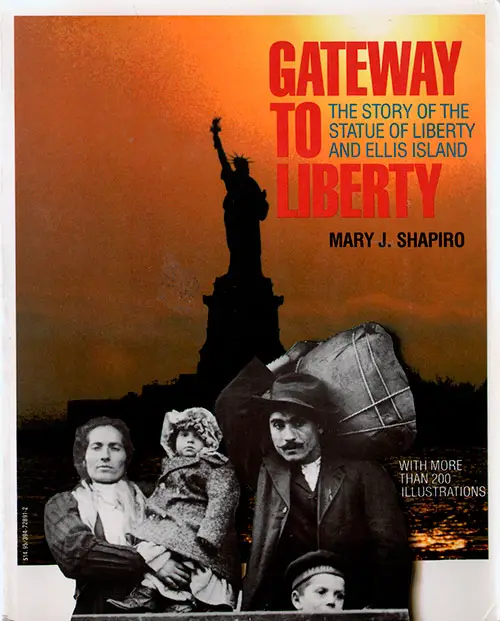 Mary J. Shapiro, Gateway to Liberty: The Story of the Statue of Liberty and Ellis Island, © 1986 Vintage Books, A Division of Random House, New York, Paperback, 276 Pages, 0-394-72891-2, 974.7'1,
Cover photographs: Statue by Henry Wolf; immigrants by Lewis W. Hine, Library of Congress
From the Back Cover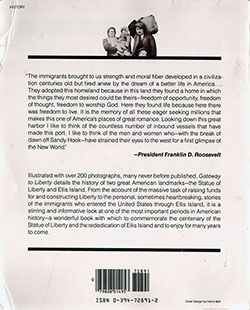 "The immigrants brought to us strength and moral fiber developed in a civilization centuries old but fired anew by the dream of a better life in America. They adopted this homeland because in this land they found a home in which the things they most desired could be theirs-freedom of opportunity, freedom of thought, freedom to worship God.
Here they found life because here there was freedom to live. It is the memory of all these eager seeking millions that makes this one of America's places of great romance.
Looking down this great harbor I like to think of the countless number of inbound vessels that have made this port. I like to think of the men and women who-with the break of dawn off Sandy Hook-have strained their eyes to the west for a first glimpse of the New World"
-President Franklin D. Roosevelt
Illustrated with over 200 photographs, many never before published, Gateway to Liberty details the history of two great American landmarks-the Statue of Liberty and Ellis Island. From the account of the massive task of raising funds for and constructing Liberty to the personal, sometimes heartbreaking, stories of the immigrants who entered the United States through Ellis Island, it is a stirring and informative look at one of the most important periods in American history-a wonderful book with which to commemorate the centenary of the Statue of Liberty and the rededication of Ellis Island and to enjoy for many years to come.
Table of Contents
ACKNOWLEDGMENTS
INTRODUCTION
Part I. The Statue of Liberty
1. Liberty Enlightening the World
2. Liberty Rising
3. Fund-Raising in America
4. Pulitzer's Campaign
5. The Unveiling
Part II. Ellis Island
6. The Great Migration
7. The Journey
8. Passage by Steam
9. Castle Garden
10. Ellis Island
11. A Clean Sweep
12. A Great Sieve
13. A Man With a Heart
14. New Restrictions
15. Bureaucrats Declare War
16. The Beginning of the End
NOTES
Library of Congress Cataloging-in-Publication Data
Shapiro, Mary J.
Gateway to liberty.
"A Vintage original"—T.p. verso.
Bibliography: p.
1. Statue of Liberty (New York, N.Y.)—History— Pictorial works. 2. Ellis Island Immigration Station (New York, N.Y.)—History—Pictorial works. 3. United States—Emigration and immigration—History—Pictorial works. I. Title.
F128.64.L6S47 1986  974.7'1  85-40673
ISBN 0-394-72891-2
Library of Congress Catalog Listing
LC Control Number: 85040673
Type of Material: Book (Print, Microform, Electronic, etc.)
Personal Name: Shapiro, Mary J.
Main Title: Gateway to liberty : the story of the Statue of Liberty and Ellis Island / Mary J. Shapiro.
Edition Information: 1st ed.
Published/Created: New York : Vintage Books, 1986.
Description: 276 p. : ill.; 23 cm.
ISBN: 0394728912 (pbk.)
Notes: "A Vintage original"--T.p. verso.
Bibliography: p. 268-276.
Subjects: Ellis Island Immigration Station (N.Y. and N.J.)--History--Pictorial works. Statue of Liberty (New York, N.Y.)--History--Pictorial works. United States--Emigration and immigration--History--Pictorial works.
LC Classification: F128.64.L6 S47 1986
Dewey Class No.: 974.7/1 19
Geog. Area Code: n-us--- n-us-ny