Immigrant Forces: Factors in the New Democracy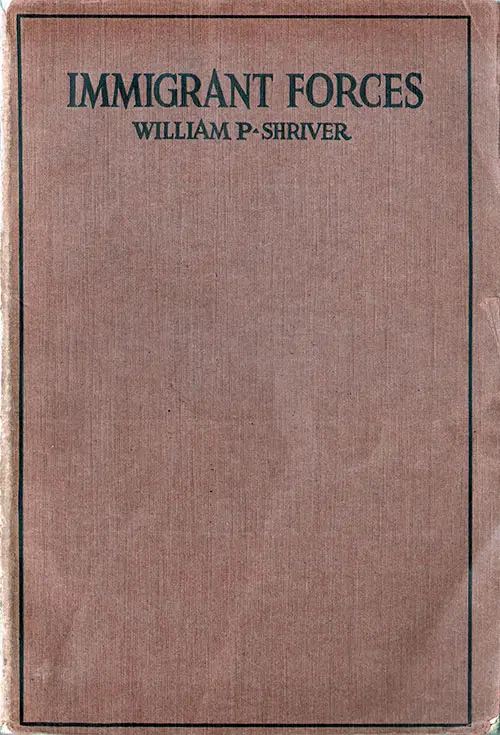 Immigrant Forces
FACTORS IN THE NEW DEMOCRACY
BY
WILLIAM P. SHRIVER
Copyright, 1913. by MISSIONARY EDUCATION MOVEMENT OF THE UNITED STATES AND CANADA New York
FOREWORD
I wish to acknowledge the inspiration and help I have received in the preparation of this book from my colleagues, the Rev. Kenneth D. Miller, the Rev. Joel B. Hayden and the Rev. Spencer L. Towle, Immigration Fellows in resident study abroad, and from the Rev. Paul Fox and the Rev. Norman M. Thomas. All are young men who are devoting their lives to a ministry among our recent immigrant and industrial communities, a type of minister to whom the Church must increasingly look for guidance as it aims to make its service efficient under these newer and critical conditions.
William P. Shriver.
New York, June 1, 1913.
CONTENTS
Foreword ix
I The Lure of American Industry
II An Immigrant Inventory
III The New Communities
IV Perils and Problems
V New Civic Service
VI Religious Backgrounds
VII Task of the Church
VIII Getting Together
APPENDIXES

Appendix A Bibliography
Appendix B Immigrant Aliens Admitted and Departed, 1908-1912
Appendix C Immigrant Aliens Departed, 1908-1912
Appendix D Total Immigrants by Decades
Appendix E Increase in Foreign-born by Decades
Appendix F Total Foreign-born in the United States in 1910, by Country of Birth
Appendix G Distribution of Earlier and Recent Immigration
Appendix H Wave of Immigration Into the United States from all Countries During the Past Years
Appendix I Agencies of the Protestant Churches of the United States Working Among Immigrants
Index
ILLUSTRATIONS
Immigrant Forces
At Ellis Island
Chart, Panics and Immigration
Map-Chart, Foreign-born Whites and Native Whites of Foreign or Mixed Parentage
Map, Industrial Zone of United States
Map-Chart, Percentage of Foreign-born Whites in the Total Population, 1910
Chart, Foreign-born Population by Principal Countries of Birth, 1910 and 1900
Chart, Immigration into the United States from Austria-Hungary, 1861-1912
Map, Austria-Hungary
Physical Features Map, Austria-Hungary
A Croatian Zadruga Near Agram
Map, Principal Races of Austria-Hungary
Map, Distribution of Slavs and Germans in Europe
Map, Emigration from Italy to the United States in 1909
Those That Are Left Behind
Polish Gardeners on Long Island, New York
Immigrant Camp Life
The Workers
Children of the City Streets
And They Call Us a Problem
New Civic Service
Worshipers by the Wayside
Polish Catholic Church
Types of Christian Settlements
The Church and the Immigrant
The Gary Chapel and Neighborhood House
A Croatian Sokol or Gymnastic Society
Chart, Percentages of News Space in Seventeen New York City Dailies
Churches in New York City
Chart, Wave of Immigration into the United States from all Countries during the past 93 years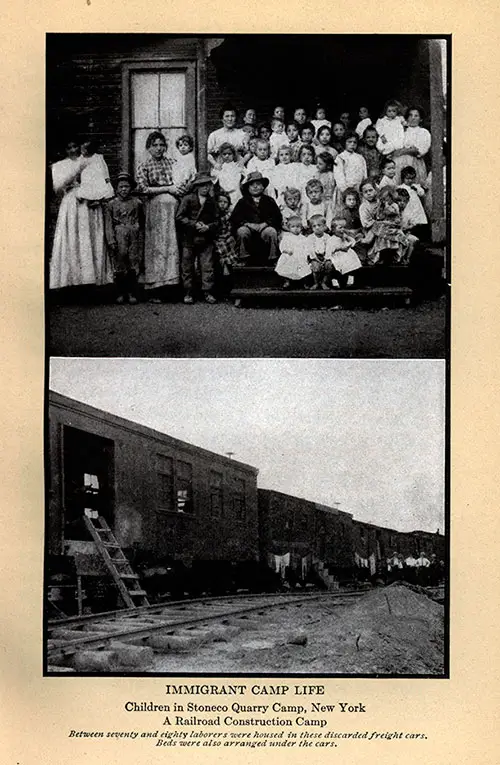 Immigrant Camp Life. Children in Stoneco Qarry Camp, New York, A Railroad Construction Camp. Between seventy and eighty laborers were housed in these discarded freight cars, beds were also arranged under the cars.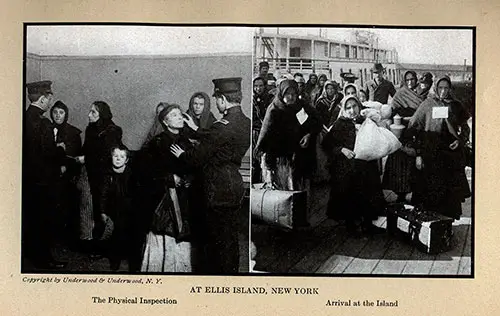 Left: The Physical Inspection at Ellis Island, New York.
Right: Immigrants arriving at Ellis Island, desimbarking from the Ferry Boat.
Commentaries on the Treatment of Workers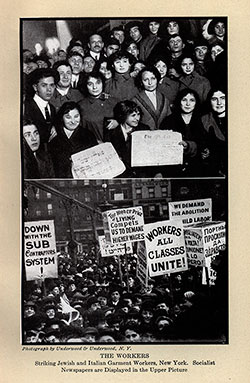 NEW YORK Missionary Education Movement of the United States and Canada
If our industrial structure is to endure, the conditions in it must come to be such as will make our working men and women better, wiser, happier, and stronger through their work. It is a wrong to the community that profit should arise out of continued conditions that injure the workers. But a chasm of sympathy and an equal chasm of knowledge too often separate the workers from the employer; and through this want of knowledge and this lack of sympathy we all suffer.—William C. Redfield.
The welfare, the happiness, the energy and spirit of the men and women who do the daily work in our mines and factories, on our railroads, in our offices and ports of trade, on our farms and on the sea, is the underlying necessity of all prosperity. There can be nothing wholesome unless their life is wholesome; there can be no contentment unless they are contented. Their physical welfare affects the soundness of the whole nation.— Woodrow Wilson.
Unless business men wish to put themselves in the position of being willing to exploit weakness and ignorance for their own gain, it is incumbent on them to conduct their enterprises in such a way that the health, strength, and character of their employees are conserved and not destroyed. They must refuse to employ children even if they are cheap. They must refuse to employ women under unsuitable conditions or in tasks for which they are physically unfit. They must not permit overwork of men or women. They must minimize the risks of dangerous occupations. They must pay living wages. In a word, they must take into account in all their plans the social welfare of their employees, as well as their own financial welfare.—Edward T, Devine.