American Immigration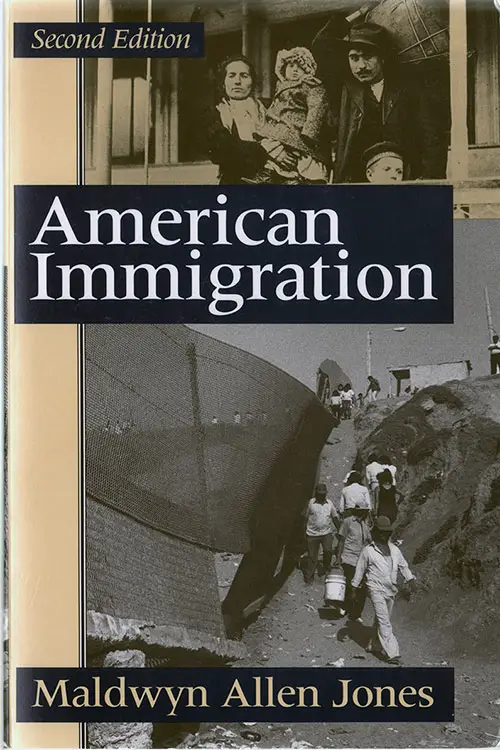 Maldwyn Allen Jones, American Immigration, © 1960,1992, Chicago Press, Chicago, Illinois, Soft cover, 353 Pages, 0-226-40633-4, 325.73--dc20. 1. United States -- Emigration and immigration -- History.
From the Back Cover
Immigration, writes Maldwyn Allen Jones, was America's historic raison d'être. Reminding us that the history of immigration to the United States is also the history of emigration from somewhere else, Mr. Jones considers the forces that uprooted emigrants from their homes in different parts of the world and analyzes the social, economic, and psychological adjustments that American life demanded of them—adjustments essentially the same for the Jamestown settlers and for Vietnamese refugees.
As well as measuring the impact of America on the lives of the sixty million or so immigrants who have arrived since 1607, he assesses their role in industrialization, the westward movement, labor organization, politics, foreign policy, the growth of American nationalism, and the theory and practice of democracy.
In this new edition, Jones brings his history of immigration to the United States up to 1990. His new chapter covers the major changes in immigration patterns caused by changes in legislation, such as the Immigration and Nationality Act of 1965.
"It is done with a grasp of regional, chronological, national and racial information, plus that 'feel' for the situation which can come only from vast resources and a gift for interpretation."
—A. T. DeGroot, Christian Century
"A scholarly contribution, based on a thorough mastery of the subject."
—Carl Wittke, Journal of Southern History
Maldwyn Allen Jones is Commonwealth Fund Professor Emeritus of American history at the University of London.
Cover photograph (top): An Italian family on the ferry from Ellis Island to Manhattan. 1905. (New York Public Library)
Cover photograph (bottom): James G. Liebner, Mexican-American border at Tijuana, 1989.
The University of Chicago Press
Library of Congress Catalog Listing
LC Control Number: 91029805
Type of Material: Book (Print, Microform, Electronic, etc.)
Personal Name: Jones, Maldwyn Allen.
Main Title: American immigration / Maldwyn Allen Jones.
Edition Information: 2nd ed.
Published/Created: Chicago : University of Chicago Press, 1992.
Description: xi, 353 p. : ill.; 21 cm.
ISBN: 0226406342 0226406334 (pbk.)
Notes: Includes bibliographical references (p. 309-332) and index.
Subjects: United States--Emigration and immigration--History. Series: The Chicago history of American civilization
LC Classification: JV6450 .J6 1992
Dewey Class No.: 325.73 20
Geog. Area Code: n-us---
CALL NUMBER: JV6450 .J6 1992