America Fever: The Story of American Immigration
Barbara Kaye Greenleaf, America Fever, © 1970, Mentor Book, New York, Paperback, 210 Pages, 72105335, 325.73 .
This objective, knowledgeable and superbly readable book traces the different waves of immigrations. It is the story of why and how each came to this country, the hardships and prejudices they had to overcome after their arrival, and their major contributions to the rich diversity and enormous vitality of our country and our culture.
"What Then Is The American, This New Man?"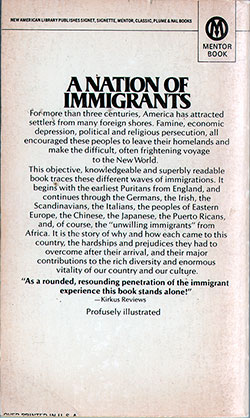 This fascinating and complex question was first asked by a Frenchman, Hector St. John de Crevecoeur, in the 18th century. It has echoed throughout our history. And it continues to be of vital relevance.
Only by discovering the many varied human elements that have gone into the making of America can we discover who we are and what, our country is. Only through understanding our past can we understand our present and future. Only through pride in our own individual heritages and respect for those of others can we help make the unique experiment that is our nation realize its full potential.
In tracing the drama of American immigration over the centuries, AMERICA FEVER is both an engrossing reading experience and an essential aid to this necessary knowledge.
ABOUT THE AUTHOR
BARBARA K. GREENLEAF, who lives in Armonk, New York, has worked as an editor for The Book of Knowledge and as a writer in the educational department of The New York Times.
Contents
Peopling the Colonies
Flight from Famine
Farmers and Revolutionaries
Vikings of the Great Plains
Of Floods ...
. . . And Dams
The Pacific Migration
Citizen Immigrants
Familiar Strangers
Suggested Reading
Index
Copyright © 1970 by Barbara Kaye Greenleaf
All rights reserved. For information address Four Winds Press, 50 West 44 Street,
New York, New York 10036.
Library of Congress Catalog Card Number: 72-105335
For reprint permission, grateful acknowledgment is made to: Harcourt Brace Jovanovich, Inc., for "The People Yes" by Carl Sandburg, copyright, 1937, by Harcourt Brace Jovanovich, Inc.; copyright, 1964, by Carl Sandburg.
This is an authorized reprint of a hardcover edition published by Four Winds Press, a division of Scholastic Magazines, Inc. ®
MENTOR TRADEMARK KEG. U.S. PAT. OFF. AND FOREIGN COUNTRIES
REGI8TEIIED TRADEMARK MAllCA REGISTRADA
HECHO EN CHICAGO. U.S.A.
SIGNET, SIGNET CLASSICS, SIGNETTE,
MENTOR, AND PLUME BOOKS are published in the United States by The New American Library, Inc.,
1301 Avenue of the Americas,
New York, New York 10019, in Canada by The New American Library of Canada Limited,
81 Mack Avenue, Scarborough, 704, Ontario
FIRST PRINTING, JANUARY, 1974
123456789
PRINTED IN THE UNITED STATES OF AMERICA

Library of Congress Category Listing
LC Control Number: 72105335
Type of Material: Book (Print, Microform, Electronic, etc.)
Personal Name: Greenleaf, Barbara Kaye.
Main Title: America fever; the story of American immigration.
Published/Created: New York, Four Winds Press [1970]
Description: 288 p. illus., facsims, ports. 24 cm.
Notes: Bibliography: p. 281-282.
Subjects: United States--Emigration and immigration.
LC Classification: JV6450 .G74
Dewey Class No.: 325.73
Geog. Area Code: n-us---