Strangers at the Door: Ellis Island, Castle Garden, and the great migration to America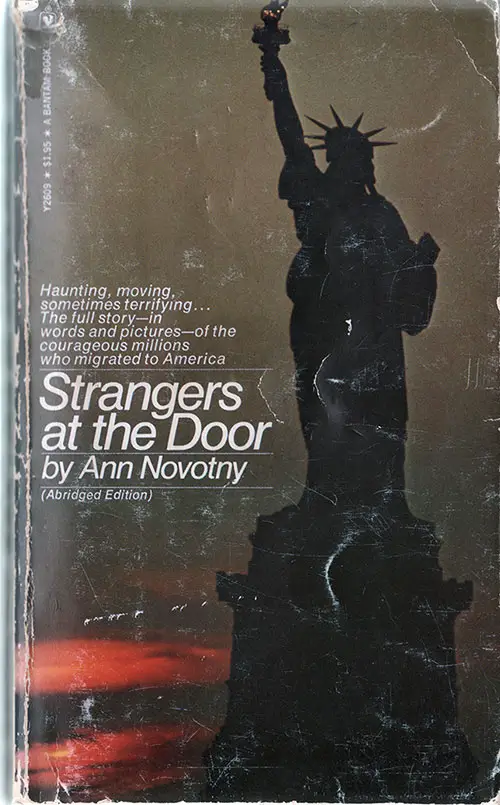 Ann Novotny,  Strangers at the Door © 1971, The Chatham Press, Inc. Riverside, Conneticut, Paperback, 210 Pages, 70137989 (pb), 325'.1'097472, 76375618 (hc). (Abridged Edition)
Haunting, moving, sometimes terrfying ... The full story --- in words and pictures -- of the courageous millions who migrated to America.
From the Back Cover
Twenty million men, women and children sought freedom and opportunity in America between 1855 and 1934. Most of them were poor, the harshness of their past lives stamped upon their faces.
Here is their story, a tale of terrifying voyages across the Atlantic, humiliating "processing" encounters with inspectors at Castle Garden or Ellis Island, their phenomenal struggles to gain a foothold in a new land.
Strangers at the Door is an epic drama—told in poignant words and pictures—of one of the most vital and dramatic sagas in America's history. A deeply moving and provocative portrait of the foundation of our nation—its people.
Contents: 
I Ellis Island (1907) Picture Essay: Faces of the Immigrants
II The Earliest Immigrants (to 1855)
III Castle Garden (1855-1890) Picture Essay: Immigrants in Art and Fiction
IV Ellis Island's Early Years (before 1907)
V Life and Work in the New World Picture Essay: The Road to the West
VI Famous Immigrants
VII Ellis Island's Declining Years (1915-1932)
VIII Ellis Island as a Detention Center and White Elephant Picture Essay: The American Welcome
Appendix: Acknowledgements, Bibliography, Index.
Library of Congress Catalog Listing
LC Control Number: 70137989
Type of Material: Book (Print, Microform, Electronic, etc.)
Personal Name: Novotny, Ann.
Main Title: Strangers at the door; Ellis Island, Castle Garden, and the great migration to America.
Published/Created: Riverside, Conn., Chatham Press [1971]
Description: 160 p. illus. 29 cm.
ISBN: 0856990256
Notes: Bibliography: p. 152-153.
Subjects: Ellis Island Immigration Station (N.Y. and N.J.) United States--Emigration and immigration--History.
LC Classification: JV6450 .N6
Dewey Class No.: 325/.1/097472
Geog. Area Code: n-us--- n-us-ny
Links: Table of contents Index Sources cited Immigrant arrivals: a guide to published sources